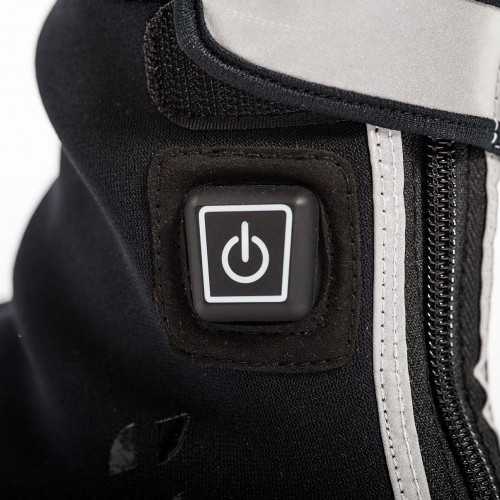 Ekoi Presents New Heat Concept Gloves And Overshoes
Sat 4th Feb, 2017 @ 3:30 am
Winter riding got your extremities freezing cold? Wave goodbye and say 'no more' to Mr Ice Guy with this electrically heated glove and overshoe system from French company Ekoi.
Ekoi is the French brand that is already distributed in all Europe, and known worldwide for the quality of their completely customisable products: from apparel to helmets, from shoes to glasses.
The extremities are particularly exposed during winter practice. Could there be anything more terrifying for a cyclist than having his or her fingers and toes reduced to ice cubes? During this time of the year, when thermometers all over Europe drop close to or below 0∞C, Ekoi launches the first ever auto-heating gloves and overshoes for cyclists, and call them Heat Concept This is a clear progress, also in terms of safety, since the heat prevents the fingers from going numb, thus allowing for them to pull the breaks faster.
Each of the Ekoi Heat Concept items has two removable and rechargeable batteries that work for 2 to 5 hours, depending on the intensity of the heat required. The battery type is Lithium Polymer 7,4 2500 Ma, with a heating power of 7,4 V = 15 watt. Both products can be used with outside temperatures down to -20C.
Heat Concept Gloves
Equipped with the waterproof and breathable membrane Hipora, the Ekoi Heat Concept gloves are first of all cycling gloves. Made of neoprene, they feature a reinforced palm with anti-slip silicone inserts and they are tight around the wrist in order to prevent the passage of cold air. Their secret lies in the network of filaments that allows for an even distribution of the heat produced by two rechargeable batteries installed on the back of the wrist.
In order to adapt perfectly to the outdoor temperatures during your ride, the Heat Concept gloves come with a button on the back of the hand that allows you to adjust the heat. The regulation of the heat is facilitated by the change of color according to the temperature chosen: green for 25C, yellow for 30C, orange for 35C, and red for 40∞.
Available in sizes M, L and XL.
Suggested retail price: 139.95 EUR
Heat Concept Overshoes
For the Ekoi Heat Concept overshoes the heat regulation system is the same and can be adjusted via the button on the outside, on the ankle. The overshoes, made of 4mm neoprene, are equipped with a Velcro fastener under the sole for a better fit; they are reinforced around the toes and the heel, and have reflective inserts.
Available in sizes M (40/42) L (43/45) and XL (45/47). Suggested retail price: 169.95 EUR
The new auto-heating gloves and overshoes from Ekoi, the only real response to the cold! Sold exclusively on the brand's website: http://www.ekoi.com.
Comments