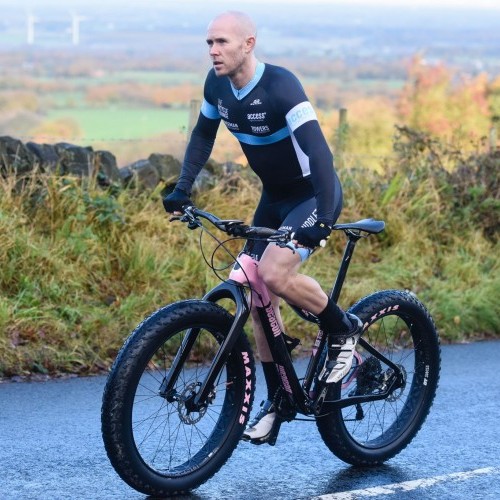 Giro D'Italia On A Fat Bike For Charity
Thu 16th Feb, 2017 @ 9:30 pm
Dave Sims likes a challenge. He recently rode the Tour de France on a chopper and now fancies a crack at the 2400 mile Giro D'Italia on a fat bike in a bid to raise money for Help for Heroes. Think he's mad? He'll be riding on and off road the whole way just to make a challenge of it!
A North West UK cycling adventurer is bidding to become the first person in history to complete the Giro D'Italia on a Fat Bike.
38 year-old Dave Sims, from Southport, hit national news headlines in 2015 when he became the first person to complete the Tour de France route on a chopper bicycle.
And now, Bowker MINI in Blackburn and Preston will provide Dave's principal support vehicle during his new Italian challenge in May later this year.
Bowker MINI celebrated the link up with Dave this weekend. Dave was a VIP guest at the Bowker MINI event at Brockholes nature reserve in Preston.
The total distance of the Giro d'Italia – the 100th time the race has been contested – is 2400 miles over 21 stages. The route takes in both the Dolomite and Alpine mountain ranges.
Dave's fat bike has been exclusively designed by Clitheroe-based Beacon Bikes. Fat bikes are recognisable by their 3.8 inch-wide tyres. The fat tyres are built to allow riding on soft unstable terrain. Dave's Italian challenge will take in both road and off road segments.
"It's another challenge that is going to push me to the limit. The bike is even more striking than the chopper. And it'll need to be at its best for the wide variety of technical challenges I'll face.

"'I loved the event at Brockholes with Bowker MINI. I am very grateful for their support. I know I'll need all the help I can get. It's the toughest challenge of my life. I just hope I can repay the faith my sponsors and supporters have put in me!"

– Dave Sims
Dave's last challenge raised £12,000 for Help for Heroes. This time he is hoping that The Italian Job will raise a further £10,000 for the same charity.
More information about Dave's challenge is available on Twitter @MPCdave, Facebook @italianjob2017 or Instagram @italianjob2017
Featured in this Post
Comments