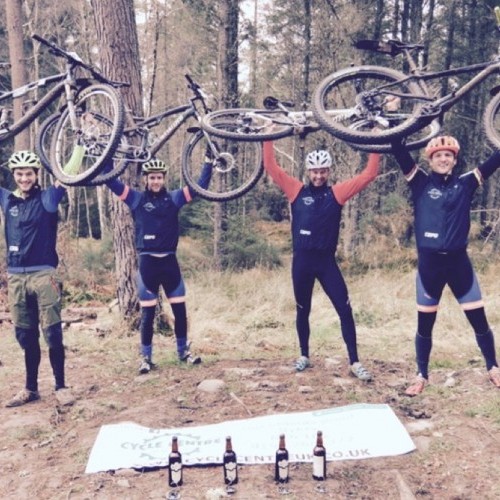 Sassenachs Suffer At The Strathpuffer
Fri 3rd Feb, 2017 @ 9:30 pm
If you're into your 'type 2 fun' events then The Strathpuffer is the perfect blueprint of what constitutes an endurance race. Set in the midst of the Scottish winter, Chris Browell took on the 24 hour slog for fun (of course), and so he could justify some new bike kit…
"It's your lap next – time to wake up."
I'm sure I haven't been asleep but lying here listening to the drone of generators and avoiding the passing glare of hundreds of bike lights blurs one hour into the next. I can't have been in my sleeping bag for more than 15 minutes; my thawed-out body is a complete contrast to my numb face. I daren't move quickly in case this break between laps is the one that will result in race-ending cramp. Tentatively, I lift an arm to check the time and eventually work up the courage to haul myself upright.
In the 110 minutes since my last lap ended, two riders from my team of four have set off and returned – the third will be over halfway round. Time to get up and embark on the joyful task of selecting which set of damp kit to drag on before heading out into the freezing darkness for my eighth lap of the Strathpuffer 24hr mountain bike race.
The 'Puffer'
In recent years, the Strathpuffer has achieved legendary status. Taking place 20 miles north of Inverness, deep in the Scottish Highlands in the middle of January, it's a 24hr, non-stop Le Mans-style race, taking place over a 7 mile loop of forest and moorland trail – not for the fainthearted.
The timing and latitude of the race guarantees 17 hours of darkness and a complete lottery of weather conditions – freezing fog, minus 8 degrees and black ice this year. Riders can take part as teams of ten, eight, quads, pairs, and the toughest can even ride solo. The race kicks off at 10am Saturday with a short sprint to the bikes; a long fire road climb thins out the field before a technical undulating mid- section. A few steep sections sap any remaining energy before a fast and tricky descent back to the transition tent. These laps become remarkably familiar, until the sun comes up on Sunday morning, signaling that the end is within reach. This race is dubbed the hardest, most brutal 24hr mountain bike race in the world. It's easy to see why – especially when de-icing your drivetrain at 4am.
So why, exactly, were we putting ourselves through it?
I'm not sure if doing the Puffer is popular because it's the toughest 24hr MTB race, or because it's an excuse to buy fancy new bike lights and that new set of tyres I definitely needed … Either way it's a race capable of offering moments of brilliance, suffering and euphoria – all to variable degrees, and not always at the stage you'd expect.
It's seven years since I first travelled into the far north to ride my first 'Puffer'. Ankle-deep in snow, shivering and completely un-prepared, I swore never to return again.
Time might be a great healer, but it was three years before I'd put enough of the memories behind me to return to the town of Strathpeffer. Each trip up north comes with more experience, better preparation and an ever-decreasing gap before someone says after one too many pints, "Shall we do the Puffer this year…?"
Preparation
Four years after our last 'Puffer', we're all older, wiser, fonder of warmth …This time around, we're determined to do it properly. We have support from Cycle Centre UK based in Newcastle-upon-Tyne; their excellent workshop ensures none of our bikes skipped a beat over the whole race. Vast supplies of Torq nutrition help to replenish the 20,000 calories we burned between us – the same amount you'd burn summiting Everest.
Nor did we Sassenachs intend to be any more uncomfortable than we could help. Each year the Puffer camp set-ups become more elaborate, and we weren't to be outdone. We settled on a large Army-style mess tent with a somewhat temperamental space heater and a genny for powering our lights and
microwave. While we might not have had a roaring fire and wing-back chairs, we certainly had our slippers, and the inspired addition of a tongue and groove floor definitely stopped our luxury footwear getting dirty!
Brilliance
This comes in various forms. Setting out into the wilds to be met by winter sun reflecting off a blanket of inverted cloud is almost too glorious to expect from a Scottish January. Hordes of cheering, ever- enthusiastic, wonderful marshals – even at 2am. Immersing yourself in the challenge of icy, technical single track over and over again. Seeing riders as young as 11, right through to 77 – and even one nursing a three month old baby between laps! – achieving personal goals, wherever they place on the leaderboard. Incredible feats of endurance from the solo riders, as well as superstars of the future
tearing round the course in record times. This year saw a record mileage at the Strathpuffer with the 900+ riders covering the distance round the entire globe – twice.
Suffering
Brilliance and euphoria are heightened in the context of suffering – and there's no shortage of opportunities for some heightening at the Strathpuffer. 3am, 17 hours into the race can make even the most trivial task a true test of will. Your team members have covered their laps depressingly quickly, and there are only minutes left before another chance to taste blood and battle off the cramp demons. You force down another gel, whilst doing all you can not to revisit the last bowl of food you really didn't want to eat. And that's before you even get onto the course: black ice suddenly appears on previously clear corners and rocky sections, leading to regular heart-in-the-mouth moments, and a collection of memorable bruises. Describing the location of a new patch of black ice, on a seven mile course, in the five seconds it takes to hand over to your teammate, rapidly becomes an art form.
Euphoria
For those hunting podiums, the final hours are where the race is won or lost. It might be nearly over, but as local hero Robbie Burns pointed out, "The best laid plans of mice and men gang aft agley". A bad fall, a broken bike, a rogue puncture – and your plans are suddenly in ruins. For one team member
the euphoria of finally seeing the sun rise was quickly extinguished by hitting the deck on an icy descent. Lesson learnt – don't lose concentration, don't take the end for granted!
The 'Puffer' really shows its true colours in the dawn hours. Somehow your night of pain dissolves in a superlatively glorious sunrise heralding the imminent end of the race. Broad smiles across muddy faces, the camaraderie of riders encouraging each other for 'one last lap', the marshals who somehow still have the energy to cheer us all on – these are the memories which remain once the suffering is forgotten.
The results are in…
10:45am. It's all over.
We'd ridden 38 laps and 266 miles in the last 24 hours. After an epic race chasing down and getting agonisingly close to the race leaders, whilst fending off the teams battling for third and fourth place, our quad team, NOBies, had finished second overall and in our category.
This time it doesn't take three years before someone says, "Better come back next year then. Surely it wasn't that bad …"
Featured in this Post
Comments