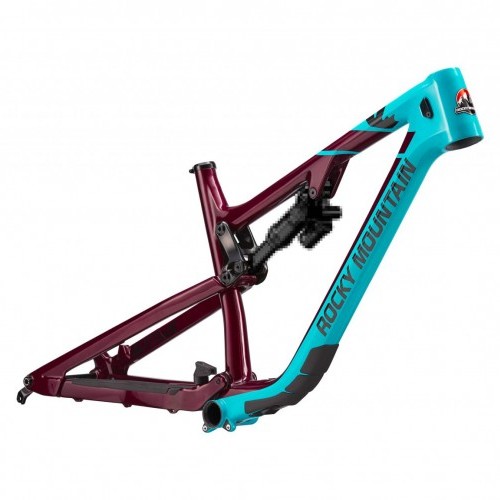 The New Rocky Mountain Altitude – Taking Trails To New Heights!
Thu 27th Apr, 2017 @ 9:30 am
Rocky Mountain never were one to make good looking bikes, they simply make breathtaking ones instead! Click here and wrap your sorry little eyes around the latest incarnation of the Altitude in both lip-smacking carbon and agreeable alloy flavours.
Taking trail to new heights. Often imitated but never surpassed, the all-new Altitude pushes the envelope of what a modern trail bike is capable of.
For 2018 we've designed an all-new frame to increase stiffness, improve pedaling efficiency and small-bump sensitivity, and include a host of next-generation features. Now available in both carbon and alloy models, the Altitude allows for a wide range of RIDE-9™ adjustments to tackle any terrain—from technical BC loam, to clapped out EWS tracks, flowy New Zealand jumps, and Moab slickrock singletrack.
"The Altitude has always been my go-to, do-everything bike, from technical climbs here on the North Shore to burly descents in the Italian Alps. This new one improves everything I love about the bike—it's smoother, stiffer, lower, slacker, quieter, and nails all the little details. Just like this old freerider, the Altitude gets better with age!"

— Wade Simmons
Intended Use: Aggressive Trail
Wheel Size: 27.5 Wide Trail
Front Travel: 160mm
Rear Travel: 150mm
Technologies (carbon)
– Smoothwall carbon
– FORM alloy
– RIDE-9 adjustment system
– Smoothlink suspension
– Size-specific tune
Technologies (alloy)
– FORM alloy
– RIDE-9 adjustment system
– Smoothlink suspension
– Size-specific tune
Key details:
Improved suspension performance
We've increased overall progression and support at sag, while making small-bump performance even more sensitive. Higher anti-squat values dramatically improve pedaling efficiency.
Next generation features
Comprehensive evolutionary updates across the platform include features like tooled axles, single-sided bearing pivots, integrated "spirit guide" chainguide, boost spacing, and metric shock compatibility.
Updated Ride-9™
Our Ride-9™ system provides a wide range of geometry and suspension adjustability; it has been moved into the link for lighter, narrower packaging.
Progressive geometry
To add control and descending capability, we've increased reach, slackened the headtube angle, and lowered the bottom bracket. We've retained short chainstays to keep the bike agile, and used a moderately steep seattube for efficient climbing performance.
Technical Details:
– Increased anti-squat for better pedaling efficiency
– 27.5" Wide Trail and 26+ compatible
– Bearings at all pivots, including at lower shock mount (compatible with aftermarket shocks as well)
– Blind pivots maximize heel clearance
– Lighter, tooled rear axle
– Improved cable management: large headtube ports, full shift housing, large downtube access port, and internal shift and brake housing within the front triangle
– Future-proofed to be compatible with Di2, Fox Live, and a dropper post simultaneously
– Seat-tube lengths have been adjusted to accommodate longer dropper posts at maximum insertion.
– Chainstay and downtube protectors. *Due to production delays, the initial shipment of 2018 Altitudes will not include downtube protectors. They will be shipped to shops free of charge as soon as they're ready.
– Integrated "Spirit Guide" chainguide, with 2-bolt ISCG05
– 1x only
– Lower standover height
– Significantly stiffer thanks to one-piece seatstay, new envelope, and updated layup (25% more lateral stiffness)
– Modern parts compatibility (boost spacing, metric shock lengths, post-mount 180mm brakes, etc.)
– All sizes fit a water bottle in front triangle, even with a reservoir shock
– Sizes: XS-XL
Weight:
– Frame & shock: 5.45lb (2470g), size Medium
– Protectors, chainguide, & axle: 0.57lb (260g)
– Altitude Carbon 90 & Carbon 70 complete: 28.4lb (12.88kg), size Medium
Select models and sizes available from May 15th. Regional availability may vary.
Naming:
In the interest of describing our lineup more clearly, we've updated our naming conventions. What used to be called Altitude 790 MSL is now Altitude Carbon 90, and what used to be called Altitude 750 is now Altitude Alloy 50. The Altitude still uses high-quality Smoothwall carbon and FORM alloy frames, and higher spec-numbers still indicate higher end specs.
Featured in this Post
Comments