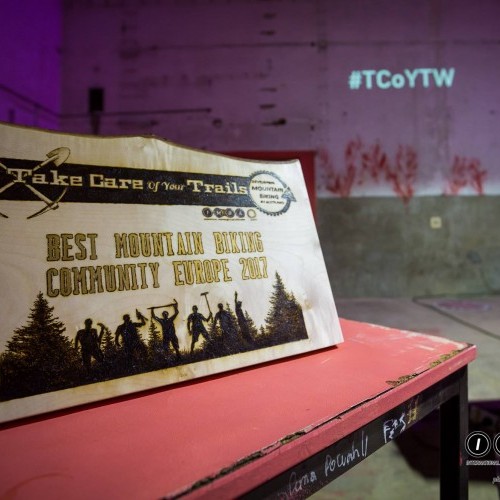 Bike Trails Across Europe Get Lots of Love!
Tue 2nd May, 2017 @ 6:30 pm
Trail maintenance; we all ride on them, so shouldn't we all do more to help preserve and improve our trails? The International Mountain Bicycling Association has set up an award to recognise outstanding work by trail volunteers across Europe, as more trails spring up around the globe.
More than 1200 mountain bike volunteers joined nearly 100 groups for the first ever pan-European Take Care of You Trails weekend. The co-ordinated weekend of volunteer trail maintenance was a great success and highlighted the fantastic voluntary contribution that bikers make towards the key ingredient in their experience: the trails.
"It really highlights the positive contribution that mountain bikers make towards maintaining the trail network."

– Mark Torsius, CEO of IMBA Europe
The weekend was also a chance for each country to engage in a friendly competition to see who could get the largest number of volunteers to attend sessions per head of population. IMBA Europe are delighted to announce that Slovenia have been given the crown of 'Best MTB Community in Europe 2017'.
Slovenia were closely followed by Scotland who had 211 volunteers attend 15 sessions across the country. Graeme McLean, project manager of Developing Mountain Biking in Scotland stated "We are extremely proud that Scotland has so many committed volunteers who are absolutely essential for our area to maintain our world class trails. We expect to keep growing and we hope, and believe, we will take the crown from Slovenia in 2018!"
Mark Torsius, the CEO of IMBA Europe, was impressed with the turnout and the impact of the campaign. Mark said "For a first year we are delighted that there were so many groups taking part and the number of volunteers helping out on trails across Europe. It really highlights the positive contribution that mountain bikers make towards maintaining the trail network. We have also had groups tell us that by being part of a wider initiative has helped legitimise their volunteering and helped them engage effectively with landowners and managers. We really believe that this campaign will grow and grow over the upcoming years and make a significant impact to opening trail access and highlight the willingness of riders to give back to the sport."
Slovenia went away with a stunning plaque, designed by Scottish artist LeRoc, the co-ordinator of the Slovenian groups was Peter Dakskobler. Peter was delighted with the victory "We are proud of our mountain biking and our mountain biking community in Slovenia. The weekend was a great success and we will use the title of Europe's Best MTB Community' to keep expanding our access and develop the sport and tourism. We were delighted that we had over 420 volunteers taking part including the President of the Republic of Slovenia! It is already the third milestone for our community since 2014 when we first stepped together for real. In the same time it is next important award for Slovenia and it's green and sustainable tourism development in the last year."
To find out the date of next year's event and keep up with new on mountain biking development follow http://www.imba-europe.org
Comments