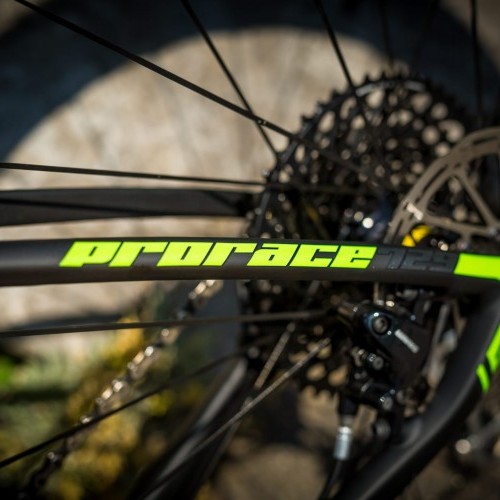 Lapierre ProRace – First Ride
Thu 29th Jun, 2017 @ 9:30 pm
There's a new a new hardtail in town from Lapierre, so we sent Derek Wilson to get the skinny on the racing whippet, the new ProRace.
Everyone knows a Dave, in the same way everyone knows someone who has had a Lapierre Zesty or Spicy, they were the staple diet of many a trail rider and yes they always had a XC offering but it never got near the same limelight as its trail orientated brothers. The French brand have looked to put this right with the release of a total revamped cross country hardtail – the ProRace. With 29er boost wheels strapped to a curved carbon frame and 1X chain set its clean lines and good looks give a great first impression.
If you are going to take XC seriously then you need a light bike, HT over FS is an easy way of shedding 2-4 lbs as well as getting a stiff rear end for all the sprint and hill efforts. Great for going uphill or smooth trails but limiting on the more techy stuff. A few manufacturers have tried to combat this with a "soft tail" approach, BMC, Trek etc. Lapierre have joined the camp with their solution branded SAT – Shock absorption technology. Essentially where the seat stay extends through the frame to meet the top tube there is a distinctive gap filled with a rubber elastomer. The tech has been on Lapierres Pulsium road bike which also had an update this year.
The elastomer is just there to fill the space and stop carbon on carbon contact as a bump stop. There is some serious tapering on the seat tube where it meets the bottom bracket, all this allows 5-6mm of flex according to Lapierre. Just enough squish to help calm some of the direct hits to the rear end. Interesting stuff but how'd it ride?
We were lucky enough to test the middle of the pack ProRace 729 for a day in the Alps resort of Les Gets just after Crankworks had wrapped up.  Not your average stomping ground for a hardtail but with a couple of guides we managed to stitch together a couple of great loops and some fantastic techy trails and descents.
The medium we tested was a very well balanced machine, long enough TT coupled with a short stem and a 69.5 deg HT angle to give a fast reacting cockpit without feeling cramped. 720mm bars would be as narrow as I'd want but felt perfectly adequate.  The eagle chain set, smooth flawless shifting with a gear for every occasion. I also liked the tyre choice, both Maxxis, a good sized 2.25 ardent up front and a 2.2 ikon on the rear. Good to see functionality over thin weight saving options.
As for the SAT technology, well when stationary I as expected couldn't see any movement no matter how I pushed the bike about, slow speeds and climbing it's the same story, stiff with no flex, helped also by the boost wheels and lockout on the Rockshox.  Light the touch paper on the trails and descents though and I definitely felt a more complaint rear, sure it's not to be confused with a FS short travel feeling, but more compliance than I'd feel from a flexi seat post for example. The good thing also being that SAT works standing as well as sitting, which in my mind is key.  Let's face it when the trail gets sketchy you're going to be standing on the peddles, smashing over roots n rocks at speed gave the feeling that I was running a 2.4 tyre rather than 2.25 on the rear. The faster you go the more benefit you feel.
The bike is riddled with other little innovations, 30g chain guide for example, that also stores a speed link pair in the back, accessible housing on the downtube to allow Di2 if that's something you want. The frame comes in at 1070 for the medium with around 30g difference between the sizes.
The ProRace will come in 3 builds with the 929 topping the list with the high mod ultimate carbon frame, XX1 eagle gold chain set and SID world cup forks coming in at 92.2kg on the scales.
Middle of the rage is the 729 which again gets the hi mod carbon frame, X01 eagle chain set, SID RL fork and Mavic elite wheelset, weighing in at 10kg.
Last is the 629, standard modulus carbon, 1 x 11 NX group set, Reba RL forks and Mavic formula wheels, no weight given for this one yet.
Verdict
If the riding you do suits a HT but you wished for a bike that didn't beat you up so much when you wanted to let rip – this could be just what the doctor ordered. With good looks and impeccable trail manners it's a bike you could take to race day as well as spend hours on an all-day epic. A great lightweight all-rounder.
Full spec of the ProRace 729 medium size used to test
Frame –  ProRace Sat 29 ultimate carbon frame with boost
Fork  –  Rockshox 100mm travel SID RL 29͛͛, boost remote lock-out
Chainset – SRAM X1 carbon crank,  32t narrow/wide chainring
Rear Mech -SRAM X01 Eagle
Saddle -Fizik Tundra
Grips – Lapierre foam lock-on
Stem – 70 mm Race Face
Bars – Race Face next carbon, 720mm
Seatpost – Race Face LP carbon, 27.2mm
Brakes – SRAM Level TL, 180mm front & 160mm rear
Wheels – Mavic Crossmax Elite 29
Tyres – Maxxis Ikon 2.20 TLR rear, Maxxis Ardent 2.25 front
Sizes available – S, M, L, XL
Availability from late July, price around 3499 – 3699 euros, UK price to be confirmed.
Featured in this Post
Comments