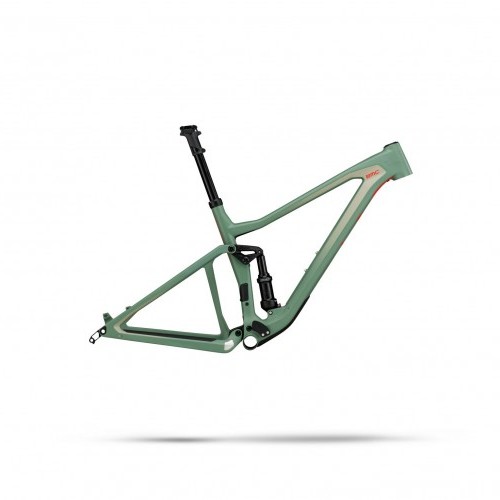 The New Speedfox: You. The Trail. Synchronized.
Fri 23rd Jun, 2017 @ 12:30 am
Win a Pair of Faceplant Sunglasses this issue in our FREE subscriber prize draw.
It's excellent to see MTB manufacturers developing and adapting different wheel sizes to suit different sizes of rider. BMC's new 2017 Speedfox is one such bike that looks set to continue this proactive trend of getting people set up with the right size and scope of bike.
—
Trail riders are mountain biking's most dynamic athletes. They expect a bike capable of tackling any trail with no-compromise in performance – from fast and flowy singletrack, to technical and downright rowdy alpine dirt. We created the Speedfox to fill that order. No matter what your definition of 'trail' is, it's the perfect companion for multi-day adventures or brain-resetting sunset rides on your home trails.
Trail riding is ultimately about having fun in the great outdoors – riding trails that put a grin on your face, with friends, in beautiful settings. The new Speedfox has been developed with the modern trail rider in mind: those who ride for high fives, who seek equal parts adventure and trail fun – and a bike that is easy to handle, lively yet reliable, and ready to take on the unpredictable. And now, with its clever new Trailsync technology, BMC take it one step further and guarantee that riders never miss a beat.
With the new Speedfox, BMC reveals a unique technology called 'Trailsync' which eliminates the tedious manual adjustments riders usually make to be in the right set-up for the trail. A simple flick of a remote lever on the handlebar synchronizes the adjustment of the dropper seat post height with that of the suspension platform. So riders can focus their attention on the trail without a break in flow or speed.
According to Antoine Lyard, MTB Product Manager BMC Switzerland "Over the past 5 years, mountain bikers have become even more categorized based on the type of riding they lean towards. As riders, and their mountain biking styles become better defined, so do their needs – making it much easier for us to meet them. The Speedfox is aimed at all-round trail riders, the adventurers, and explorers of the mountain biking world. They love the thrill of going downhill yet still need a bike that will take them efficiently to the trail head, and the Speedfox balances these two opposing needs excellently. With its Trailsync Technology, optimized APS suspension and high-level integration – we really hit the mark."
The new Speedfox from BMC has been re-engineered to be light, sturdy, and capable of adventure, yet still eager for all-out speed. A premium frame, with state-of-the-art geometry and low standover height, it delivers excellent maneuverability around challenging features, yet at the same time possesses confident, straight-line stability for both the uphill and the downhill.
Trailsync Technology for Intuitive Riding
The Speedfox features BMC's groundbreaking new 'Trailsync' technology, which combines dropper post operation and compression damping, simplifies your cockpit, and eliminates one-handed, on-the-fly adjustments. Trailsync ensures riders are always in the optimum suspension tune in the correct saddle position – going beyond the benefits of a standard dropper by integrating automatic suspension adjustment.
Expertly Balanced to make Everything Count
The Speedfox's  expertly balanced, trail-optimized travel with a purposeful, optimized geometry gives riders the confidence to go into the unknown secure in the knowledge that their bike will take them there and back efficiently – yet put a smile on their face when it counts. The Speedfox' APS suspension has been optimized for pedaling efficiency and smooth operation – providing support on the uphill while being fully active on the downhill, A closed rear triangle adds reliability and stiffness to the equation.
Integration with Purpose; Function and Aesthetics
For more than a decade, BMC has led industry integration and design – developing innovative engineering solutions at its unique Impec Lab. The latest generation Speedfox visibly bears the fruit of this investment in industrial design. The intelligent elimination of cable housing from handlebar to chainstay combined with in-built suspension and frame guards give it a super sleek look – that also performs. A 'Hidden Link' hides all cables between the rear triangle and the main frame while a cleverly designed mud-flap keeps bearings clean. BMC's IP cable routing solution makes set-up and servicing easy with internal carbon guide tubes – which also prevent rattling while riding.
The Speedfox's cutting-edge integration delivers durability and performance presented in a uniquely Swiss, aesthetic form.
Depending on the model size, the Speedfox is available with 650b or 29inch wheels.
Featured in this Post
Comments