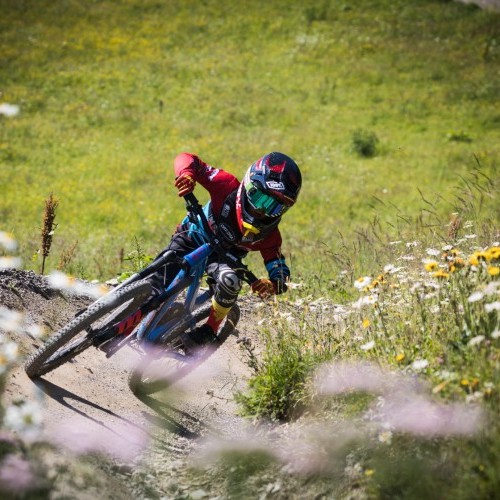 Propain Yuma – New Kids Bike In 24″ and 26″
Sat 15th Jul, 2017 @ 12:30 am
How about getting the kids a fully featured full susser that grows in size as they do? Could it be the one perfect bike to rule them all? Well, at least until they're big enough to buy their own rig?
The Yuma from Propain is very popular among young bikers. No wonder as it is a full-featured mountain bike for uses from enduro to downhill, which is optimized for and "grows" with the needs of its small, light riders.
For the 2018 model, Propain and the Propain Gravity Kids team have worked together to completely overhaul the frame and launch it with a new chainstay concept. The option to install both 24″ and 26″ wheels has been retained giving the kids many years of fun with the bike.
Until now, the Yuma had been a smaller version of its big brother, Tyee, but now Propain is heading in a new direction and going with a completely distinct bike. A single pivot chainstay, in combination with the latest generation of shocks by Rock Shox with Trunnion Mount (side mounting point), provides a sensitive, high-progression response.
The new frame concept is especially suited for children's bikes as the comparatively simpler construction with few frame bearings leads to a significantly lighter frame weight. The total weight of the Yuma is just 12.3 kg.
The frame geometry has also been completely reworked. Due to a lower frame height compared to its predecessor, the jump from the 20″ Frechdax to the new Yuma is no longer as significant, and kids find the transition a lot easier. The Yuma is recommended for heights of approx. 1.30 m and upwards. Test rider and Propain Gravity Kids team member Johann Schumacher (aged 9, 1.29 m) felt immediately comfortable and was able to handle the bike right from the start.
Specifications
Propain doesn't make any compromises on equipment and offers even young riders an overall package. The chassis with 140 mm front and rear suspension travel in the serial version consists of the Manitou Minute suspension fork and the Rock Shox Deluxe RT shock.
The Yuma is equipped with the Sram GX groupset with 1×11 gears. This wide bandwidth means that even longer cycling trips are no problem. The bike uses the reliable Formula Cura 2 piston brake. For components such as handlebars, stem, saddle, and wheels, Propain relies on its own brand, FirstRide, which specializes in lightweight and functional parts for children's bikes.
Fork: Manitou Minute 140 mm
Rear Shock: Rock Shox Deluxe RL
Brakes: Formula Cura
Wheelset: 1st Ride Enduro 24″ or 26″
Crank Sram: NX 155 mm
Rear derailleur: Sram GX 1×11
Handlebar: 1st Ride 680
Stem: 1st Ride 38
Tires: Schwalbe Rocket Ron 24
Saddle: 1st Ride Enduro
Price: 1,799 EUR
Weight: 12,3 kg
The Yuma costs EUR 1,799 in the configurations above and can ordered now from the Propain online shop. The price of the 26″ kit, available separately, is EUR 249 (wheelset incl. dropouts).
Featured in this Post
Comments