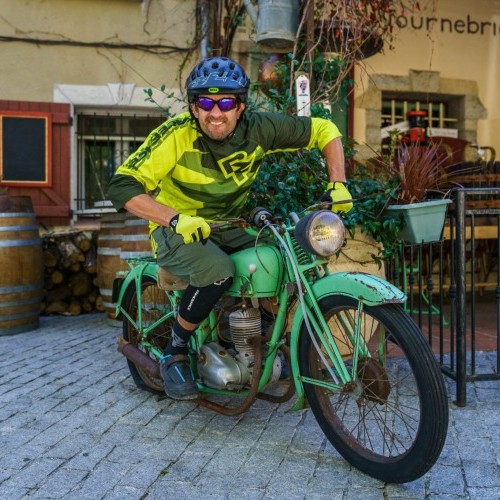 The New Rocky Mountain Powerplay
Thu 13th Jul, 2017 @ 12:30 am
Win a Peaty's Complete Bicycle Cleaning Kit this issue in our FREE subscriber prize draw.
Wade Simmons heads to Europe to document his first taste of the Rocky Mountain Altitude Powerplay eMTB.
The goal was to travel to the South of France, with its warm climate, spectacular trails, and delicious carbohydrates, exploring what Rocky Mountain's DNA brings to eMTBs.
Words by Wade Simmons
Photos by Matt Wragg
I have always been an early adopter—whether it's freeride bikes in 1997 or eMTBs in 2017. When Rocky Mountain asked me to be a part of the Altitude Powerplay's launch video, I was instantly on board. Mountain biking is my life. Climbing, descending, XC, freeride, e-bikes, whatever. I live for it all, and I was excited to be a part of this. And maybe a little part of me likes rocking the boat.
I was involved in the "regular" Altitude's development and I had given feedback on some of the early eMTB prototypes, but the goal of this project was to document my first taste of the production Altitude Powerplay.
We sat down and made the call to travel to the South of France, with its warm climate, spectacular trails, and delicious carbohydrates. Europe is leading the charge on eMTBs, so this was the perfect opportunity to explore what Rocky Mountain's DNA would bring to the land of croissants and Strava-doping.
After a redeye flight from Vancouver to Nice and a few hours of driving, we arrive at our first shoot location and meet up with our friends Gaetan and Gaetan. Thankfully, one of them goes by "Baguette" (his last name sounds like du pain, and the French are serious about their bread).
I am jet-lagged to shit, but can't resist taking the bike out for a spin. "Moment of truth," I say to Baguette.
I was blown away. My exhausted, delirious enthusiasm in the film is genuine. That moment is me realizing that the possibilities of e-bikes are truly endless.
The next day, we find this perfectly scooped wallride that just begged to be ridden, but it has a rough, slightly uphill approach.
"I'm hitting that," I call it out the moment I see it, but in truth I'm not sure it'll work. I put in a few cranks and carve the whole thing first try.
What surprised me most was how the added power opened up new possibilities everywhere. I was able to keep things flowing and link that wallride up with all kinds of other features. This zone was too damn fun!
On the advice of Rocky Mountain EWS team manager Lilian, we eventually make our way down to Toulon for a change of pace. The terrain there is amazing—extremely technical, with epic backdrops overlooking the Mediterranean. It's no wonder that this is a breeding ground for some of the world's fastest riders.
Again, I am blown away by the bike; this time by the climbing. Although I got my start as an XC racer and I do love technical climbs, I've always enjoyed some help from gravity. The Powerplay turns that notion on its head, and I quickly take full advantage of the additional speed and flow on the punchy, difficult climbs the area had to offer.
Just keep an eye on the trail and don't blow a corner! Seriously, don't blow a corner.
I am keenly aware of how lucky I am to travel the globe riding my bike, but damn there are a lot of horrible wakeup calls. So, each morning (is 4am even considered morning?) I drag myself out of bed with all the grace of an angry, nearsighted badger, and we head out to catch first light.
"Not sure this is going to happen today" says Brian, our producer, cat-herder, and resident worry wart. We are engulfed in a thick layer of marine fog while getting our breakfast—remember when I said the French take their bread seriously?
The video team is worried the fog won't clear in time for the sun to crack, but since we've come all this way…
We get unbelievably lucky. The fog breaks, swirling as it lifts over the craggy seaside mountains, and we are treated to an epic, unforgettable sunrise.
Forget about the bike! That moment, dropping in above the foggy ruins, was absolutely surreal. What follows is one of the best days I've had on the bike in a long, long time.
We wrap the film up that evening. There's a certain excitement after a successful trip, when you know you got exactly what you were after. An oceanside cantina was the scene of some celebration that night, reflecting on good times and new horizons.
This trip shined a new light on mountain biking for me. There is a paradigm shift underway. I feel like we've only started to scratch the surface of what's possible. Throughout this trip I realized I wasn't riding an eMTB to make my riding any easier, I was riding an eMTB to open doors to things a regular bike couldn't. This old dog is learning some new tricks, finding new lines on old trails, and having a blast. I can't wait to see where it goes from here!
——
Ride more, further, faster. The Altitude Powerplay is an eMTB that actually rides like a proper mountain bike. It brings cutting-edge power to an aggressive trail bike, and opens the door to amazing terrain for all. The Altitude Powerplay is available in select European markets only.
Video by Liam Mullany
Additional Filming by Gaetan Riou
Edited by David Peacock, Liam Mullany
Produced by Brian Park
Post Production Sound by Keith White Audio
Photography by Matt Wragg
Special Thanks to Fred Glo, Tribe Sport Group and Gaetan Dupin
"Omar"
Performed by Bayonne
Courtesy of Mom + Pop
By Arrangement with Hidden Track Music
https://open.spotify.com/track/54f36LcrbW4X9XPtdBZr3N
Featured in this Post
Comments