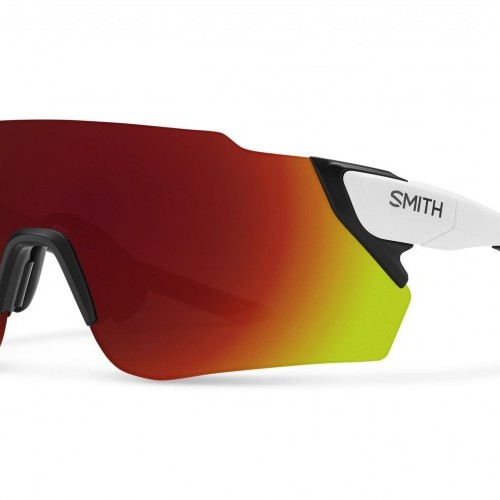 Smith Launches Attack Performance Eyewear
Thu 17th Aug, 2017 @ 6:30 pm
Top end optics company Smith have released their new Interchangeable Series with Intuitive MAG™ Technology and ChromaPop™ Lenses, designed for super-quick lens swaps and increased comfort and ventilation.
Blending two proprietary technologies to address the needs of elite athletes and endurance enthusiasts, Smith elevates its performance sunglasses offering for Spring/Summer 2017 with the new Attack series of interchangeable eyewear.
Offered in two sizes, the Attack and the Attack Max feature Smith's new MAG™ interchangeable technology with its proprietary ChromaPop™ lenses; a magnet-based innovation that enables fast lens swapping for varying light conditions with a simple click. The MAG system is built directly into the temple to allow for a vast field of view in a rimless frame design for invisible fit.
Additionally, the hidden interchangeability system reduces the stress and tension on the temples and lens structure to provide exceptional optics while offering a quick and secure connection.
The Attack builds on the success of the brand's best selling PivLock™ franchise of performance eyewear, with a faster and more intuitive approach to lens interchangeability combined with the world's most innovative lens technology.
Each model is offered in one of three ChromaPop performance lens options – that reveal natural color, enhanced visual clarity and greater definition of objects – and all include a secondary ChromaPop Contrast Rose flash lens for addressing low light conditions. The lenses have been crafted with a lowered-brow design for increased ventilation while the two-position adjustable nosepiece provides a perfect fit. The nosepiece and temples are comprised of Megol which reacts to perspiration by gently adhering to the skin for a comfortable, no slip fit at any velocity.
The new Attack and Attack Max (MSRP $250, including two ChromaPop lenses and a hard case) will be available in July 2017 at select retailers worldwide and online at smithoptics.com.
Featured in this Post
Comments