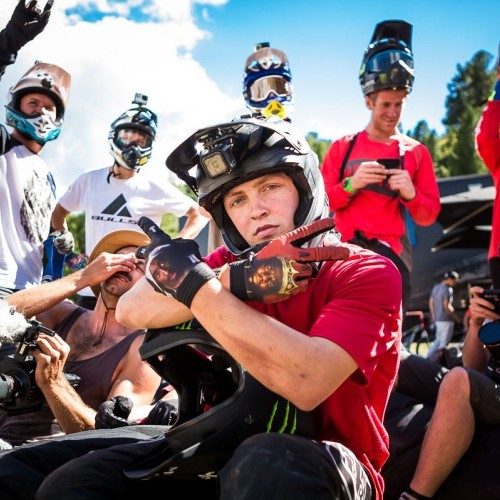 Suzuki Nine Knights MTB 2017 Full Riders List and Course Revealed
Thu 24th Aug, 2017 @ 3:30 pm
The 5th edition of Suzuki Nine Knights MTB will see the world's best freeride mountain bikers take on one of the most innovative and creative courses from the 4th to the 9th of September, 2017 at Reschenpass in South Tyrol, Italy.
Following a heated debate between the judges, both Bienvenido Aguado (ESP) and Reed Boggs (USA) were awarded a spot on the roster thanks to their impressive FOCUS "Become a Knight" video contest entries in the Open category. Meanwhile, the German young gun Axel Weinmann took home the Freeride category wildcard and the much sought-after FOCUS Bikes sponsorship for his stylish and versatile riding, both in steep chutes and in the air.
New Extended Course Under Construction
As the Balzamico Trail Designs crew wraps up the construction of the massive course, we talked with event host and course designer Sam Reynolds (GBR) to get more details on what we can expect from this year's edition:
Sam, what is your involvement in the Suzuki Nine Knights MTB 2017?
Like last year, I am helping with the design of the course, working closely with Clemens Kaudela (AUT) and Andi Brewi (AUT) from Balzamico Trail Designs to create the most innovative MTB course possible. I'm really excited to optimize last year's features while adding some pretty epic new ones.
What can we expect from this year's course?
We have actually doubled the size of the entire course by extending it all the way to the Gondola station which gives us much longer lines, more room to play and increases the audience's viewing options on Contest Day. We made sure to improve the flow line, the Big Bertha kicker, and the quarter pipe, this last one by including a higher and steeper landing for even bigger and badder tricks*. Probably the biggest improvement for this year is that we have a lot more room to build our big bike line snaking down the hill, and with 4 big hits, we'll be getting some serious air time down there!
*Check out the video of Clemens Kaudela's record breaking highest air in 2016 below.
What is the feature you're most excited about?
I'm excited to see what goes down on the 'Sendolf' kicker, a safe but massive step up jump named after Adolf Silva (ESP) – which he and Anti Rissonnen (FIN) helped conceptualize. We wanted to create the perfect trick jump suitable for dirt and downhill bikes to push our progression even further. To make that happen in the safest way possible, Masters of Dirt are lending us their landing airbag so that the riders can ease into new tricks. I think some big tricks will get thrown.
The Full Riders List
As with previous years, this edition's roster is full of freeride mountain biking's heavy hitters including last year's FMB World Tour winner Nicholi Rogatkin, trick machine Adolf Silva, and German powerhouse Nico Scholze.
Bienvenido Aguado (ESP)                                    Nicholi Rogatkin (USA)
Reed Boggs (USA)                                                  Patrick Schweika (GER)
Diego Caverzasi (ITA)
                                            Adolf Silva (ESP)
Geoff Gulevich (CAN)
                                            Anton Thelander (SWE)
Clemens Kaudela (AUT) 
                                       Torquato Testa (ITA)
Sam Pilgrim (GBR) 
                                                Nico Vink (BEL)
Timo Pritzel (GER)                                                 Olly Wilkins (GBR)
Sam Reynolds (GBR)                                             Axel Weinmann (GER)
Antti Rissanen (FIN)
Public Contest Day
The culmination of the week's film and photo sessions; the Public Contest Day, will take place on Saturday the 9th of September and feature some of the biggest MTB tricks ever displayed. Pack up your sunscreen and join us at Reschenpass, South Tyrol, Italy for the final showdown.
Comments