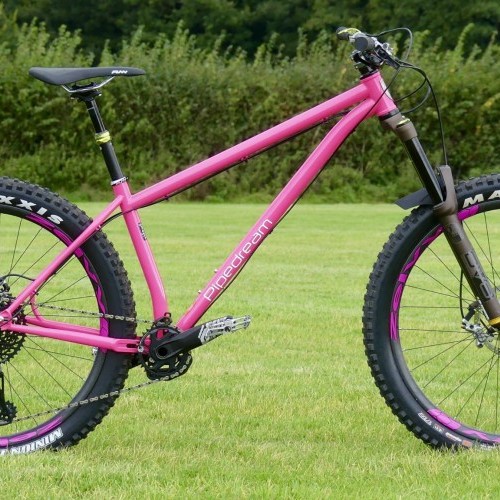 Pipedream Moxie – First Ride
Tue 26th Sep, 2017 @ 6:30 pm
We've all been there, a hot pink bike catches your eye and before you know it you're lined up for a three day stage race hoping that the bike is more than just an alluring colour with some spicy geometry. We took the new Pipedream Moxie for a thrashing round Exmoor whilst racing the DMR EX enduro to see if it would live up to our expectations.
Brief Encounter
Eurobike was distinctly lacking in major new bikes this year other than the latest and greatest abominations involving motors and/or enormous tyres. It was, therefore, refreshing to stumble across a dazzling display of hot pink steel as I strolled the halls. I was not the only one, and it's fair to say the Pipedream Moxie 'won Eurobike' in terms of media coverage.
A vision in pink, the Moxie had me hooked, initially because of the colour, but a quick look at the sizing got me thinking that I could have a lot of fun on this thing. Alan, the man behind Pipedream has put together a thoroughly modern hardtail capable of competing with the best of the rest, whilst throwing light on some of the old-fashioned ideas about frame sizes and geometry in the process.
Long, Longer, Longerer…
So we know bikes are getting longer, lower and slacker, and that that mantra is wearing a bit thin. I would argue that this is largely due to the glacial pace at which brands extend the reach of their bikes, taking several generations to grow by only a few cms.
The Pipedream take is to make two frame reaches (sizes), Long (470mm) and Longer (510mm), and keep the traditional frame 'size' small at a 17 inch in old money. 17 inch you may scoff, but at six foot four with a 150mm dropper, I have no issues, and not having a gate between my legs to bash my knees on feels great. Riders choose their length and then choose the appropriate dropper post. Job done. Sure there may be riders who don't fit perfectly, but to cover such a large range of people with only two frames is impressive.
"This is the most competent and confidence inspiring hardtail I have ever ridden."
In other areas, we have a 65.5 head angle, a 64mm bottom bracket drop and a short head tube. Wheels are either 650b plus, or 29er, with sliding dropouts to accommodate either. Stealth dropper routing is there but elsewhere it's simple and external. The other important angle is a steep 76.5 which paired with the long reach gives a great climbing position.
The Ride
With 24hrs between receiving the bike and the start of the DMR EX enduro, it was a quick turnaround. The fit felt excellent straight away and allowed me to run the 35mm stem despite my gangly arms. Given the short head tube, I opted for some big 25mm rise bars to get the front end up, but other than that it was good to go. With a 17inch seat tube, it looked a little small, but that's what seat posts are for, and the 150mm Garnet dropper comfortably took the seat to my happy pedalling height.
I was running 650b plus tyres, which I'm not a huge fan of, but at 2.8 they aren't enormous, and being Minions they gave plenty of grip in the loamy soil of Exmoor. A quick spin round the campsite and I was uplifted to the first stage of the day.
Dropping in on the first steep riding of the day was an eye-opener. The stability of the bike through the steep corners and the rough ground was incredible. Sure, it's still a hardtail, it's a rough ride, but the increased length calms everything down and allows the rider to move around the bike much more freely without unbalancing it.
The steep hairpins were where it really showed its capabilities, happy to commit to the gradient, and never a hint of folding over. The front can be weighted with confidence and track firmly round the steepest of turns. The low bottom bracket allows for exceptional corner railing abilities and the plus tyres proved themselves on the loamy ground. As usual the rear tyre lasted only a day (thin sidewalls), but swapping out for a 2.6 on the rear firmed things up a little and further convinced me that this might be the sweet spot for tyre width.
Having come straight off a carbon full suss bike, the pedalling didn't feel as urgent as I was hoping, and the big back tyre didn't help. The Moxie lends itself to carrying speed and pumping turns rather than pedalling everywhere. The balance between compliance and stiffness is difficult to find, and the Moxie is deliberately designed to be comfortable rather than a highly strung and stiff back end. The flex only felt noticeable sprinting out the blocks, and I never managed any tyre rub.
Having covered 100km and over 4000m of ascent in the course of the race, the Moxie provided an exceptionally comfortable (for a hardtail) ride, with no hint of back pain or any other hardtail associated aches.
Moving forward I want to try it out with 29er wheels, and get moving on some more varied trails, from trail centres to full rocky chaos, and see if the Moxie continues to impress. I've a feeling it will.
Overall
I'm sold on longer reach bikes, not just due to the Moxie, but this is a fine example of how to implement modern sizing on a bike. With a busy marketplace for hardtail bikes, it's hard to punch out from the crowd, but the Moxie certainly does, and not due to the colour. This is the most competent and confidence inspiring hardtail I have ever ridden. If you are interested in hardcore hardtails, then this should definitely be on the top of the shortlist. Embrace modern, forward thinking sizing and open up a new world of performance.
Interview With Alan Finlay of Pipedream Cycles
Pipedream may be a new to some riders, could you give us a brief history of the brand?
Pipedream Cycles was established in 2005. We started out by offering a semi-custom titanium, design & build service, with Rohloff frames being particularly popular. A year later we launched our first CrMo frame (the Sirius) which received critical acclaim. Then, the following year we co-sponsored of a team that raced in the British MTB marathon series and we ended the season and series as overall champions.
We had a foray into full suspension, carbon and alloy in the early days but our passion has always been steel bikes and that's the heart of Pipedream. The Sirius is now in it's 4th generation and over the past couple of years we've developed and tested an adventure/gravel bike which is now available, called A.L.I.C.E.
What makes the Moxie different compared to previous bikes you have designed?
There's a number of differences and they can be attributed to the tubing. In the past, we've used branded tubesets which are produced in standard lengths and butt profiles. But this can limit where you can go in terms of design as the geometry of the frame is constrained by the specifications of the tubes available. The length of the down tube is a very specific example as it determines how long and how low a frame can be.
In 2015 we were introduced to a new factory which is not only one of the best fabricators in the business, they also draw and butt tubing. This immediately opened up some new opportunities to develop the kind of hardtail we've been wanting to build for a while. I've been following 'long, low, slack' for some time and was convinced this was the way to go, at least for the kind of bike I wanted to ride but until we had access to custom tubing, it was impossible to build.
With the availability of dropper posts of 150-170mm long, the 'traditional' sizing of seat tubes on bikes can work against them. Brands typically go longer in the seat tube as the size of the frame increases so if you've got a 21″ seat tube on an XL frame, for example, you might be limited to a 125-150mm post. But it's possible to fit a rider between 5'5" and 6'3" with the appropriate length of post on a frame with a seattube of only 420mm – so why go longer?
How does the sizing work on the Moxie? Long and Longer?
Using our size chart and the appropriate length dropper post, the bike will fit a wide range of riders. Furthermore, the seat angles (actual and effective) keep the top tube lengths within the 'normal' and comfortable range for most people too. So, we've worked out that with only two reach-lengths (long and longer) we can actually fit most riders comfortably. Most people who try frames with a longer reach adjust really quickly and find that their position, centred in the bike while standing, feels right.
I think for most people, going fast – preferably downhill – is where the thrills are and the Moxie is designed to be confidence-inspiring in these situations. When you're off the saddle going 'hammer and tongs' the reach of the Moxie(s) comes into their own. So, it's just a case of deciding what length is going to suit you best.
How and when can folks get their hands on one?
We're currently receiving pre-orders for frames with delivery scheduled for early 2018. Assuming all goes to plan, we should have the frames in January. Orders can be placed through our website.
http://www.pipedreamcycles.com/shop/moxie-ht160
Featured in this Post
Comments