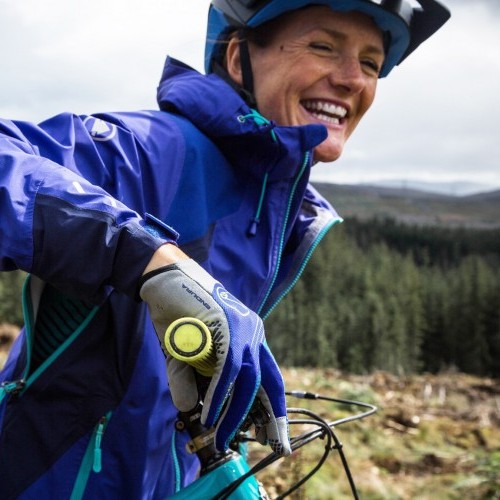 She Rides Off Road: Endura's New Women's MT500 Collection
Thu 7th Sep, 2017 @ 3:30 am
Most parents do not arrive at the school gate by mountain bike, covered in mud, fresh from delivering a coaching session, but Anna Riddell is not most parents. An Enduro racer, mountain bike coach, surfer, biology graduate and mother of two small children, Anna is the perfect fit for Endura's Women's MT500 collection. She is a regular competitor in the Scottish Enduro Series, as well as coaching and encouraging other women in Moray to discover mountain biking.
"It surprised me that I've taken women who were complete beginners, and now we go riding together and compete in Enduros together."
The new Women's MT500 Collection meets all of Anna's riding, racing and coaching needs. The MT500 Helmet with Koroyd insert has reduced the amount of time she rides in a full-face helmet. And the Women's MT500 Jacket II and MT500 Spray Trouser help to keep her warm and dry in coaching sessions, which inevitably involve long days out in all conditions, on and off the bike.
"I've just come on board with Endura, and I'm absolutely blown away by how good the kit is." Anna says.
Women's MT500 Jacket II
The new Women's MT500 Waterproof Jacket II proves that equality is in Endura's DNA.
It features the same ExoShell60™ three-layer waterproof fabric as the multi award-winning men's jacket, which delivers outstanding breathability for even the toughest rides, and is fully seam-sealed for total protection from the elements. The water- repellent VISLON® zip with storm flap is another barrier to water ingress, and internal stretch cuffs close off the sleeves neatly. Filled with practical details, this jacket is the go-to garment for any type of mountain adventure.
Its two large front zip pockets stow small, but essential items securely, and double as vents. Additionally, one pocket contains a discretely concealed glasses wipe. A small sleeve pocket is the ideal size for keys or cards. Two large underarm vents, equipped with two-way zips, aid climate control, and are backpack compatible.
The Women's MT500 Waterproof Jacket II is cut in a flattering, women-specific cut, which can be tailored with adjustable cuffs and hem. The 3D adjustment on the hood offers a further way to find the perfect fit.
Women's MT500 spray Trouser and short
Pair the jacket with the new Women's MT500 Spray Trouser to create the ultimate outfit for foul weather riding. This hybrid trouser combines breathable, lightweight four-way stretch front panels with rear panels fashioned from durable, waterproof, three-layer fabric, in which every seam is sealed against the elements. The result is a high performance piece that protects the rider from the elements and mud, while retaining ventilation and comfort. The women-specific fit can be tailored individually, courtesy of the stretch, wicking waistband with Velcro® waist adjusters.
Further details include zipped thigh vents, zipped hand pockets, durable inner panels at the ankle, and an outer ankle zip with gusset and reflective trims. The Women's MT500 Spray Trouser is Clickfast™ liner compatible too, making it suitable to wear with any Endura liner shorts.
For less extreme conditions and warmer climes the Women's MT500 Spray Baggy Short provides all these features in a shorter, knee length cut, offering mud protection where you need it most. Both women's MT500 Spray products are Clickfast™ liner compatible too, making them suitable to pair wear with any Endura liner shorts.
Featured in this Post
77,505
United States
113,084
Comments