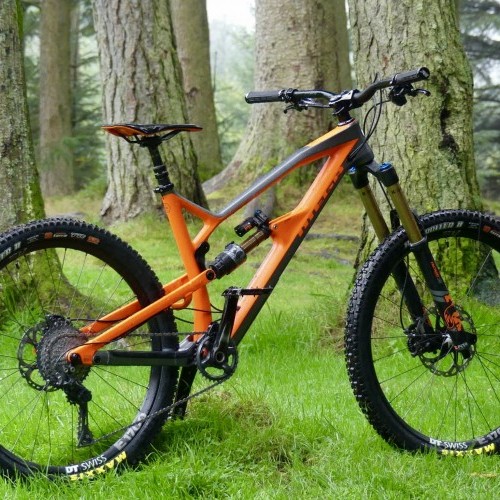 The New Nukeproof Mega – The Evolution of a Classic
Wed 20th Sep, 2017 @ 12:30 pm
Whilst the world looked on, Sam Hill was axle deep in dust in Cairns, Australia giving the world's best a run for their money on his Mega. Meanwhile, in a far less dusty, colder and significantly wetter North West of England, the Nukeproof van arrives and I excitedly await the contents.
First rides are always exciting and having been piloting a Mega 290 all year, I was eager to have a go on the latest and greatest iteration of a classic. The 290 has seen me through thick and thin this year, a long term bike that was always a pleasure to return to. Reliable, confident and able to tackle any trail, whether I was or not…
So the big news is carbon, and the front end of the 650b Mega now gets carbonised, but the 29er version remains totally alloy, which in my opinion is no bad thing. I like metal. Geometry is tweaked and the travel is up, both boosted and metric-ed, it's all modern, and as up to date as possible.
Reach now goes up by 10 to 35mm depending on size, which pushes the XL into 510mm for which tall riders will rejoice. The headtube gets 5mm extra and in terms of spec, all bikes get wider bars, longer drop posts and more substantial tyres. Dedicated one-by drivetrains and improved cable routing all help improve the looks.
All details on the new specs and geometry can be found here – http://www.nukeproof.com
Although I'm a 29er fan, my first spin was to be aboard the 650b mega. Visually the bikes look similar, the aesthetic remains, but the evolution continues and has been refined. the Carbon front end adds to this, with smooth lines giving a strong and confident look. It may be sleeker than ever but it's still a Mega.
Firstly and most strikingly, the fit is improved, at 6 foot 4, I found the previous model a touch short, and now I can happily run a short stem and feel more balanced on the bike. Secondly, the pedalling experience is a step change from the previous version, giving a real burst of power off the line. Thirdly, the initial stroke of the suspension is far more supple and sensitive giving an instantly more comfortable and smooth ride.
All this was found from a car park test, so I was keen to see what would be possible on my home trails. With torrential rain, but no time to reschedule, the Mega and I were getting a baptism, certainly of water, but maybe of fire.
Usually, first rides require some adjustment, a cautious approach with a new bike, and I tried to go into this ride with a sensible head, but it soon got exciting and all was forgotten. The Mega is a confidence upgrade, and trails seem to get smaller, gradients reduce and speeds escalate.
Whereas I would have described the previous Mega as a plougher of trails, this version has moved far from this. This is attributed, so I am told, to the new metric shocks and the work that has gone into the shock tune. The balance between ground sucking absorption and lip-hucking pop is fantastic, allowing one to switch between hold on and hope, or pop and lock down a trail. Maneuverability and liveliness are there far more than before, despite the longer reach.
We did have some climbing to do, and no amount of carbon and geometry rejigs will make a bike like the Mega fly, but climb it will, and not at the expense of your lungs. The 75.5 seat angle keeps things forwards, and with the long (compared to many) chainstays, it just keeps going. The improved pedalling comes in handy here, and it's a more refined, and more efficient experience than last year's model.
The conclusions here aren't groundbreaking, as the bike has been revised rather than reinvented. The few hours spent laughing in the woods in the rain told me most of what I needed to know. The suspension platform is much improved and has created a more sophisticated bike which, along with better sizing, has opened up, even more, capabilities without losing the Nukeproof feel or confidence that every Mega has instilled in its riders.
By the time I'd dried out from my ride, Sam Hill had ridden his Mega to 6th in the World Champs in Cairns, further cementing his legendary status in the world of mountain biking and proving this is one special bike.
Featured in this Post
Comments