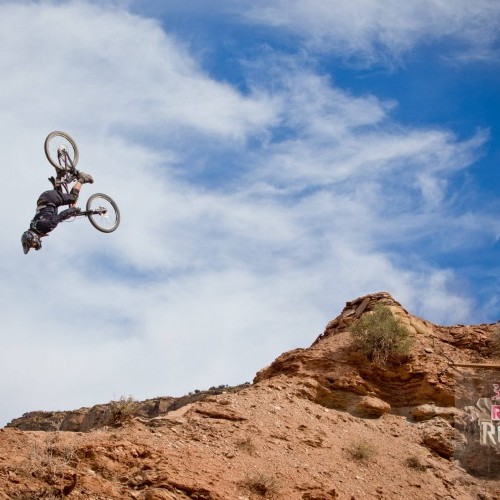 Red Bull Rampage 2017 Live On Red Bull TV
Mon 23rd Oct, 2017 @ 9:30 pm
Red Bull Rampage is the biggest test of guts, skill and creativity on a bike. Held in the iconic Navajo Sandstone Cliffs and mountains of Southern Utah on the edge of Zion National Park, 21 elite riders will have to show massive tricks, gnarly drops and jaw-dropping lines to impress the judges. A new additional ridge opened at the venue will also allow new lines among the already heart-stopping possibilities.
Without the use of power tools, the elite group of riders and their two-person build crews will each have to sculpt their own lines including any jumps, drops, berms or other features they want to ride on the blank canvas the Rampage zone offers. No two riders' paths down the near-vertical sandstone ridges will be the same. With only two runs to impress the six-member judging panel of Rampage veterans led by freeride legend Randy Spangler, the riders will be assessed according to four sets of criteria: difficulty of line, air amplitude, control and fluidity, and tricks and style.
No athlete has ever managed to win Red Bull Rampage three times, but with two-time winners Brandon Semenuk (CAN), Kyle Strait (USA) and Kurt Sorge (CAN) in the lineup, the odds have never been higher. Defending champion Semenuk is already one of the world's most decorated freeride athletes and could additionally write history this year as the first back-to-back winner of the event. Strait meanwhile, is the only rider who has competed in every edition of Red Bull Rampage, taking part in the inaugural 2001 event as a 14-year-old grom, and shows no sign of slowing down. Sorge on the other hand, holds the distinction of the most decorated athlete in the history of the event and is keen to keep it that way.
Watch Red Bull Rampage 2017 live from Virgin, Utah on October 27, exclusively on Red Bull TV.
The biggest challenge for the two-time winners will however be to beat the rest of the field. With backgrounds ranging from Freestyle to Downhill and Freeride, the phrase of 'it's anyone's game' has never rung more true than at Rampage. Slopestyle riders like Thomas Genon (BEL), Brett Rheeder (CAN) and Antoine Bizet (FRA) will be bringing their huge bag of tricks to the Utah deserts whereas young chargers like Utah locals Ethan Nell (USA) and Reed Boggs (USA) will also be eager to bring the heat to the older generation of freeride legends like Darren Berrecloth (CAN) and past Rampage winners Cam Zink (USA) and Andreu Lacondeguy (ESP).
With a stacked field and a huge face to play with isolating favorites might be hard but one thing is certain, Red Bull Rampage will be a breathtaking display of sheer guts and determination and the ultimate showcase of what is possible on a mountain bike.
Catch a live look at practice and preparations on October 26, 2017, and then see Red Bull Rampage on October 27, 2017: both free of charge, live and on demand, on redbull.tv.
Red Bull TV is distributed digitally at redbull.tv and as an app across mobile phones, tablets, consoles, OTT devices and Smart TVs. For a full list of supported devices, visit this page.
###
Schedule: Red Bull Rampage 2017 LIVE on Red Bull TV
Oct. 27, 12:00am CEST: This Is Live… Rampage 2017 – A live look at practice runs and line preparations
Oct. 27, 6:00pm CEST: Red Bull Rampage 2017
Featured in this Post
Comments