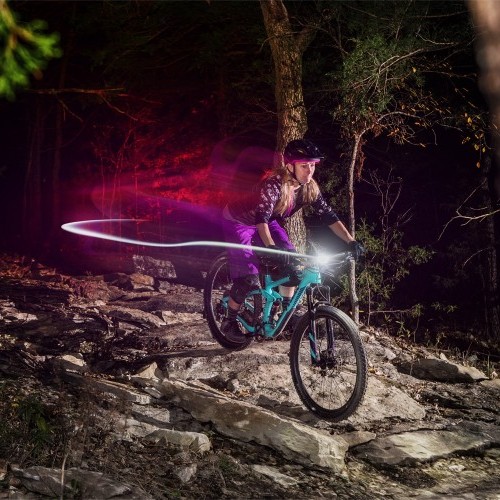 Meet the Next Generation Bike Lights
Wed 6th Dec, 2017 @ 5:00 pm
Finally, bike lights are getting the upgrade they deserve. Announcing Focal Series, the Highest Performance, Lightweight, Long Lasting bike lights on the market! From concept, to design, and through testing, our team has developed a road and trail headlight that will allow you to ride longer and safer!
Visit the Kickstarter campaign now.
Why shouldn't your bike light be utilizing the same innovative technology as your vehicle? Outbound's daring engineering team is fusing automotive tech, design, and components to deliver you – FOCAL SERIES ROAD & TRAIL EDITIONS.
The Trail Edition features a beam pattern tailored specifically for off-road cycling. A tremendously wide 110° beam pattern will bring a newfound confidence to riding in the woods – even with a single bar mounted light. By incorporating a unique light carpet, the Trail Edition evenly illuminates the ground from your tire to where you need to see. This prevents the need to compromise between light up close for technical sections or light far away during high speed sections. Enjoy a more comfortable riding experience at night, so you can attack the trail as hard, if not harder, than during the day.
The Road Edition takes advantage of a uniquely designed reflector, which creates a sharp cutoff beam pattern, similar to that of an automotive headlight. The sharp cutoff, coupled with the intense beam light, provides a concentrated down-road illumination which will allow you to see further while avoiding blinding oncoming pedestrians, drivers, or fellow bikers. Like the Trail Edition, the Road Edition incorporates a light carpet to help you avoid hazards and debris while riding. For our European customers, the Road Edition meets and exceeds StVZO bicycle light requirements.
Click to order yours today: kickstarter.com
Featured in this Post
Comments