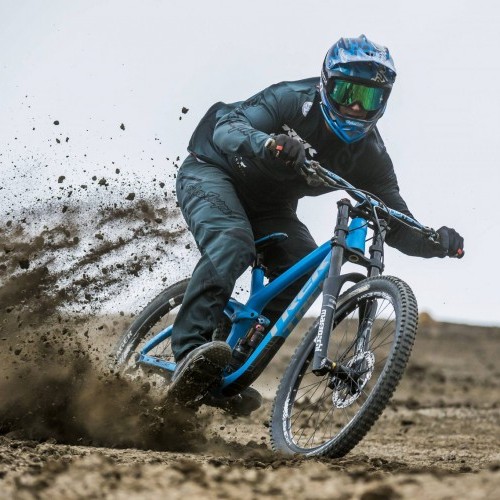 Red Bull: North of Nightfall Trailer
Tue 5th Jun, 2018 @ 9:30 pm
Win a Peaty's Complete Bicycle Cleaning Kit this issue in our FREE subscriber prize draw.
Wow, wow, wow! Drop everything, watch this now. Epic!
Red Bull Media House's latest documentary, North of Nightfall, which captures Darren Berrecloth, Cam Zink, Carson Storch, and Tom van Steenbergen exploring massive, big mountain lines in the Arctic, is now available worldwide. The documentary produced in partnership with Freeride Entertainment, can be watched on digital platforms, DVD/Blu-Ray, and the summer screening tour, which kicks off in Seattle tonight.
North of Nightfall is available as a digital download in 4K through Vimeo On Demand, or in HD and SD on iTunes, Amazon, Vimeo On Demand, and Google Play. A 3-In-1 Collector's Edition of North of Nightfall including the film on Blu-Ray, DVD and a digital download are available through Amazon and The Red Bull Shop US.
"This film was the perfect recipe for me: take two of the world's top riders, mix them with two of the hungriest up-and-comers and leave them alone on an uninhabited island with arguably the biggest terrain ever ridden in the sport," said Jeremy Grant, who directed North of Nightfall. "We all learned a great deal from this film, which started as a mission to ride massive lines in the Arctic, but organically transformed into much more than that. The expedition became a chance to learn about a region that is so spectacular and still so unknown."
Each summer, the frozen landscape of Axel Heiberg Island high in the Arctic Circle flourishes under endless daylight, revealing a spectacular ecosystem. Here the riders discovered a changing environment steeped in history, along with challenging descents unlike anything anyone's ridden to date. Their goal was to explore, build up to, and ride these massive lines. The adventure tested no only their skill, but also their sanity, as they attempted to push freeriding's progression 12-hours from the nearest hospital during days without a beginning or end.
From Seattle, the screening tour heads east to Highland MTB Park (June 9), Dallas (June 12), Bentonville (June 21), Washington, D.C. (June 30), San Francisco (July 12), Denver (July 24), and more than a dozen other showings throughout the summer and into the fall. Additional opportunities to host screenings for North of Nightfall are available at NorthofNightfall.com.
North of Nightfall is the third film in Red Bull Media House, in association with Freeride Entertainment's The Unrideables series, which also includes Unrideables: Alaska Range (2015) and Distance Between Dreams (2016).
Learn more at NorthofNightfall.com
Featured in this Post
Comments