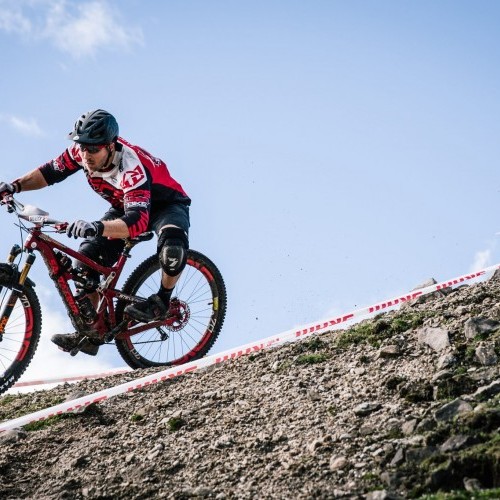 Maxxis Champions DoubleDown Technology for Ard Rock
Mon 23rd Jul, 2018 @ 3:30 am
Come and 'ave a go if your tyres are 'ard enough! With mountain bikers near and far all gearing up to take on the gruelling trails of the 'Ard Rock Enduro in August, Maxxis UK has officially announced the perfect tyres and combinations needed to take on the challenge.
Recognising the aggressive tracks, challenging drops and rocky terrain the festival is renowned for, the tyre giant has identified its DoubleDown technology as the ideal companion to compliment riders' thrills and spills. These tyres feature dual-ply casing, extra strength, weight saving components and bead retention ability; all of which equate to fantastic speed, optimum grip, and increased puncture resistance.
Within this range is the High Roller II, as well as Minion DHF II and Minion DHR II tyres. Praised for being lightweight and durable, the tyres are well-equipped to take on the aggressive landscape of the Yorkshire Dales. The move by one of the official sponsors of 'Ard Rock puts dealers on red alert to stock up on the sought-after tyres ahead of the event on 3rd – 5th August.
Commenting on how the tyres are best placed to tackle 'Ard Rock, Maxxis bicycle brand manager Stephen Robinson said: "As well as being one of most exciting events on the mountain biking calendar, 'Ard Rock is also one of the toughest, testing even the most experienced of enduro riders. With this in mind, we're recommending that competitors make use of our DoubleDown technology tyres. These come with a 120 TPI Dual Ply carcass that gives a supple but predictable ride, which can make all the difference for riders looking to avoid any unwelcome downtime spent changing or repairing their tyres mid-race."
For the best shot at a podium finish, riders are recommended to try one of the following setups: High Roller II on the front and rear; Minion DHF front and High Roller II rear; or, Minion DHF and DHR II, front and rear.
Anyone interested in following Maxxis' journey to 'Ard Rock are encouraged to visit their trail hub at https://www.maxxis.co.uk/ the-trail
Featured in this Post
Comments