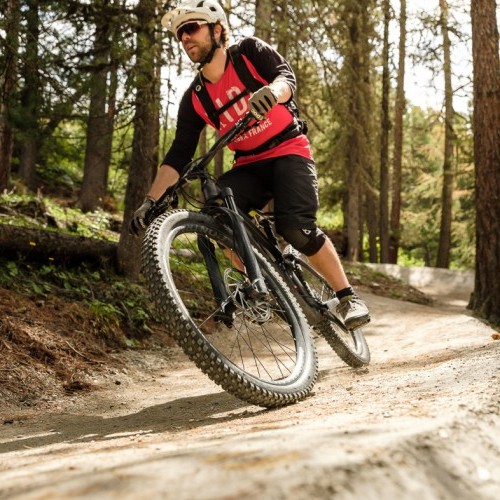 Zermatt's All New MTB Trail – September 2018
Sat 8th Sep, 2018 @ 6:30 pm
After three years of planning and construction, the Sunnegga-Trail will open in Zermatt on 16 September 2018, setting new records for both its overall length and flow quality.
It's a mountain biking experience that's suitable for everyone: the new Sunnegga-Trail, opening in Zermatt on 16 September 2018. "With a total length of 5.8 kilometres, it is the longest, continuous new flow trail in Switzerland," says Adrian Greiner, Managing Director of BikePlan, the company with projects throughout Switzerland that planned the trail and supported the construction.
Smooth riding
Flow trails are purpose-built mountain bike trails that are straightforward to ride from beginning to end. They always have a smooth surface, with no technically challenging details such as hairpin bends or large stones and tree roots. A flow trail is therefore suitable for inexperienced mountain bikers and for e-bikes or mountain bikes with little suspension.
Still exciting
It has been a challenge to create a trail that is simple for families and children but still exciting for experienced mountain bikers. "We managed to strike a really good balance between the two," says Adrian Greiner. "The planning phase also included taking into account all the different stakeholders; for example, we worked closely with environmental organisations, game wardens and forestry associations and came up with a solution that we all supported," says Greiner. The whole trail is completely new and eases the burden on the surrounding tracks and trails.
Swiss innovation
It took 23 construction workers from Werkhof Zermatt – one of the largest trail construction teams in Switzerland – one-and-a-half summer seasons to build the Sunnegga-Trail. This was preceded by an 18-month planning phase. The route starts on Sunnegga, 2288 metres above sea level, and finishes 500 metres lower down the mountain, just above Zermatt. "Building such a simple trail in such challenging terrain is a true Swiss innovation," says Greiner. Depending on ability, it takes between 30 minutes and 1½ hours to cycle the whole trail. Some sections have been open since the beginning of the summer season.
Opening celebration
Everyone is welcome at the opening celebration on 16 September 2018. It starts at 10:00 hrs with a presentation about the project in the Obere Matten marquee in Zermatt. Afterwards, participants will travel together on the train to Sunnegga, where the trail will be officially opened by Gary Fisher. Gary Fisher is considered to be one of the inventors of the mountain bike and always been deeply committed to developing the sport. Last year, he visited the Sunnegga construction site and was impressed by the quality of it. The opening will be followed by a guided descent to Zermatt on your own mountain bike, where some refreshments will round off the celebrations.
Upcoming projects
The Sunnegga-Trail is one of many projects aimed at promoting mountain bike tourism in the Zermatt – Matterhorn destination. Another trail is already under construction; the flow trail between Riffelberg and Schweigmatte is scheduled to open at the end of summer 2019. There are also plans for some new trails for mountain bikers to enjoy between Blauherd and Sunnegga.
Featured in this Post
Comments