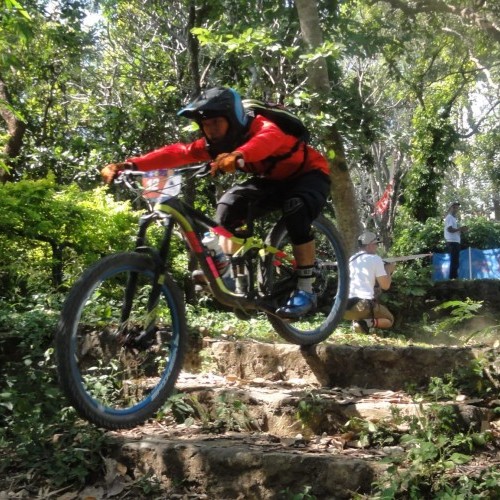 Asian Enduro Series – Chiang Mai International Enduro
Thu 6th Dec, 2018 @ 6:30 pm
The fourth and final round of the Asian Enduro Series 2018 concluded in Chiang Mai on the weekend. Doi Suthep and Doi Pui mountains hovering 1200m over the city below are what met nearly 190 riders from 27 countries where they were treated to perfect weather and trails over the 4 days of the event. After the usual formalities it was down to racing and with some EWS regulars greeting Asia's best, it made for some exciting racing. Phil Atwill (UK) was looking as stylish as ever and found himself sitting in second after the first 4 stages and day 1 of racing. Taiwan's Sheng Shan Chiang (Dan) was enjoying his first ride in the series and sat just 12 seconds behind in third. But the long blonde locks of Cody Kelly (USA) were what everyone was chasing. From the very first corner of the first stage, he made his intentions clear carrying more speed and over-jumping the corner hip further than everyone else. Cody found himself with a 10 second lead after day 1!
Day 2 saw a similar set up to day 1, steep, moist up top, dry down the bottom and a lot of rocks in between. Things changed slightly at the top with Dan finding some more speed and Phil dropping a chain on the stage 7 rocks meant Dan would jump ahead of Phil and grab second place on the podium. AES regular, Florent Poilane of France, found his mojo on day 2 after a crash on stage 1 made him ride the rest of the day quite conservatively. He jumped ahead of James Perry (USA) to claim fourth. Thailand's rising star Suebsakun Sukchanya finished in fifth, just ahead of South Korean and 2018 series champion Sangmok Lim who said small mistakes cost him too much time. But the man at the front of the pack went on the win every stage except stage 8 and increase his lead to 28 seconds by the end. This meant that, on his first venture into Asia, Cody Kelly was the International Chiang Man Enduro champion for 2018!
The women's class was won by Thailand's DH champ Vipavee Caballes.
The junior category went to series champion Junho Kim from South Korea. There is a growing crop of young talent in Asia, including Thai fireball Methasith Boonsane. Who qualified an incredible 5th overall in the seeding run. His excitement got the better of him in the first corner of stage 1 where he blew a tyre off the rim! He showed some great speed in later stages and is definitely a star of the future!
Master A (30-39yrs) category went to local talent Sitichai Ketkaewmanee.
James Glennie of the USA rocked up with a freshly built bike and no practice and won the hotly contested Master B (40-49)class!
Master C (50+) was won by UK ace Mark Doughty who does the rounds in Europe but headed to Asia for a holiday!
Trailhead knows how to put on an event! Riding was done by mid-afternoon, leaving you plenty of time to catch the sights, go out with the family or recall all the action with your buddies by the pool!
Chiang Mai is known for many things and up until recently, mountain biking has not been one of them. The trails here are truly amazing and the secret is now out! International Chiang Mai Enduro 2018 showcased what was on offer and nobody left disappointed!
Featured in this Post
Comments