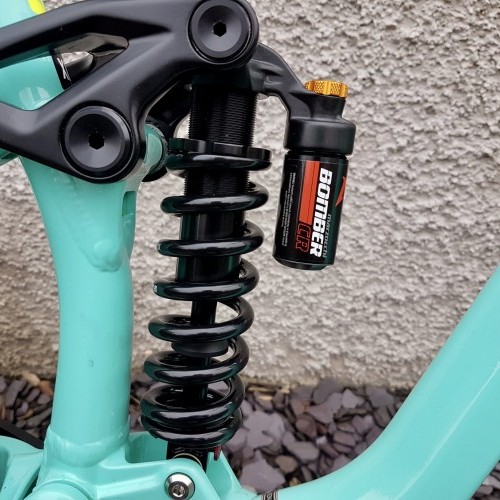 Marzocchi Bomber CR Coil Shock
Fri 25th Jan, 2019 @ 3:30 am
Last year was the return of the mighty Bomber Z1, this year Marzocchi gives us the Bomber CR Coil Shock. Continuing to aim their products at those of us without endless piles of cash, the shock brings Coil powered bounce to the masses and matches up rather nicely with the Z1 fork. With Fox concentrating on the top end suspension, Marzocchi is packaging up the lower end internals and giving us bang for the buck suspension that worries less about weight and fancy dials and focuses on performance and price point.
It's no surprise that this shock looks like a classic piece of Fox kit but it's been brought up to date with availability in virtually every size and mount option. Metric of course, but more importantly there are still options for standard spacings for those who want to revamp their old bike. The Bomber CR covers all the bases including trunion to allow for compatibility with as many bikes as possible. Suitable for travel between 130mm and 200mm it will suit the new wave of aggressive short travel bikes as well as DH and enduro bikes. Adjustments are limited to rebound and low-speed compression but this keeps things simple and easy to set up and will appeal to those who like a minimum of faff.
The weight comes in at 920g with spring, so it's no featherweight, but that's not what this is about and those looking to save weight will be looking at entirely different products. The potential here is for a solid, reliable shock that needs minimum maintained. Add to this the $299.99 price tag and I'm sure this will be a winner with hard-hitting riders on a budget.
We've strapped the shock onto our Marin Alpine trail test bike and even stuck the Bomber Z1s on the front to see how it all works together. Watch this space for the review…
Sizes:
• Standard: 7.5×2.0", 7.7875×2.0", 7.7875×2.25", 8.5×2.5", 8.75×2.75"
• Metric: 210x50mm, 210x55mm, 230x60mm, 230x65mm, 250x75mm
• Trunnion: 185×52.5mm, 185x55mm, 205x60mm, 205, 65mm, 225x75mm
Featured in this Post
Comments