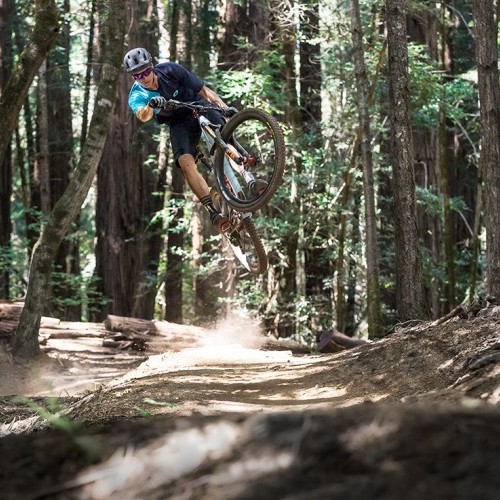 Oakley MTB: Spring 2019 & DRT5 With Greg Minnaar
Tue 29th Jan, 2019 @ 3:30 pm
Oakley has just launched its Spring '19 MTB capsule collection. The breakout range is inspired by the rugged environment that MTB riders call home. Neutral greys, greens and blues mirror the beauty of the mountains, fuelling riders with a standout look, inspired by the landscape that has created their sport and obsession.
This new collection marks yet another step forward in Oakley's 30-year commitment to performance in cycling, taking the design excellence from their eyewear development, and applying it to the evolving head-to-ankle needs of the modern MTB rider.
From downhill racing to trials riding, Oakley's Spring '19 collection has been designed with the movements of each rider in mind and developed with premium components. Helmets provide high performance protection while goggles and sports performance eyewear provide venting, and four modular items of apparel each offer stowability and contain moisture wicking properties.
Highlights of the collection include seven new goggles and two new Prizm™ lenses:
New Prizm™ Lenses
By fine-tuning individual wavelengths of color, Oakley's PRIZM lens technology sharpens visual acuity to reveal nuances that would be missed by the naked eye. For MTB riders, the ability to spot unexpected obstacles and changes in terrain is more important than most, so the Prizm™ Low Light and Prizm™ Trail – a new formulation – have both been designed specifically for the wide-ranging MTB environment
New Goggles
The new Airbrake™ MTB and O-Frame™ 2.0 XL MTB each have a foam package tailored for MTB, allowing your goggle to breathe more efficiently whilst keeping dust and debris out of your eyes, whatever the terrain.
The Airbrake™ is available in three colorways (Matte Black with Prizm™ Trail lenses, Matte Black with Prizm™ Stadium lenses and Dark Brush Org with Prizm™ Trail lenses) while the O-Frame™ 2.0 XL MTB offers four choices (Matte Black with Fire and Clear lenses, Matte Black with Dark Grey and Clear lenses, Dark Brush Orange with Fire and Clear lenses and Balsam Black with Dark Grey and Clear lenses).
Oakley® and Greg Minnaar Launch the DRT5 MTB Helmet
Oakley has launched DRT5 , a new highly versatile, do-it-all trail helmet which will debut in Spring '19. Designed by mountain bikers and validated by the world's best, including World Champion mountain bike racer Greg Minnaar, Oakley DRT5 equips riders of all levels with innovations built to perform and protect at the highest level – helping build confidence to rip down technical descents and take those unforgiving climbs back to the top.
Designed with eyewear in mind, the DRT5 features removable rear mechanical clips on the back of the helmet for eyewear stowing, allowing for proper airflow and increased temperature regulation – an effect supported by the interior's washable silicone gel sweat guard which collects and diverts sweat from the forehead, keeping eyewear streak-free.
The helmet's BOA FS1-1 System is a height adjustable 360° design that delivers a perfect fit every time. Developed to allow less interference with glasses and pressure against the temple, the TX1 Lace retention system lies flat against the riders' head, allowing eyewear to sit naturally.
Rider protection is always of paramount importance in any Oakley helmet design, and the DRT5 is no different, featuring MIPS technology, a patented brain protection system which helps protect heads against impact that can come from any direction.
Team Oakley athlete Greg Minnaar played a core role in the DRT5's research and development, collaborating at five vital stages including early clay model reviews, visor modifications and the helmet's first 3D reveal.
He commented: "In more than 20 years of working with Oakley their equipment has always over-delivered. The design team always put the athletes' needs first, and you can see that in the DRT5. We collaborated at every stage of the process to create this versatile trail helmet, and I can't wait to see athletes of every level wearing it out on the mountains. This is truly a product designed for riders by riders".
Minnaar's input into the DRT5 goes right through to the colorways, with the 'G. Minnaar Grey' style named after him and his own favourite racing color. Available from the 1st March the DRT5 has four other design options:  'Blackout', 'Matte White', 'Dark Brush' and 'Matte Balsam'.
Featured in this Post
Comments