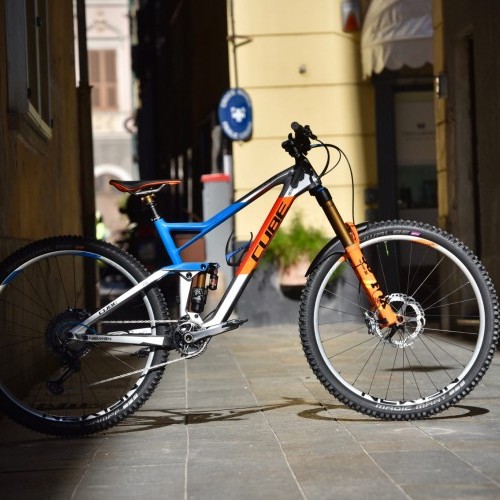 Cube Action Team Ready To Take On The 2019 EWS
Sat 16th Mar, 2019 @ 3:30 am
It's just a few short days until the first stop of the 2019 Enduro World Series in Rotorua. The new season brings with it some changes for the CUBE Action Team. New member Sofia Wiedenroth joins Greg Callaghan, Zakarias Johansen and Gusti Wildhaber for the first race of the season in New Zealand. "We've completely reorganised our tech support team and have two incredible new mechanics, Ciaran and Daniel, on board to look after the riders and provide the best technical back-up.
Sofia Wiedenroth is the first woman on the Action Team and will be racing the Enduro World Series this year. Sofia is already an integral team member and her background in cross country racing gives her a great basis to develop into a top enduro rider in the medium term," says Claus Wachsmann, manager of the CUBE Action Team.
Irishman Greg Callaghan will be looking to defend his 2018 win at the Emerald Enduro, a position that is sure to give him a great deal of confidence: "I'm more stoked than ever to get racing again! The whole CUBE Action Team has been working hard over winter to get ready for this year and make sure we're all in great shape – I've never felt better prepared for an EWS season! We've got a new rider, new partners, new mechanics and are 100% motivated to do our best."
27-year-old Norwegian Zakarias is looking forward to his second season riding for the CUBE Action Team: "The season is finally here and I'm super stoked that the first stop is Rotorua. I went from training in the Swedish snow to moving into the team house in Finale Ligure in January. It was a completely new experience for me and just amazing – perfect training conditions and world class trails on the doorstep. My preparation has been perfect. I feel super confident that the hard work will pay off and that I'll be able to achieve my goals for 2019."
Gusti Wildhaber proved his mettle last year as one of the world's best enduro riders with several top results and came into his preparation for this season fully motivated: "My performance in 2018 has really motivated me through the winter. I've been able to massively improve my skills and prepare specifically for the different courses we'll be racing on. We moved into a team house in Finale Ligure this winter and spent a lot of time working on our equipment and set-up. We were also lucky enough to be able to test out several products thanks to our sponsors. I can't wait to realise my full potential in the first two EWS rounds!"
Newcomer Sofia was also at the training camp in Finale Ligure: "I did a lot of endurance training on skis at home over the winter and the first test race in Italy was a great taster for the EWS. Unfortunately, I had to take some time off the bike after a crash during training in February so I don't have too much high-intensity work in my legs. But I'm making the best of the situation and super stoked on my first big trip with the team. I can rely on them 100% to give me their full support."
"The CUBE Action Team is riding the brand-new CUBE Stereo 150 team bike. It's perfect for everything from the tight, twisty forest trails of Rotorua to the high-speed, high-altitude descents of Whistler and everything in between. It delivers maximum performance in every situation and is the best racing machine the team has ever had! With NEWMEN on board, we now also have a highly professional wheel supplier to the team"

– Team Manager, Claus Wachsmann
The proof of the pudding will be the first race of the 2019 EWS calendar, where the CUBE Action Team will find out if their intensive preparation work has paid off.
Featured in this Post

95,440

402,599

United States
910,394
Comments