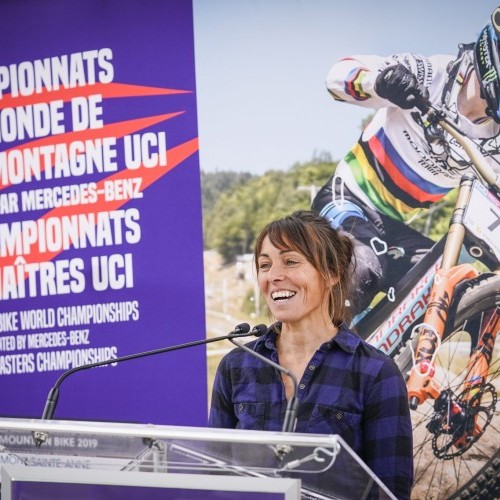 Less Than Three Months Until the UCI Mountain Bike World Championships!
Sat 25th May, 2019 @ 3:30 pm
The countdown is now on, with less than three months to go until the world's top mountain bike athletes take Mont-Sainte-Anne by storm for the UCI Mountain Bike World Championships presented by Mercedez-Benz this August 21–September 1. After 1998 and 2010, this is the third time Mont-Sainte-Anne and Gestev will play host to the prestigious competition—that's a world first on the UCI circuit for any host venue or organizing committee. As well as hosting three World Championships, Mont-Sainte-Anne and Gestev have presented no fewer than 25 UCI Mountain Bike World Cup events, every year since 1991.
"Mountain biking is ingrained in our DNA here on the Côte-de-Beaupré near Quebec City, and part of the reason why is that we have such a longstanding tradition of hosting world-class competitions every year," said Olympic mountain bike athlete and event ambassador Marie-Hélène Prémont, who hails from neighbouring Saint-Ferréol-les-Neiges. "I'm incredibly proud to be involved in promoting these Mountain Bike World Championships, because they marked such a pivotal point in my career the last time around in 2010. It's so important to keep organizing events like this to encourage the next generation of local riders to keep on pedalling."
An action-packed program of events
"It's a huge vote of confidence for UCI to ask us to host the first-ever Electric Mountain Bike (e-MTB) World Championships this August 28. And that's not all: we're also proud to be hosting the UCI Mountain Bike Masters World Championships August 21–23, right before the elite athletes roll in for the UCI Mountain Bike World Championships. Normally these big UCI events are held at different times in separate locations, so it's a real privilege for us to be organizing them both right here, not to mention a huge boost to the prestige of this year's event."

– Chantal Lachance, Vice-President of Production and Marketing for Gestev
There's a stellar line-up of world-class competitions in store, including the Cross-Country Team Relay World Championships, the Junior Cross-Country World Championships, the U23 and Elite Cross-Country World Championships, and the Junior and Elite Downhill World Championships, as well as the e-MTB Mountain Bike World Championships—a world first—and the Masters Cross-Country and Downhill World Championships. As if that wasn't enough, amateur competitive riders of all ages can also look forward to the usual Vélo Mag Raid, GAAP Enduro presented by Rocky Mountain and Vélikidz presented by Shimano events.
One thing's for sure, the atmosphere's going to be way more than electric here at Mont-Sainte-Anne when the UCI Mountain Bike World Championships roll into the area this August 21–September 1!
Featured in this Post
Comments