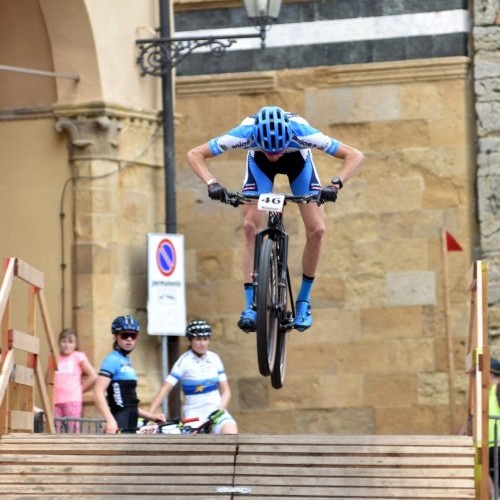 Race Report: UCI MTB Eliminator World Cup – Briatta and Tormena Strike Again in Volterra
Tue 18th Jun, 2019 @ 12:30 am
Race Report: UCI MTB Eliminator World Cup - Briatta and Tormena Strike Again in Volterra
Win a Hassle'Off Multi Tool this issue in our FREE subscriber prize draw.
The UCI MTB Eliminator Word Cup moved to Volterra (Italy), two weeks after the second round in Villard-de-Lans, France. Italy's Gaia Tormena strikes again and clinches her second World Cup victory. The 17-year-old wins for the third time in two weeks, after winning the Italian XCE Nationals earlier last week. Frenchman Hugo Briatta continued his outstanding season with a second mountain bike World Cup race victory in Volterra, Italy. The Frenchman attacked and dropped the Dutch rider Jeroen van Eck in the final uphill.
Yet another victory for Briatta
The charming town in Tuscany hosted some intense racing which saw French athlete Hugo Briatta take his second victory of the season. Round 1 winner Jeroen Van Eck finished in second place. The Dutch rider now moves up to second in the general standings.
The duo of UCI-leader Hugo Briatta and Dutch champion Jeroen van Eck separated themselves from the rest after only one lap and together they ploughed away from the opposition. UCI World Champion Titouan Perrin-Ganier managed to grab third place, ahead of Italian champion Mirko Tabacchi.
Gaia Tormena scores another gold
Recently crowned Italian champion Gaia Tormena scores again. Italy's Tormena won over European Champion Irina Popova. The 17-year-old dominated the elite women's race, soloing to her victory ahead of world-ranked rivals Irina Popova and Ingrid Boe Jacobsen.
After an exciting race and a great finale Gaia Tormena added another World Cup win to her palmares. The UCI-leader had enjoyed her time out there in her home country. Irina Popova managed to stick with the Italian rider, but didn't put in a big move, leaving Tormena to pull away through the final lap. French rider Laurie Vezie held off Norwegian Ingrid Boe Jacobsen for third place.
Hugo Briatta secures overall lead, Tormena tops standings
The women's competition saw Gaia Tormena taking her second consecutive victory to strengthen her lead in the overall rankings with a total of 120 points. Irina Popova moved up to take second at 77 points. Marion Fromberger sits third in the overall standings.
Briatta now holds a 34 points lead over Jeroen van Eck, who moved up in the overall standings with UCI World Champion Titouan Perrin-Ganier a further 15 points behind. Germany's Felix Klausmann is fourth with 80 points after three stopovers.
After a short break, the UCI MTB Eliminator World Cup will resume on August 15th in Waregem, Belgium.
Men's results – Round 3
1. Hugo Briatta (FRA)
2. Jeroen van Eck (NED)
3. Titouan Perrin-Ganier (FRA)
4. Mirko Tabacchi (ITA)
Women's results – Round 3
1. Gaia Tormena (ITA)
2. Irina Popova (UKR)
3. Laurie Vezie (FRA)
4. Ingrid Boe Jacobsen (NOR)
Men's standings
1. Hugo Briatta (FRA) – 134 p.
2. Jeroen van Eck (NED) – 100 p.
3. Titouan Perrin-Ganier (FRA) – 85 p.
Women's standings
1. Gaia Tormena (ITA) – 120 p.
2. Irina Popova (UKR) – 77 p.
3. Marion Fromberger (GER) – 72 p.
Photos by Antonino Nucera & Vittorio Cucini
Comments