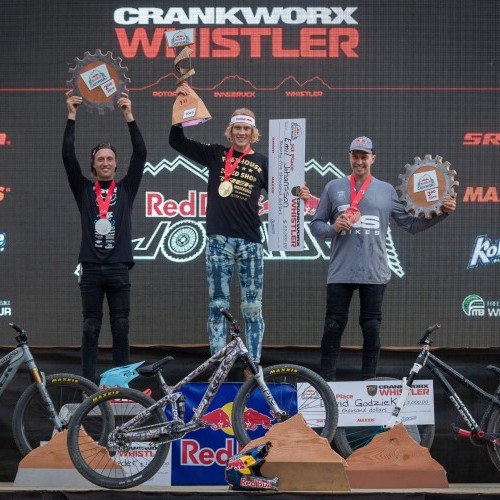 5 Things We Learned From Crankworx Whistler
Sat 24th Aug, 2019 @ 3:30 am
Red Bull Joyride is the Super Bowl of gravity mountain biking, always delivering spectacle of the biggest proportions. An action-packed week preceding the Slopestyle extravaganza on the Canadian hillside heated up the Whistler village for a full ten days. The replays of CLIF Speed & Style, 100% Dual Slalom, the RockShox Ultimate Pumptrack Challenge and Red Bull Joyride can be found on Red Bull TV.
Whistler: Birthplace of the Crankworx World Tour
Crankworx Whistler is not just the end of the 2019 Crankworx World Tour season, it turned the excitement level up to eleven. Tens of thousands of gravity mountain bike fans made their yearly pilgrimage to the mecca of freeride mountain bike to witness incredible two-wheel performances. Twenty events were looking to be conquered by the best riders in the world. Four contests; the Dual Slalom, the Pumptrack Challenge, Speed & Style and Red Bull Joyride, have been broadcast by redbull.tv and on crankworx.com and are now available for replay.
Speed & Style: The Top Riders show heavy tricks and fast racing
The unique combination of high-speed-racing and spectacular tricks in a thrilling head-to-head format is what makes Speed & Style so incredibly dramatic and unpredictable.
The Who-is-Who of Mountain biking, Freeride, Downhill and Slopestyle athletes compete and bring a diverse set of skills to the event. The unusually long track in Whistler put Slopestyle athletes at a bit of a disadvantage compared to the superfast racers when it came to the speed part of the contest, but what some tricksters missed in speed, they more than made it up with spectacular style. Mitch Ropelato (USA) dominated the competition with the combination of simple tricks and outstanding racing. His opponents were forced to rely on difficult tricks to make up for Ropelato's speed, a high-risk strategy that did not work out in the end. Tomas Lemoine (FRA) and Martin Söderström (SWE) showed a Cash Roll (Lemoine) and a heavy 360 Double Tailwhip (Söderström), which are two tricks you will definitely not see on a regular racetrack, but even these tricks proved no match for the speed of the American ripper. Not only did he manage to win at the event, but after an exhausting week full of high-speed action, he was able to claim the legendary title of King of Crankworx, holding off both Tomas Lemoine and Adrien Loron, who were both considered as in the running for the Overall title.
Speed & Style: Söderström comes out on top
Martin Söderström managed to claim the Overall title for the very first time and rightfully so. He truly had to fight for the win this time. Beating Bas van Steenbergen (CAN) and Sam Reynolds (GBR) in the early rounds was already quite a challenge, but Tomas Lemoine managed to beat the highly decorated Slopestyle athlete by only a fraction of a second.
Martin Söderström had no problem seeing the French young gun advance to the next round. His constant performance over the year meant he had already secured the Overall title. After a second place in Rotorua and a first place in Innsbruck (AUT), his third place here in Whistler turned out to be sufficient to take the Overall, which he secured by winning the small final against Daryl Brown (GBR) and topping it off with one of the most beautiful 360 tabletops of the whole Festival, set against the spectacular backdrop of the Fitzsimmons Range.
Missed the incredible action at Crankworx Whistler? Fear not! You can watch all the Replays of Dual Slalom, Pumptrack Challenge, Speed & Style and Red Bull Joyride whenever you feel like watching it, on-demand and available everywhere on Red Bull TV!
Slopestyle: Emil Johansson completes his perfect comeback with a win for Europe
Sometimes sport writes stories even the most creative Hollywood screenwriter could not have dreamt up. This is exactly like what happened last weekend at Red Bull Joyride, starring Slopestyle prodigy Emil Johansson (SWE) front and center. Just two years ago, the nearly unknown Rookie soared to the top of the Slopestyle world by securing the overall FMBA World Series title in his first full professional season. Then he nearly disappeared from the world of mountain biking. This career break wasn't caused by a crash, but a combination of a back injury and a very rare autoimmune disease. After missing his first win by a hair-splitting margin in Innsbruck 2019, he could finally bring home his first Crankworx win with a flawless first run at the world's biggest Slopestyle stage; Red Bull Joyride. A perfect comeback.
In truly effortless fashion he showed the 30,000 gathered fans his deep bag of signature tricks. Some of the highlights were a Double Barspin to Downside Tailwhip, a remarkable Cork 720 on the hard-to-trick Dirt Jump Hip and rounding things off with a never before seen combination on the Whale Tail; an Opposite 360 Tailwhip onto the iconic Slopestyle feature followed by a 360 Tailwhip to Unturndown off was welcomed by an ocean of roaring fans. A well deserved first run score of 95.75 would not be beaten by any other rider in the event, but not for lack of trying – Brett Rheeder (CAN), Nicholi Rogatkin (USA) and Dawid Godziek (POL), a Red Bull Joyride rookie, threw down incredible runs that could have threatened Johansson's score. The win makes him the first European to claim the win since 2012.
Slopestyle: Rheeder hangs on to Crankworx FMBA Slopestyle World Championship Title
After an impressive season, Brett Rheeder (2,900 Points) defends his Crankworx FMBA Slopestyle World Championship Title against Tomas Lemoine (2,032 Points) and Torquato Testa (ITA, 1,920 Points) After a dominating win in Rotorua to open the season, with 6 points difference to second-place finisher, Tomas Lemoine, he managed to secure another win in Innsbruck by a razor thin margin of just 0.5 points over Emil Johansson. This made him a contender for the Triple Crown of Slopestyle Trophy, which was won by Nicholi Rogatkin in 2018 after winning in Innsbruck, Les Gets and Whistler. Unfortunately, the title wasn't in the cards for Rheeder at Red Bull Joyride.
Last season was all about the rivalry between Rheeder and Rogatkin. With the comeback of Emil Johansson and the Slopestyle rise of BMX-veteran Dawid Godziek, who managed two podium spots this year, next season will be filled to the brim with adrenaline-pumping action.
The following six athletes will be prequalified for next year's Crankworx FMBA Slopestyle Championship due to their outstanding performance this year: Brett Rheeder, Tomas Lemoine, Torquato Testa, Emil Johansson, Erik Fedko (GER) and Dawid Godziek.
Red Bull TV broadcasts the Crankworx World Tour LIVE and on-demand, anytime, anywhere on redbull.tv. More up-to-date information and more action-packed mountain biking content can be found at redbull.tv/bike.
Featured in this Post
Comments