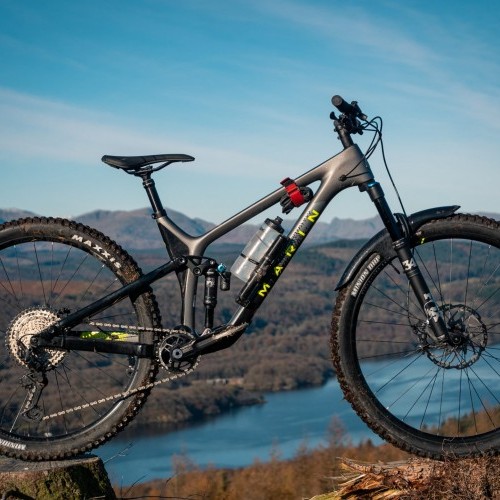 First Ride Marin Rift Zone Carbon 2
Tue 19th Nov, 2019 @ 6:30 pm
The New Rift Zone Carbon
It's a good year for the Marin Rift Zone, first, we get a fully updated model with three competitively priced options to light up anyone's trails. Then, we get the news that Marin is opening up some top-end models but this time made of carbon to really set off the Rift Zone as a class act across the range.
Geometry remains the same and uses a back end based on the Alpine Trail, so it's not full carbon, but the main frame is full carbon and sheds plenty of weight from the alloy and smooths out the lines. Essentially the Rift Zone takes some big bike numbers and crafts them into a shorter travel trail bike that should have no issues sticking its nose into enduro territory.
The head angle hits the trail at 65.5 degrees and the reach is extended through the range from the previous model which gives the XL a 515mm reach to keep the tall folk happy. Seat tubes are super short to allow for low droppers and riders to size their bike on length rather than seat-tube length. Keeping in line with their 'Made For Fun' mantra, Marin keep the back end tidy and compact at 425mm so access to rear-wheel shenanigans should be pretty easy.
Two Models
Rift Zone Carbon 1
* Marzocchi Bomber Z2/Fox Float DPS Performance shock
* Shimano SLX 12-speed drivetrain
* MT420 (non-series, Deore-level) 4 piston brakes, 203/180mm rotors
* Double-wall rims, 29mm inner, on Marin Centerlock hubs and wrapped in Maxxis Minion DHF 2.5"/DHR 2.4" tires
* Deity Skyline bar, X-Fusion Manic post & PNW Loam lever
Rift Zone Carbon 2
* Fox Performance 34 Float fork/Float DPX2 Performance shock
* Shimano XT/SLX 12-speed drivetrain
* SLX 4 piston brakes, 203/180mm rotors
* Double-wall rims, 29mm inner, on Shimano Centerlock hubs and wrapped in Maxxis Minion DHF 2.5"/DHR 2.4" tires
* Deity Skyline bar, X-Fusion Manic post & PNW Loam lever
The Rift Zone Carbon 1 hits the shops at £3195/$3499/€3399 and the Rift Zone Carbon 2 at $4399/£3995/€4399
First Ride
I'll make no qualms about it, I was a big fan of the previous Rift Zone, It had some great trail bike characteristics but was happy to get involved with trails that got steep, technical or both. Trail bikes have continued to move on, and riders (well me anyway) are wanting shorter travel bikes without having to sacrifice the geometry we have grown to love on longer travel enduro style bikes. So, in rolls the new Rifty with reach to compete with some of the longest bikes, and a head angle that is nearly as slack as their Alpine Trail. The main difference here is the travel, which comes in at 125mm out back and 130mm up front.
Marin hasn't dabbled much in carbon mountain bikes recently other than on their Naild equipped bikes, preferring to produce well-composed alloy bikes at decent price points. The Rifty in its carbon coat certainly looks the business and shaves some weight off the alloy, but at this stage, I don't have the figures. Smooth lines look great and a design nod to the older Marins with the Triangles around the seat tube is a nive touch.
Hopping on board, I had a feeling that I'm starting to get used to. It's the feeling of a bike that truly fits, and this has only really happened since the 500mm reach barrier has been smashed and now the benefits for tall riders are coming thick and fast throughout the industry. Climbing and pedalling on a 125mm bike has to feel good, otherwise, the call of a long travel bike is too strong and the short travel world can seem pointless. The Rift Zone has that spark. Not XC bike fast, but that feeling of a good return on your investment of energy into the system and despite being shod in proper rubber, the Rifty gets going.
Climbing is good, and the steeper seat angle helps, but initial testing on my vomit-inducing tech climb would suggest even steeper could be better still. The chainstays are also part of the picture here, and their stubby nature again won't help keep the front glued to the floor when climbing. Efficiency feels good, and knowing how capable this bike can be downhill makes it all the more exciting as you reel in the vertical with ease, knowing you can hit your favourite trails hard.
It's this balance that has won me over so far, the ability to climb efficiently to access trails that would normally be reserved for the 'big bike'. Once moving with gravity, the Rift Zone is wildly playful, combining the short back end with low overall weight and quick return on the suspension. Never lost in it's travel, quick changes of direction are easily achieved whilst the front end is slack enough to plough through obstacles. The longer front centre gives stability whilst the short back end is manoeuvrable. I would have thought this disparity between front and back lengths could cause trouble, but so far it's been remarkably good.
Into the technical and the front end is happy to be pointed at anything, and my confidence on this bike feels pretty similar to that of the Alpine Trail I've been riding all year. The head angle is similar, but the extra reach feels good and unless I want to charge blindly into boulder fields the Rift Zone takes everything in its stride.
So far the back end has been a little easy with its travel and for heavier or harder hitting riders the DPX2 needs a volume spacer to just get it to ramp up a little. I found the stock set up good, but as my confidence grew, adding the spacer gave just a touch more support and gave a little more resistance to the end of it's travel. Up front the Fox 34 is a pretty good match, and at 130mm is pretty stiff and holds it's line remarkably well.
Stand out components have to be the PNW dropper lever and the still impressive Shimano 12 speed groupset which certainly give the bike a high-quality feel. Paying attention to little things like a dropper lever and a brilliant Deity cockpit is what Marin seem to be about. Sweating the small stuff to make bikes better.
Overall I'm stoked with how the latest version has evolved and either alloy or carbon is going to make some riders pretty happy indeed. I'll be rolling on this bike into December when a full review will go into the mag then so watch this space.
Featured in this Post
42,771
54,541
18,721
Comments