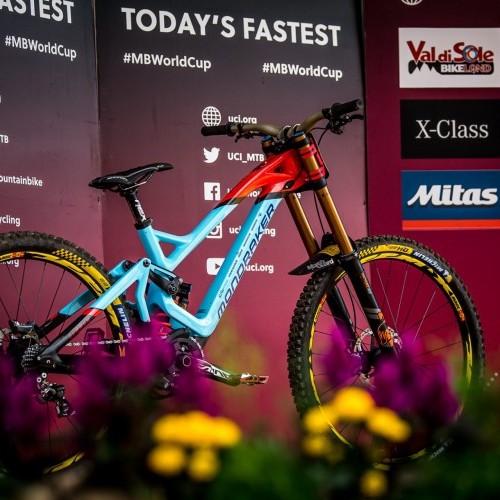 Strong 2020 MS Mondraker Team Line-Up Confirmed
Wed 12th Feb, 2020 @ 3:30 am
The start of a new year means one thing in the downhill (DH) world – the much-anticipated team line-ups. MS Mondraker Team is fired up for the MTB World Cup season, confirming the return of the core of their multi-national, podium-winning team, maintaining continuity in the pro rider roster and support staff, looking to build on a successful and exciting 2019 season.
Fresh and on-form following his victorious World Cup run in Val di Sole, 6th in the World Championships and 6th place in the UCI Ranking last year, Great Britain's Laurie Greenland is once again pulling on the Austria-based team's jersey, ready to race on the much-lauded 29er Mondraker Summum.
Laurie's dedication to the sport and hunger to win is even more evident than ever: during the off-season he chose to stay on home soil, training with ex-British Cycling MTB advisor Olly Morris, and enjoying his new-found status as a Red Bull athlete – a recognition of his amazing 2019 form. He is determined to claim more World Cup (WC) victories over the next seven months.
Laurie's fellow British teammate Mike Jones also comes into the 2020 season in great form, eager to impose himself on the Elites. A super talented rider, Mike's grit and tenacity have him looking for his first WC podium.
After a World Championship practice run crash last August on Mont-Sainte-Anne's 'La Tarzan' rock drop saw New Zealand's national champion, Brook Macdonald, bow out early from the tail end of the season with a spinal injury, MS Mondraker can confirm the return of "The Bulldog" to the 2020 calendar. Although the Elite World Cup winner and former Junior World Champion will not be racing the first DH World Cup round in Lousã, Portugal (21st-22nd March), he is set to make his comeback later in the year.
Italy's former double national champion Eleonora Farina returns with confidence following two WC podium finishes last year in Andorra and Les Gets. The technically gifted rider and former European DH Champion has her eyes firmly fixed on the top step this season.
Rounding off the Elite team roster, and one to watch for this year is 22-year-old Thibault Laly.
The former French Junior national DH champion and EWS U21 race winner is a formidable gravity rider with the capability and talent to ride at DH Elite World Cup level. Thibault has made some notable lifestyle changes to ensure that racing is his primary focus, so he's set to make this his best season ever.
Lukas Haider remains at the helm, continuing his 9-year career as manager of the Mondraker team, starting the ninth race season together under the MS Mondraker name. Looking to the 2020 season, Lukas said: "2020 is going to be an interesting season for us. We have a strong team roster with Laurie, Brook, Eleonora, Mike and Thibault, and realistic chances for World Cup podiums and victories; this is our main goal, for sure.
"After his World Cup victory last season, Laurie is more motivated than ever. It will also be great to see Brook return after recovering from a spinal injury in Mont-Sainte-Anne last August. His latest rehabilitation progress is promising and we hope to have him back for the second half of the season. We will have some new developments in the material sector in the pipeline, which should help us as well. We just can't wait to get it started!"
Featured in this Post
New Zealand
184,242
85,902
Comments