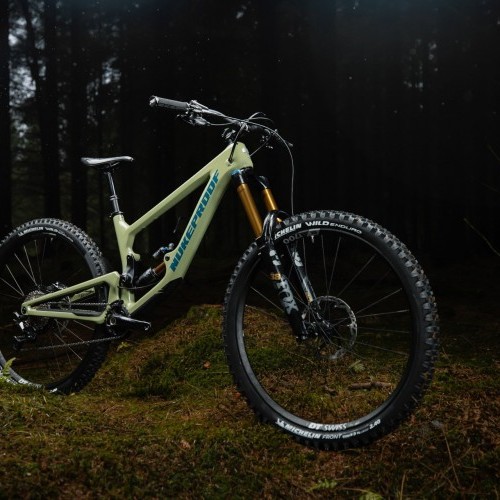 Nukeproof Announce New 'Giga' Model For 2021
Wed 27th Jan, 2021 @ 9:00 am
Win a GO3 Camera by Insta360 this issue in our FREE subscriber prize draw.
The secret is finally out – Nukeproof have now announced their new hard-hitting enduro bike that will sit above the Mega, the new Giga! Tested under the likes of Sam Hill and co. at some of the most demanding places on the EWS circuit, this new bike features 27.5″ or 29″ wheels depending on your preference, up to 180mm travel and a build kit designed for use out on some pretty serious terrain… Read on for the full press release from Nukeproof:
As riders, we are all guilty of the gluttonous sin; enough is never enough in the hunt for the ultimate ride or result. There is a constant push for bigger, longer, rougher and faster with ever increasing demands on the performance and capabilities of our bike and products. The pursuit is endless. It's a philosophy that athletes like Sam Hill live by. The new Nukeproof Giga is the embodiment of this idea; Designed to be the ultimate hard-hitting Super-Enduro weapon for when you just need more.
The brainstorm was to trial a "mini version" of our Dissent downhill frame as a potential platform that could take on the roughest and toughest Enduro races and/ or lap all day in at the bike park. We were always confident in the descending capabilities of the Dissents horseshoe linkage design but needed to ensure the pedalling characteristics allow the rider to get back to the top again in relative comfort. As soon as we turned the cranks of the test mule, we knew we were on to something special. Despite the obvious weight of the mule (which was still built to DH standards) it was super-efficient and climbed well, but on the descents, it was incredible. With Team CRC Manager Nigel Page leading the charge in testing (once tried, we couldn't get the mule back!), the concept had to be turned into reality.
The Figures:
With 180mm (27.5") or 170mm (29") rear travel it has plenty in reserve for when you need it. But the Giga is much more than a monster truck of a bike. To pigeonhole it as a point and shoot machine would be a disservice as it is so much more capable than this might suggest. Due to the way that it uses its travel; the Giga gives you the feel of a big bike, yet the versatility of a modern super-enduro bike. The Giga has a dynamic yet confidence inspiring ride to help you push your limits in all kinds of terrain. It's equally at home at super rough enduro stages of venues like La Thuile, as it is lapping the biggest lines in the Whistler bike park.
Available in 5 sizes (Small to XXL) in either 27.5" or 29" wheel size, there is the perfect fit for everyone. The frame geometry is Long, Low, Slack and Steep as it is based around our saddle offset principle, which ensures the seated riding position is tailored across all sizes, with steeper seat angles on bigger frames. The Seat tube is also designed for maximum seat post insertion to allow maximum drop.
Models Available:
Comp:
The Comp is our entry point to the Giga complete range and features the awesome new Rockshox ZEB suspension fork paired with a custom tuned Super Deluxe shock, Shimano's bulletproof Deore 12 speed drive train, powerful 4 pot brakes and Nukeproof Neutron dependable finishing kit. All Giga models are tubeless ready with pre-taped rims and Michelin's Wild Enduro tyres as standard. Price: £3699, $3699, 4699 Euros.
Elite:
Our Mid-tier model features the brand-new Fox 38 Performance Elite Series (Grip 2) suspension fork paired with a custom tuned Float X2 EVOL shock. Dependable and crisp shifting comes from Shimano's SLX 12 speed drivetrain and stopping power from the SLX 4 pot brakes. To complete the build, it's rolling on DT Swiss EX1900 wheels with our premium Horizon finishing kit. Price: £4599, $4599, 5799 Euros.
Factory:
The Factory is our premium build in the Giga range, coming with a Factory spec Kashima coated Fox 38 suspension fork and custom tuned X2 Factory shock. Crisp, direct and reliable shifting from the Shimano XT 12 speed drivetrain is seamlessly paired with powerful 4 pot Shimano XT brakes. Also featured is the awesome Bike Yoke Revive dropper post (drop depends on bike size) and the brand-new DT EX1700 wheelset. Finishing kit is from our award-winning Horizon range. Price: £5499, $5499, 6999 Euros.
The Giga will also be available as a frame only option too for those going down the custom build route.
Available right now from your local dealer, for more info visit http://www.nukeproof.com
Featured in this Post
Comments