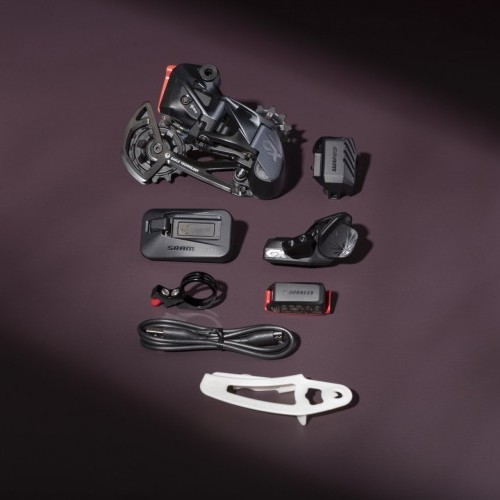 Wireless Shifting Comes To Sram GX | New Sram GX AXS Kit Revealed
Thu 25th Mar, 2021 @ 6:30 pm
It doesn't take long for technology first introduced at the top of a brands lineup to trickle down through the range, in this case the wireless shifting that we love from Sram's XO1 AXS groupset has now made it's way down to the (slightly) more affordable GX level. By affordable, we are still talking $600 / £554 / €620 for the GX AXS upgrade kit which comprises of the shifter, rear mech, battery and charger, but for those who really want to experience the future of electronic shifting on their mountain bike, this is a lot more attainable now! Full press release from Sram below:
GX EAGLE AXS is your partner for all rides, all the time, all day
With proven AXS wireless technology, and the rugged durability of GX, it's Eagle at its best. Featuring an expanded 520% range, seamless compatibility with the rest of the ecosystem, and the ability to customize with the AXS app, GX Eagle AXS is your entry point to the future
GX EAGLE AXS DERAILLEUR ($370 / £342 / €385)
Riders want a derailleur that shifts on command, whether under climbing load or sprinting to the stage finish. The GX Eagle AXS derailleur gets it done with everything you have come to expect from our AXS connect components. The GX Eagle AXS derailleur is smart enough to protect itself thanks to its incredibly resilient Overload Clutch. Engineered with a variety of rider preferences in mind, it is compatible with our new expanded range 10-52T cassette as well as our 10-50T cassette. Showcasing its lineage from the proven GX Eagle mechanical line, the GX Eagle AXS derailleur is there for one thing— to do the job.
AXS enabled componentry software that makes it possible to both program and personalize new SRAM and RockShox components with Eagle technology
Overload Clutch protection
Finished with the GX Eagle colorway
Battery sold separately
GX EAGLE AXS CONTROLLER ($150 / £139 / €155)
Simplicity and performance made for all day adventures. The pure shifting performance of Eagle AXS is now available with GX. Shift under load, over the roughest terrain, uphill, without changing your grip on the bar. GX Eagle AXS changes your level of control on the bike when you're under pressure and pushing hard. More than that, it changes your relationship with the bike. No cable, housing or wires to manage opened up design and engineering possibilities with the GX Eagle AXS controller. Featuring the proven ergonomic touchpoints that make shifting effortless, they are customizable to your preferences, allowing you to choose which button does what through the AXS App.
Compatible with MatchMaker X
Eagle technology
Customize in-board and outboard shift options
Pairs with all derailleurs in the Eagle AXS ecosystem
AXS enabled componentry software that makes it possible to both program and personalize new SRAM and RockShox components
System is completely water and dust proof to IPX7
GX AXS UPGRADE KIT ($600 / £554 / €620)
The day in, day out Eagle ecosystem hero is now available with AXS. New for 2021, The GX AXS upgrade kit is your entry point into wireless drivetrain simplicity. Compatible with any of our Eagle ecosystem cassettes and crank arms, the upgrade kit allows you to experience AXS without needing to buy an entire groupset provided you already are using Eagle products. No matter if you are looking to upgrade your ride, or looking for great value replacement parts, look no further than the GX AXS upgrade kit.
For more info, visit sram.com
Featured in this Post
Comments