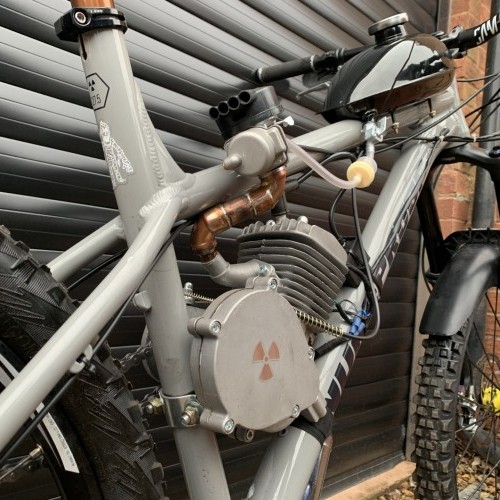 Nukeproof To Release New SCOUT(er)
Thu 1st Apr, 2021 @ 3:30 am
Nukeproof are pleased to launch their first ever pedal assisted bike: the Scout(er). Just like a Scout, only even more badass…
The darkest winter nights have been encouraging the darkest of thoughts. The "slog" of lapping heavy going British trails, brought on a new anger and envy at the electrical powered brethren's. If you can't beat them, join them?
But how you cry? Nukeproof don't have an electrical powered bicycle market… and we still don't. We've bypassed electric and gone straight to a bygone era. Please welcome our latest addition to the Nukeproof range; the Scout(er).
Designed and developed deep in the Black Country, UK. With over 3 months of tinkering, engineering and refining in the garden shed, it's almost ready for the trails. Harnessing the power of an e-bike, but with technology from a lost generation technology, a 2-stroke 80cc engine 3bhp motor. As with a new bike, you've got to bring in a new standard, so we're pleased to introduce 'Super Mega Whopper Boost 168mm spacing (box ticked).
Spec: a high performance fully compromised build resurrected from the scrap heap and spare parts box:
Scout 275 Xl frame
Rockshox Lyrik 170mm
Nukeproof finishing kit. Custom saddle (as unwanted by Sam Hill)
Sam Hill signature Super Throttle Grip
Hybrid No Hope Wheelset (Hope Pro 4 27.5 Rear, Mavic Deemax Front)
Semi slick Michelin tyres
Sram Code / Guide mix 'n match brakes
Sam Hill Day of the Dead hand guards
Super Mega Whopper Boost: 168mm hub spacing
XO1 11 speed drivetrain
Fully customised plumbing
Top Tube Mounted Hydration for incredible range
80cc eBay motor, creating 3bhp
A LOT of re-engineering
Near certain death
SRP: £20,000*
(*sorry it failed every health and safety test going so will not make production)
Featured in this Post
Comments