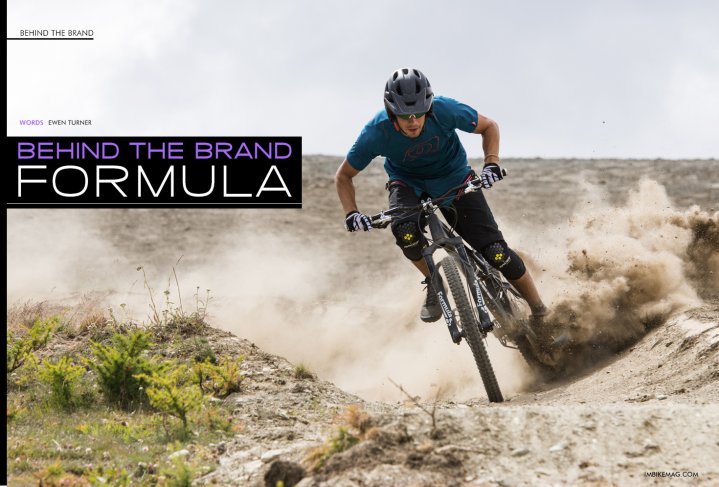 Behind The Brand - Formula
Issue 49 / Mon 21st Aug, 2017
We head to Italy to catch up with Formula and talk about the origins of their original disc brake in 1993, and how far the brand has come since then. With a range of top end products full of Italian design and race results to back it all up, Formula are still at the top of the game.
For many Formula is perhaps a mysterious brand, steeped in Italian motorsport culture and history. Exquisite design and engineering are synonymous with the brand, and they have been responsible for many of the big developments in mountain bike components.
The name Formula may be synonymous with brakes, but they are far more than this. With a range of products in their quiver, they provide a spread of parts for the modern mountain bike, and where as in the past they may have been considered slightly esoteric and exotic, their components now adorn the bikes of some of the fastest riders in the world. With Loic Bruni and Fin Illes to name but two, racing to victory kitted out with Formula's finest.
The racing history is clear, and the brand is all about performance, getting racers on podiums. More than that, however, they are a company producing quality products to rival the big players, providing equipment that is not just the preserve of the elite racer, but for all discerning mountain bikers.
Born in 1972 from the emerging motocross and enduro scene AIM was the original company pre-dating Formula and developing equipment for the motorbike. The brand as we know it was formed in 1987 and aimed to transfer technology from the motorsport world into the mountain bike realm.
We catch up with Vittorio Platania from Formula and find out more about this classic mountain bike brand.
How and why did the company change from AIM to Formula?
Back in the '70, the motocross business was pretty strong in Europe. It remained big until the end of the '80 when the Japanese companies started with a good, but more affordable offer. This changed pretty much everything in the motocross business in Europe and some companies could not afford to compete at that level of mass production and distribution. Fortunately we had the knowledge that the Japanese companies were looking for. The founder of AIM, Andrea Becocci, decided to transfer his knowledge in a new, young, emerging sector in Europe, and this was the mountain bike business. We started with the first full hydraulic disc brake for MTB in 1993, which was a big goal, something that was a huge change to our beloved sport. Formula started the research with suspensions for MTB very soon, it was a core part of AIM in the end and we knew how to do it properly, but it took a while for us to fully commit to the suspension side of the things in the MTB world.
The first major step was in 1993 as Formula released the first full hydraulic disc brake for mountain bikes. How important was it for you to develop a disc brake for mountain bikes? Were there any other options before your brakes?
This was a very important step for us. We were the first company to release a full hydraulic disc brake for mountain bikes. Prior to us a couple of companies tried it, but it was either not a mountain bike brake or was a brake with hydraulic caliper but with mechanical actuation at the master cylinder. Although Hope had a disc brake, it wasn't until later that they released their first full hydraulic disc brake. A company in U.S. had a disc brake for MTB that was with a hydraulic caliper but actuated by a mechanical master cylinder. Shimano had a semi-full hydraulic disc brake too, but that was for city bike use and never made into MTB. So, we were the first one to put everything together and we did a damn good job in my opinion. Back then I was just a rider, a rookie I would say, but Formula was definitely one of the big players in my eyes.
How did the advent of hydraulic disc brakes change mountain biking?
I think a lot. If you think about that, technically, the brakes we released for the very first time in 1993 is still the same system everyone is using nowadays. It was a big change in mountain biking. Of course the technology has made huge improvements since then, but still, the main concept is the same.
Who were the key people behind the development of your first disc brake?
Andrea Becocci himself, founder and owner of Formula, and some engineers that are still part of the family at Formula. It was an incredible project if you think about that. Nobody was producing a hose that was small and strong enough for such a small disc brake, so Andrea Becocci had the idea to use the hose that were used in the cockpit of the construction cranes. No one was producing small rotors, so we went to a knife manufacturer that was pretty good working on steel and we gave him something completely new to produce, a bike rotor. On top of that the production chain was not ready for such a product, that were no bleeding machines for this kind of disc brakes, so Andrea Becocci and his team made everything in house, by hand. We still have some of those machines in our company history room. As you can see there's a lot behind a new innovative product, especially if you're the first one.
This year you have released the Cura brake, how much does this brake share with your original brake from 1993?
With the Cura we had a specific goal in mind, we wanted to make a good price point brake (not an entry level, we don't really do that kind of product) with a very good performance and very reliable. At the very beginning, we struggled a little bit with the communication, because people need to have a target in order to understand a product but the truth is that the Cura is an amazing well-rounded brake. Is light enough to fit a cross-country bike and win a stage of the Cape Epic and is powerful enough to win a junior world cup in Val di Sole with Loris Revelli (AB Devinci) when it was still a prototype. Even a bronze medal in Val di Sole last year with Florent Payet (Voul Voul Mondraker) and pretty much dominating the junior category this season with Finn Iles (Specialized Gravity). This is not even our downhill specific brake.
Why the change to mineral oil for the Cura?
We were testing mineral oil for few years and the market was already going in that direction in Germany, which is a core market for us. On top of that mineral oil is easier to sell world wide for environmental reasons. The issue was that every mineral oil we were testing was not matching the standard we were looking for. We decided to develop our own mineral oil, which is very easy to recognize since it's transparent like water. After two years of testing, we finally got what we were looking for. Our mineral oil has almost the same boiling point as a DOT oil and a freezing point that is lower than a DOT. We're very happy with this.
Is true you still offer custom brake lever shapes?
This is something we can definitely do. Loic Bruni for example, got specially shaped levers for his brake, with a very special offset. This is not something we do every day for the after market, but if you have any special request just shoot an email over, we can maybe find the perfect shape for you!
You have some top athletes helping to develop your products, how valuable is it to have top riders giving feedback?
Working with athletes is a key element for the development of new products. You can spend hours and hours on testing in the lab, but nothing will test your products like a whole season of racing at the highest level. There are so many things that the lab just cannot emulate. It's not just the stress you put on the products but also the feedback you got from the riders. Of course, there are riders better than others for this, some of them are very conscious of what they want and they know how to reach that. It's always a very exciting part of the development.
Formula is known to put some serious time into data logging and on board telemetry with your testing. How important is real world data for developing suspension?
Data logging is very important to us, but you need to know how to use it. First of all data logging works only if you use it constantly, the bigger your database the more effectively you can look through data. On the other hand, it's very important to understand that data acquisition is not a magical process. There's no chance you can have data that make you 100% faster, no matter what you do. In mountain bike racing the human factor is huge, and the humans are most of the time the riders and his mechanic, data logging works only if is based on the experience of these two people.
With your forks, you offer more adjustments than many others. Why did you feel the need for a tuneable valve system? If you can adjust air pressure and volume along with rebound and compression, what do the different valves offer to riders?
The CTS (Compression Tuning System) is probably one of our core technologies for our enduro and cross-country forks. Working only on the air side you cannot shape the compression curve exactly as you want. Air certainly helps but is not enough. If you change the behaviour of the fork at the beginning of the travel you'll change also the middle and at the end. There is nothing you can do about that, it's just physics, this is how air works. Of course volume spacers can help, but still, you cannot change just one part of the compression curve if you're using air, air pressure will always affect the whole travel and the whole compression curve.
It is very different if you work on the hydraulic side, on the damping. Everyone knows that, and this is why professional riders have a customized shim stack when they race. But this is something you can offer only to pro riders on a race field with your service. Working on the shim stack requires to take the fork of the bike, and open the fork in a workshop, and if you're not happy with what you achieved you need to go trough the entire process once again. This is not something you can offer to everyone; this is the reason why you can tune most of the forks only on the air side.
If you want a customized hydraulic you need to go to a third party workshop. Most of the time the jib is very expansive and your warranty is over. With the CTS we wanted to offer to everyone the possibility to fine-tune the hydraulic side of the fork in a very easy and effective way. With the CTS you can change a valve in 5 minutes without taking the fork of the bike, you can do it at the parking lot before your ride.
You can choose to use a different hydraulic depending on what you're doing, weekend warrior ride or local racing. On top of that, the procedure is simple, does not invalidate the warranty and is completely reversible. With the CTS technology, every rider can reach the same customization that a pro rider has; I think this is a huge improvement for the riders.
Where are your products designed and manufactured?
All our products are designed and manufactured in Italy. Design and prototyping are 100% made in Italy. Assembling is 100% made in Italy. Then we have some third party suppliers for some parts like the lowers of the forks for example. But most of the parts in our products are produced in Italy.
The relationship with Loic Bruni is strong developing the new brakes, how important is it to have feedback from a rider of that calibre?
The work we're doing this season with Loic is very important to us. Every other rider in the Specialized team is running very successful the Cura, same for the riders of another team we support like Voul Voul Racing and AB Devinci. Loic was interested in developing a new brake and of course, we were more than happy to work with him on this project. He is the only Formula rider to use a prototype. The result so far is fantastic and feedbacks are awesome but we cannot really tell is and when the brake that Loic is using will come into production.
Right now what we know is that the Cura brake, a two piston brake, is winning pretty much everything in the junior fields with Finn Iles and won the bronze medal at his very first world champs last year in Val Di Sole with Florent Payet. So, if you're looking for a very good, powerful and reliable downhill brake the Cura is the right one for you.
Has the development of Enduro pushed you to develop your products in a different direction?
Enduro is definitively a big part of our market. The Selva is our number one product in terms of sales and so is the Cura. We decided to start a partnership with the Miranda-BH Team this season and we're following them for the whole EWS. So far has been a very successful season. Alex Cure took the third place at the EWS in Millau and that was our first ever podium with a fork on an international race. So, we're very happy with that.
Who are your supported riders this year?
Most well known riders with our brakes are Loic Bruni, Fin Iles, Miranda Miller, Florent Payet and the whole Voul Voul Mondraker team and the guys at the AB Devinci team. In the AB Devinci team there are some very strong rider like Loris Revelli, junior winner in Val di Sole three years ago and 22nd elite this year in Lenzerheide, or Francesco Colombo which is the 2017 Italian downhill champion. In endure we have the BH-Miranda team with Alex Cure (3rd at the EWS in Millau), Jose Borges (Portugal endure champion and 9th at EWS in Rotorua), Dimitri Tordo (top 3 in the French endure cup and 7th at the EWS in Millau) and Karim Amour, which is leading the EWS in the Master Category.
Your range now includes brakes, wheels and suspension forks; do you have any plans to develop new products outside of these? Maybe rear shocks or other components?
Well, of course, we're working on some very interesting stuff. 2018 will be a crucial year for us, but we cannot really release official statements on this topic. Let's say that you'll know more soon.
Thanks Vittorio for taking the time to talk to us!
Videos
Ewen Turner is a self-confessed bike geek from Kendal in the Lake District of England. He runs a coaching and guiding business up there and has a plethora of knowledge about bikes with an analytical approach to testing. His passion for bicycles is infectious, and he's a ripper on the trails who prefers to fit his working life around his time on the bike.
Comments