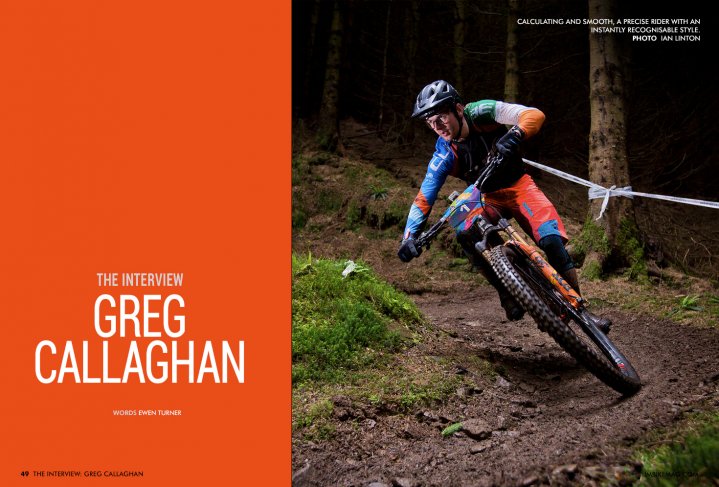 The Interview - Greg Callaghan
Issue 49 / Mon 21st Aug, 2017
Smooth, stylish and exceptionally fast. The Irishman has been battling it out on the EWS since it's creation and is now reaping the rewards of skill, consistency and patience. Sat in third overall with one round to go, could this be the year for Greg Callaghan?
It's always surprising how down to earth some of the elite sports men and women can be. We sometimes assume them to be unapproachable and unreachable due to their god-like bike abilities, but as I sit by the river Tweed on a sunny evening with one of the fastest riders on the planet, I'm once again reminded that they are just people, like me and you, only better at bikes.
Friendly, laid back, I catch up with Greg as he just finishes a signing with fans at the Tweedlove International back in June. The demands on him as a pro racer are evident, after a day of practice, he switches to PR-mode and meets and greet fans, signs poster and looks every bit the marketable product for Cube. It's obvious, however, that he really is this friendly chap, no facade covering over a world weary racer, he's happy to give time and energy freely to his fans and supporters.
Having won this race the previous year, the expectation is on him to do it again, and it's highly likely. Hot off the back of fifth place in New Zealand, second in Tasmania and a first in Madeira, he sits in a commanding position. This year he is showing hitherto unseen levels of performance and consistency from the understated Irishman. Finding form not just in the odd race, but regularly stepping up both figuratively and literally onto the podium.
At the ripe old age of 25, Greg hails from the South side of Dublin City on the foothills of the mountains and has lived in the same place all his life. Every bit the local boy, it's all on his doorstep, 'fifteen minutes in one direction is the city, fifteen in the other are the trails, and it's really good riding straight from my door, the perfect place for training.'
So surely mountain bikes were in his blood from an early age, but apparently not, 'I didn't actually ride mountain bikes as a kid, my dad was always into motorbike enduro and was really good, and my whole family was into motorbike trials, in a big way'. Greg started out in trials at eight but had his first motorbike when he was four, so although mountain bikes came later, wheels were an early influence.
He was pushing hard from an early age explaining, 'I broke my first motorbike so didn't get another one for a while (he laughs) and got a proper trials bike when I was 8, and I did that until I was 15, represented Ireland a couple of times'. Understated to the core, there is a dismissive ease to the way he barely mentions such achievements.
The mountain bike influence came about from frustration at getting out on the trials bike, 'it was always difficult getting out on the trials bike as I could only go when my dad could take me' he explains. So how did it start? 'I had a mountain bike for messing around on, and there were some jumps near my house, so I just started going there. I met some people who said, just come up the mountains with us, come watch a race...' This was perhaps the turning point, he went along riding his Raleigh Vulture and loved it, 'it was class!' he remembers fondly.
The Vulture didn't last long and was soon snapped, and I get the impression he may have been a wild child on a bike, explaining ''I didn't care about it being snapped, but I had no brakes!' Not that this would prevent him riding, he just got his twenty inch Monty trials bike and hit the trails, beating his mates.
The riding and racing bug got him hard, and he started racing his hardtail on the local downhill and XC races, taking every opportunity available. Downhill racing continued all the way to 2012 at the Leogang World Champs, when the lure of Enduro was too tempting to ignore. Leaving Downhill after a successful career casually mentioning a few achievements such as 'representing at a few World Championships and European Championships'. Again throw away comments of huge accomplishments.
Greg, although successful at downhill, in his view he 'never fully committed to the downhill, just worked at it to a decent level', but that seems to be his style, unassuming and understated.
So what took him to enduro? Was it the bright colours, goggles and bumbags? 'I'd always looked at enduro and thought jeez that'd be great...it's what I'd always wanted to do, but there just weren't the races'. Traveling was the only option, and he did some European races, had issues and got mechanicals but thought it could be good.
Fully committed from the start of the whole Enduro explosion Greg was in on the ground floor of the EWS. Does he think that's been helpful to get in early? 'I think it has stood me quite well 'cos this year especially you can see the guys that I started Enduro World Series with have developed their riding with the sport'.
In the past, we have seen the retired downhillers going well at Enduro, but a new breed has emerged, of which Greg is one, understanding the sport and the demands on body and bike. 'You need the basic characteristics of a good downhiller, but then it needs to be shaped to the sport' adding that 'the training has changed and the Enduro athletes are training more for the explosive side that the downhillers had in spades and were spanking them with'. It seems that the downhillers don't have a free pass to the podium anymore, but it certainly helps!
The Cube set up is impressive, and obviously, a key aspect to many riders success is support from a team. Greg signed onto Cube after two seasons as a privateer gaining some top 10 finishes. Although offered lots of deals and plenty of money, Cube didn't offer the most cash explaining 'it was a team I had always looked up to as a highly professional team', this included Nico Lau whom Greg had always admired.
Teams are more than just money and a mechanic, the knowledge and people are invaluable, but how useful is someone like Nico on the team? 'We both come from different backgrounds and have different approaches, so it's great to learn from each other'. Greg speaks fondly of Nico, and I get the feeling of a well-bonded team, which can only aid the riders and improve performance. 'The team is brilliant, Klaus the team manager is so cool, he loves being at the races and loves the vibe of racing, and it's a really fun bunch to be with, and it's become more of a family than a team.'
Nico's skill for blind racing is something we regularly hear about from his Trans Provence exploits. 'I've never seen anything like it' says Greg, 'the lines he spots...genuinely I think there is no one better than him at blind racing. He'll pull six foot up a bank and I'll be left thinking what's he doing, and I haven't realised there is a switchback coming up, and he'll just rail it and put ten bike lengths into me, he's gone'. It's telling that Greg is so happy to talk and extol the virtues of another rider rather than talk about himself.
The Nico influence took Greg to the Trans Provence in 2016, does he enjoy that style of adventurous racing? How was it for him? 'I think like they are very different things and blind racing isn't really my thing, and I go on the side of caution when I'm riding blind'. 'It (Trans Provence) was an amazing experience, but to me, I didn't see it as a race for me, I just enjoyed it as an adventure'.
Greg is a precise and calculating racer and describes himself as such 'I like the feeling of knowing a track and knowing this is the best I'm hitting this corner and feeling like I'm riding a track the best I can, whereas where I ride blind I always feel I could have ridden it better'.
We watch Greg ride, and perhaps he is best described as precise and clean, does he agree? Is that an accurate perception of the way he rides? 'Yeah, I think so, so many people come up and say 'you look smooth through that section' and is that a nice way of saying I look slow?' His results, however, would say otherwise...
He goes on to explain that this is something he attributes to his dad, as he raced motorbike enduro and he'd always watch him and run a round on his bike. 'Regularly there were guys who looked quicker than him, but ended up in a ditch, and my dad was always consistent and smooth'. He won a lot of championships, and he always said consistency was the reason.
Consistency is essential in enduro especially for the overall. There have been so many different stage winners this year, but there is always the potential for a crash or a mechanical, as Greg puts it, 'To finish first, first you must finish', clichéd, but true!
With local trails in Ireland perhaps not competing with the Alps in terms of scale, how does somewhere like this prepare a rider for the rigours of the world series venues such as Whistler and Valberg. How does it work as a springboard to the world stage? 'When racing downhill, it felt like a disadvantage as the tracks were always like nothing I'd ever ridden and you are just trying to learn that track, in a weekend which isn't very easy'.
Greg explains that the longer stages are hard to replicate, but with so much variety nearby, he can probably get near the style on his local trails. What are his local tracks like? 'Wet, slippy and technical, rough, so like a really good place to develop your technical skills, and my trials background helps too'.
So what is his favourite sort of course to race on? 'I quite like the one day races we've been doing, putting it all into one big day, when you have 2 or 3 smaller days, it's not easy, but it's a different skill. Whereas one day you have to be fit to last and manage the day well, and this is when a more all rounded athlete and rider and reap the rewards of the preparation they have done'.
Stating the obvious, this year has been a good year for Greg so far, and he instantly agrees, but what has changed? Anything? Or is the time just right now? 'It's just a combination of things really; one big thing is with my training, I haven't been as strict on myself with times and stuff, rather than fitting my life around training, I have been fitting training around life'. That's not to say he is doing less though, 'I'm still training just as much and just as hard, but because I'm also having fun outside of it, I'm getting better quality out of it. All year I've just been having so much fun, fun is fast and fast is fun'. As well as fun, experience is starting to help too, 'another year experience racing enduro, this year we didn't' change bike over winter, so another winter on the same bike, feeling comfortable on that. It's a combination of things'.
'Last year I felt I had the speed to be on the podiums, with good stage results but some bad luck, the speed had been there, but this year has been putting it together'. Belief is key here, truly having faith that you can do it, and as Greg puts it, 'be as fast as I can be' rather than trying to beat the others, he's just going out to do his best.
We had seen the potential in the Irish rounds, but surely it was important for Greg to prove he could win on foreign soil? 'Yeah that was big for me to get that, that win was nearly, I dunno, it felt like a bigger victory than the one at home because it was totally really different to home, big stages and had a real big mix of everything, it felt so good to get that one. I didn't want to be that guy that just wins the local race and falls back to tenth at every other race. Real good for me to prove to myself and everyone that I can win anywhere.'
The home crowd must be something special for the Irish races over the last three years and this year especially, Greg just smiles, 'to have that many people go to a race to support me is just, something you'll cherish for ever.
The bike, it's an important aspect, and the team have settled on the Stereo 140 29er, like so many of the EWS riders they are opting for the larger wheels to see them through the season.
The first year in Ireland he raced the 140mm 650b bike, next year he had the 160mm bike and thought, 'it was just a bit too much travel for the track, but I knew on the 140 650b I didn't think I could get any more speed out of that bike'. So when he saw the 140 29er, He wanted a go and tested it on the local trails in Ireland, and just knew it was faster. Having persuaded Cube to give him the bike he headed to the Alps and just felt more comfortable on the bigger wheels describing it as, 'you keep the efficiency of the suspension with your pumping and pedalling. Then the wheels give you the stability of a bigger travel bike, and I think for Enduro, a lot of the stages we race, I think that for me and my riding style it suits me.
With the downhill 29er war in full swing, is it all in the wheels? 'If you look at the moment, Enduro is not being dominated by 29er, there's still 650b bikes winning stages, it's just what you feel better on, and different tracks are gonna favour different bikes'.
Having been in at the first ever EWS rounds, does he miss the privateer days? 'You do now and again, and at the races I still cruise by the pits and see the guys in the vans, cos it was so good the first and second year of the series, cos the races were more in Europe, there was a real big crew of vans going around, and you'd have the team pits and the van pits, which were just as big'
With the Enduro World Series becoming more and more professional and the racing tighter than ever, maybe it will become more like the downhill circuit. But for now, the likes of Greg who got in early, paid their dues as a privateer are reaping the rewards as experienced racers. The season is far from over, and Greg is unlikely to ever be far from the top step of the podium.
Thanks to Greg, Cube and the Tweedlove team.
Videos
Ewen Turner is a self-confessed bike geek from Kendal in the Lake District of England. He runs a coaching and guiding business up there and has a plethora of knowledge about bikes with an analytical approach to testing. His passion for bicycles is infectious, and he's a ripper on the trails who prefers to fit his working life around his time on the bike.
Comments