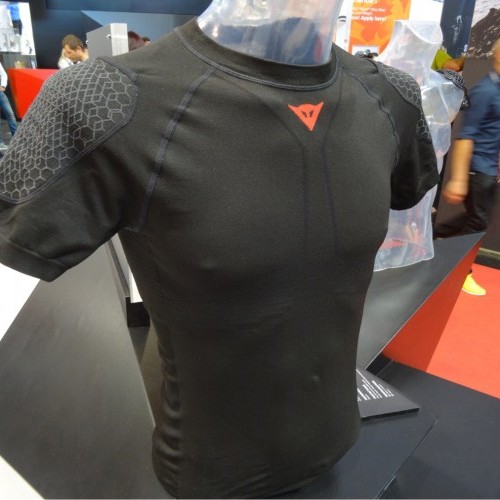 Dainese 2017 Eurobike
Features / Sat 3rd Sep, 2016 @ 9:30 am
With 2 back to back world cup wins for Danny Hart, Dainese (rhyming with easy) are in a pretty good place at the moment. Fortunately Danny has been on fire recently and had no need to test the incredible protection power available from the Italian brand.
For 2017 Dainese are all about their new material 'Pro Armor' which is based on a fractal pattern with incredible breathability thanks to being mostly made of holes! Don't let that fool you though, the geometric pattern gives strength in all the right places and is pre shaped to fit over knees and elbows and provide a high level of protection with minimal weight.
The Trail Skins 2 Knee Guards is a successor to the previous Trail Skins and features the Pro Armor to give super mobility with a low profile design that can be worn all day. Totally pedal friendly, these are a pad for all occasions and all types of riding short of full on downhill. Front on protection is covered with the Pro Armor, whilst sides see extra padding for less painful encounters with the ground. Fit is tailored with adjustable elastic top and bottom keeping things snug.
For the upper body Dainese have incorporated the Pro Armor into the Rhyolite 2 Safety Jacket which is claimed to be their most ergonomic and advanced design to date and 'the pinnacle of upper body armour available today'. Flexagon is the protection of choice over the back and chest, which is a series of foam hexagon padding which articulate to hug the form of the body. The removable sleeves use the Pro Armor protection as seen on the knee pads to cover shoulders and elbows. The Rhyolite offers real protection in a lightweight package for those times when you cant quite send it like Danny Hart!
Finally, the Trailknit pro armour is a super light base layer which allows for pads to be inserted into the shoulders and back. Ride to the top of the trail and assemble your own protection suit before the descent, or simply be comfortable all day in the Dryarn fabric.
Ewen Turner is a self-confessed bike geek from Kendal in the Lake District of England. He runs a coaching and guiding business up there and has a plethora of knowledge about bikes with an analytical approach to testing. His passion for bicycles is infectious, and he's a ripper on the trails who prefers to fit his working life around his time on the bike.
Featured in this Post
Comments