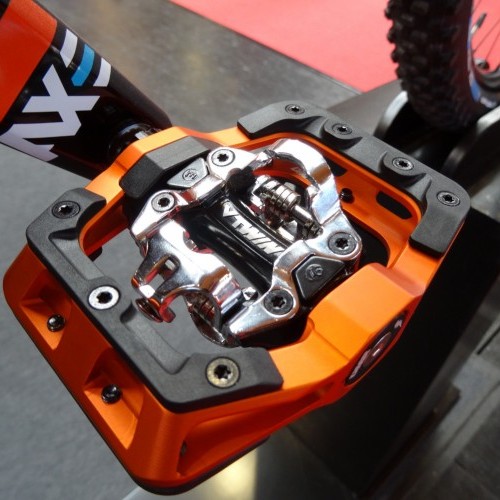 DMR Bikes 2017 Eurobike
Features / Fri 2nd Sep, 2016 @ 12:30 am
Creators of one of the most iconic and classic steel hardtails of all time, DMR had their range on show including the re-vamped Trailstar and the hard hitting full suss Bolt. The vertically exaggerated amongst you will be pleased to know the Trailstar now comes in an XL size to suit the giants, or those who want to go long. Elsewhere the pedal game is strong with a full range of flat pedal options for every style and budget, so long as it's rad!
The major news from DMR is the development of their pedal range into the world of clipless pedals. Yes. You heard it right, pedals with cleats for those who want to race fast and keep their feet in place. No tail whips with these bad boys. The V-Twin features a Shimano compatible unit housed in a typically robust cage to keep it solid and dependable. What makes the V-Twin special is the huge range of tuning available through the shims and plastic plates which can be bolted onto the cage to adjust levels of contact and grip. Through pins are also available to create a totally tunable pedal. Having been stood on by numerous world cup riders yet to be named, the pedal is set to be a great option for gravity racers. Weight comes in at 480g, but with a Mag body and cage, coupled with a Ti axle this weight will drop significantly to make a super competitive lightweight option. This superlight option is still in the pipeline for next year, but watch this space.
Elsewhere in the pedal range, the classic V8 gets a re-vamp to bring it bang up to date. Sitting between the plastic V6 and the more expensive V12, the V8 is the workhorse pedal. The upgrades take it's size up to that of the V12 whilst reducing the depth to make it more stable and less susceptable to rolling over. The pedal sits on 2 DU bushes and is fully ervicable and features replaceable pins. Improved shape, reduced weight and smoother running make the V8 a great option.
Fri 2nd Sep, 2016 @ 12:30 am
Ewen Turner is a self-confessed bike geek from Kendal in the Lake District of England. He runs a coaching and guiding business up there and has a plethora of knowledge about bikes with an analytical approach to testing. His passion for bicycles is infectious, and he's a ripper on the trails who prefers to fit his working life around his time on the bike.
Featured in this Post
Comments