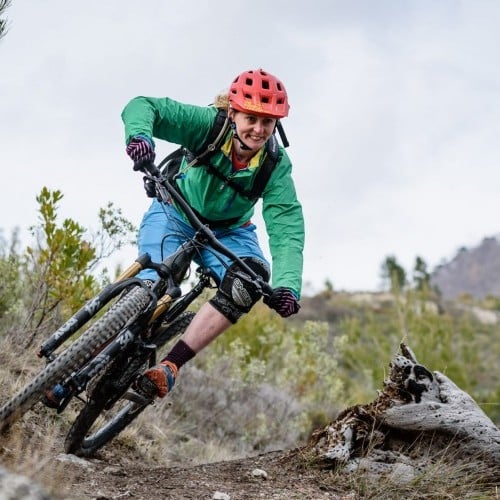 First Impressions – Grand Canyon WMN + Spectral WMN
Features / Wed 21st Mar, 2018 @ 5:57 pm
Canyon Launch Two New Women-Specific Trail Bikes
Forget shrink and pink it, Canyon have done some serious research into their female demographic, leading to some notable differences between the new women's bikes and their "unisex" counterparts. Women do not have longer legs and shorter bodies than men of the same height.
In fact, women's legs are the same length, but without wanting to state the obvious, they're just not as tall. Finding that the average woman is 168cm in height, with arms on average 2cm shorter than their male equivalent, Canyon began work on changing the geometry of their women's specific bikes to reflect this. They also realised that they needed to shift their focus to the small and extra-small frame sizes, which make up 77% of their sales to female riders in the MTB sector.
Win a Pair of Faceplant Sunglasses this issue in our FREE subscriber prize draw.
So what did they do to the bikes? The most notable features are a lower stand-over height, lower bottom bracket and a slightly shorter reach – but without compromising the ride characteristics.
But how do these three changes really affect you, the rider? A lower standover height helps provide reassurance that you can get off the bike quickly in an emergency. This, in turn, can help boost confidence, something that a taller bike would not. Bikes will be available in XS and 2XS and are set to be real contenders for the shorter rider.
The lower bottom bracket lowers the centre of gravity, helping to offer more grip, and the shorter reach helps to keep the weight more centred on the bike. This has the effect of offering better grip at the front wheel, avoiding unintended front-wheel washouts, as well as giving the rider more control because they are IN the bike, not stretched out on top of a longer bike.
We had the opportunity to see and ride both bikes in advance of their launch and were impressed with the work Canyon have done to create true women-specific bikes.
Grand Canyon WMN
The Grand Canyon is a beautifully formed do-it-all hardtail, which has been completely redesigned into a very versatile bike, compared to its predecessor. We immediately noticed the low standover height, and the very generous frame clearance, allowing the use of wider tyres. Other features include a boost 148 rear end, with a tool-less rear axle.
We rode the Grand Canyon WMN Al SLX 9.0 Trail, which included 2.6" tyres and 30mm rims – both of which contributed to a forgiving ride compared to other aluminium hardtails. The Reba fork on all models comes with a Light Tune more suitable for the lighter riders that will be using this bike, making it easier to get the correct set-up. The SRAM Level brakes on this model have a tool-less reach adjuster – a feature not normally found on the Level brake, and which will only be found on the women's Grand Canyon to make on-the-fly adjustments even easier. A nice touch, we thought.
Slinging a leg over for the first time, the bike immediately felt quite comfortable in both the seated and standing positions, despite the tester's 172cm height combined with the bike's shortened reach. The difference was not pronounced, but as expected, there was plenty of grip up front, giving more cornering confidence even on loose surfaces.
When it came to climbing, if you want a fun bike that makes you feel like a climbing god, this is it. We were seriously impressed with its climbing prowess. Despite the relatively slack (for a hardtail) head angle of 68 degrees, and the short 50mm stem, the front wheel never tried to wander or lift even on the techiest and steepest of climbs. Additionally, Canyon have carefully spec'd this bike to suit riders who have less power and upper body strength, reducing the weight by around half a kilo.
One of the most impressive things about this bike was how it descends. We rode some fairly rocky trails, yet it didn't even bat an eyelid. Releasing the brakes and letting it run over the rough stuff created no issues, no unpleasant surprises. We found the bike to be a playful little thing, with drops and jumps posing no problem.
Canyon have designed this bike to be a carefree hardtail. We believe they've done a good job. We enjoyed our time blasting around on it. It climbed well, it inspired some playful riding and felt like it would be fun whatever your level. For advanced riders, it'd take some serious abuse, while for the beginner and intermediate riders, it leaves plenty of space for progression.
The Grand Canyon is available in 2XS, XS, S & M sizes, and the Medium can be ordered with 29" wheels if desired. Our test bike was fitted with 27.5" wheels.
There will be three models available ranging from 1,399€ up to 1,999€
Spectral WMN
The new unisex Spectral was released back in December last year. Hot on its heels is the Spectral WMN. This 140mm trail bike has received similar treatment to the Grand Canyon with a lowered standover height, lowered bottom bracket and slightly shortened reach. We rode the full carbon CF 9.0 with SRAM X01 Eagle and DT Swiss XMC1200 carbon wheels. The fork was a Fox 34 with 150mm travel.
Despite being on the taller end of the spectrum at 172cm, we found that the seated and standing riding positions on the Medium frame size felt comfortable. The handlebar had good shape and width, coming up at around 755mm including a little additional width offered by the Ergon grips.
The bike climbed well, especially when using the Fox Float DPS Factory Evol shock with pro pedal in the firm position. Dropping into the first descent, the bike felt well balanced and capable. We had been curious in this regard, as the testers own bike is a medium unisex frame with a slightly longer reach. Later comparing the numbers, we found that the Spectral has a 6mm shorter reach, with a chainstay just 2mm shorter. These differences sound small, but combined we found that lifting the front wheel of the Spectral was incredibly easy. Getting the front wheel up and over obstacles, or to do a drop-off is typically something that riders with less upper body strength can find difficult, not so on this bike.
We were able to test the bike on a variety of trail surfaces. The switchback corners we encountered posed no problem. Following a rider who knew the trail well, we found we were able to take the same lines, including drops and jumps that we'd not previously seen or ridden. The bike felt poised and agile over rough rocky sections. With only 140mm of travel at the back, it's no plough – that's more for the longer bigger hitting bikes. But as we discovered, this didn't hold it back. It neither faltered nor slowed down, you simply had to tell it where to go.
The Spectral inspires confidence. Not once do you wonder if it is capable of what you are asking of it, you simply get on with the act of riding. It is agile, playful, fun to ride, and easy to place exactly where you want it – there is no question as to who is in charge. We felt "in" the bike rather than "on" it, and never once felt like we were a passenger.
All in all the Spectral was an impressive machine. There's no doubt that it seemed capable of a lot more than its 140mm rear travel suggested. It should be a serious contender on anyone's trail bike shortlist.
The Spectral is available in M, S, XS and 2XS, with five models and prices ranging from 2,199€ to 4,999€
For more information CLICK HERE
To see the full PR from Canyon CLICK HERE
Wed 21st Mar, 2018 @ 5:57 pm
Emily has been riding bikes since forever. She used to race on the World Cup DH circuit and in recent years has moved towards enduro racing. She knows her way around bikes and spends her life in Bourg Saint Maurice, France where she runs The Inside Line MTB. Offering unforgettable mountain bike trips on some of the best trails in the French Alps. A writer, tester and guide, but above all a biker; we're stoked whenever Emily sends us over some content as it is always world class!
Featured in this Post
Comments