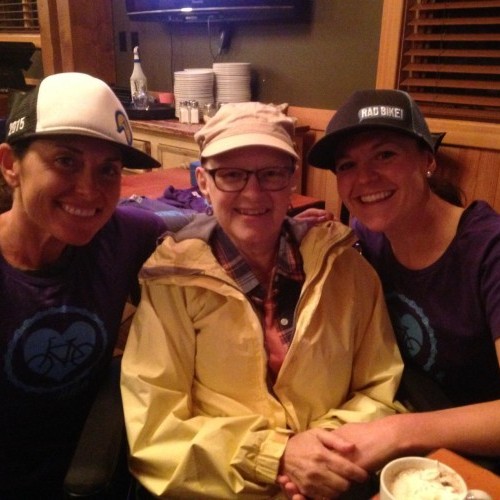 Holding Hope Ride
Features / Sat 24th Sep, 2016 @ 12:30 pm
3 Countries, 2 Bikes, and 2 Girls full of hope – A mission on two wheels through the French, Swiss and Italian Alps to inspire, raise support, and bring hope to those touched by cancer. Here we go!
Best friends Christian Little and Brianna Roth took their personal hardships and turned them into something positive by planning an MTB trip through the Alps from Mont Blanc to the Matterhorn.
Purpose
Our hope is to inspire, to raise funds, and to share our story. We want to inspire people, no matter what challenges they have faced or are facing, to get outside and find joy and beauty in the midst of hardship. My mom is the inspiration for this mission as she was recently diagnosed with b-cell lymphoma and is undergoing chemotherapy. We are hoping to raise funds for the King's Fold Retreat Center (in the Canadian Rockies) which provides place of refuge for so many facing challenges in life. For the past 18 years, they have hosted a week-long retreat several times throughout the year specifically for cancer patients. We want to share our story and journey through cancer and the hope and joy that riding a bicycle can bring!
Our Story
We are best friends who love life, have a passion to be outdoors and to explore this amazing world on two wheels, and who have both been impacted by cancer. Our friendship began in South Africa on an Athletes in Action service trip where we played soccer with the SA National team and put on soccer camps in poverty stricken townships. Since then we have supported each other through the highs and lows of life and have shared some of the most epic adventures together throughout the world. We are both passionate mountain bikers who have competed in mtb racing in North America. Last December, we moved to New Zealand to have the opportunity to adventure on two wheels and mtb race in NZ for a year.
Unfortunately, our time had to come to a screeching halt a few months into NZ as Bri's mom was diagnosed with cancer and Christian broke her back after falling 100ft off a mountain while biking. After nearly 100ft of tumbling head over heals, she came to a complete stop "only by the power of God's hand and choosing for me to live." She was heli-evaced out of one of the most remote places in the country, and learned that she had fractured her spine in two places, and compressed three vertebrae completely on top of each other. We will never forget that day and it has brought us closer in our friendship in a way that only a life and death experience can. Christian has been on the road to recovery and is making a remarkable comeback to take on this challenge with Bri!
After all this unfolded in NZ, Bri went home to Canada to support her mom through her journey with cancer and Christian returned to Colorado to focus on healing her back around the support of family and friends. Christian lost someone very close to her many years ago when her cousin she grew up with died of cancer at 19yo after battling cancer throughout his adolescence. This has impacted her life in a big way and is an inspiration for her to do this ride.
Bri's mom is in the fight of her life but we are holding hope that she is going to be a survivor! She is a resilient women and has a quiet strength about her that everyone seems to notice. Not once has she felt sorry for herself, and in fact continues to have a heart to serve her community and friends as she battles cancer. She loves being outside and in the mountains. Riding a bicycle has been a passion of hers for many years and at the beginning of her chemotherapy treatment, she decided that her symbol of hope throughout treatment was going to be a bicycle; that she will soon be able to get back on the bike and ride to her heart's content. And we are hopeful she will!
The Mission
This September, we will be attempting to mountain bike through the Alps from Mont Blanc (Chamonix, France) to the Matterhorn (Zermatt, Switzerland) and finishing in the Aosta Valley (Italy). This will take us through some of the highest mountain passes in Europe and will undoubtedly be the most challenging bike ride we've ever done. We are taking on this ride in honour of Bri's mom and her desire to ride her bicycle again. We are hoping that this challenge will inspire others to get outside and go for a ride, and raise a lot of money for a great organization.
We are planning to make a short documentary of this journey and will be sharing our journey while in the alps on our Facebook page: holding hope on bikes. Looking forward to sharing our purpose driven ride through the alps with you.
Ride on!
Brianna and Christian
—
Fundraising page: https://www.gofundme.com/holdinghopeformom
Both elite athletes in their own right, Christian and Brianna can't get enough of the world on two wheels and have each travelled extensively to compete in mountain bike races at the highest level. Committed to adventure, the MTB community and its culture, Christian and Brianna are as likely to be found exploring unknown trails as they are raising money for charity
Comments