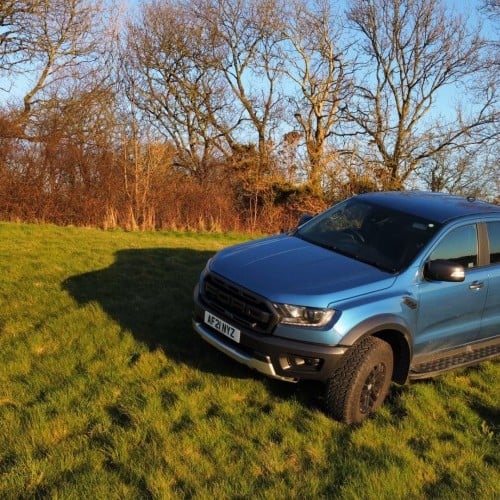 The New Ford Raptor – The Ultimate MTB Vehicle?
Features / Wed 27th Jul, 2022 @ 1:48 pm
The all-new Ford Raptor is a beast of a vehicle, with heaps of road presence; it's also perfect for trips to the mountains with your bike. With unreal off road capabilities; it could easily shuttle you and your mates up and down that mountain too!
This is the love child of the popular Ranger truck combined with the DNA for the Ford RS performance range. In short, the Raptor is a performance truck, and if you are wondering why you need one of those in the current fuel crisis, read on.
OK, I'm not going to convince you here that 28mpg is a good thing in the current climate heck, it's not even good for the climate, but we are still in 2022. While everyone would like an electric vehicle, the Cyber Truck is still a long way from delivery, and so is the F150 Lightening (Ford's electric truck available in the US).
If you need a truck for work or want one to sling muddy bikes in the back, then miles per gallon are probably something you aren't worrying about anyway. What you get in return is nothing short of extraordinary. The Ranger is an incredibly capable off-road vehicle; the Raptor dials things up to 11, attaches a tow hook to the knob and promptly rips it right off.
First up is the styling; from the massive wheels and tyres to the flared-out wheel arches, the Raptor has a road presence that turns heads everywhere. Plenty of people stopped for a chat whenever we parked in the woods; this isn't your standard-looking truck.
Inside, it's a luxurious affair; so much so we've done our best to keep the mud on the outside; you'll find comfortable leather seats, a leather dash, and red trim make it more akin to the inside of a sports car, which is no doubt the look Ford was going for. A big screen controls your audio, sat nav, climate and a myriad of other functions. Plus, a smaller screen right in front of you with plenty of helpful driving information available.
Under the hood is a powerful 2.0l twin-turbo engine, delivering 213 PS and 500 Nm of torque. Coupled with a ten-speed automatic gearbox and paddle shifters for manual shifting, giving you all the power at your fingertips when you need it. In addition, a terrain management system gives you the best off-road capabilities at any time, with plenty of options to choose from, including Baja Mode for doing jumps; yes, you read that right… Perhaps most valuable is the Hill Descent Mode, which quite literally will drive the vehicle off the edge of a nearby cliff for you and control the speed and grip as it descends; it's pretty unnerving taking your feet off the pedals as you watch it tip over into oblivion, but it's an incredibly neat trick.
On the road, it doesn't feel like a truck; the upgraded suspension from Fox (imagine having shocks to match your bike) feels firm on the tarmac, the ride is sublime, and it's an excellent vehicle for making long journeys. There is non of the familiar 4×4 roll as you head into the corners; it feels planted and stable, delivering an incredibly confidence-inspiring drive. Off-road, it easily deals with fast chatter when driving at speed on unpaved roads, and you hardly notice you are driving on an unfinished surface.
Take it into the wilderness, and it's incredibly capable; if you get this thing stuck anywhere, then you probably shouldn't be there in the first place, like the sea or the moon. The only downside is the size of it makes it quite large for many UK green lanes; it's also so good-looking that you don't really want to scratch it.
And there lies my only small beef with the Ford Raptor, arguably one of the most capable off-road vehicles on the market, but it looks too good to get it scratched or fill it with mud. I guess it's one of those vehicles you have to treat as a tool, which I struggled with. It's so smart inside; it feels criminal climbing in with muddy boots or a muddy bum after a ride.
Of course, it doesn't help that we had the vehicle on loan, and I wanted to give it back in good condition. If I owned it, which I am seriously considering, I perhaps wouldn't be so fussy. Slinging muddy bikes in the back is the beauty of the Raptor; the truck bed is super hard-wearing and easy to jet wash. With the Mountain Top option, you can still get a few bikes in with the wheels on a tailgate pad.
However, the Mountain Top does take a bit of space, so we found removing the rear wheel the best way to fit an XL modern mountain bike in the back, but the tail pad was perfect for short journeys. The Raptor can also take roof bars across the top of the truck bed, so you could put all your gear in the bed and put the bikes on a rack added to the roof bars above the bed. Arguably the most sensible way to carry a bit more gear, but then a tail pad makes it so easy to sling the bikes in the back too.
Overall, it's an incredible bit of kit, and we've loved driving it, whether getting mud on the tyres, shuttling our mates at the local woods or just putting miles in on the motorways and let's not forget having fun on the country lanes; it feels like a sports car that can take you anywhere. Once again, Ford knocked it out of the park on this one!
Wed 27th Jul, 2022 @ 1:48 pm
Rou Chater is the Publishing Editor of IMB Magazine; he's a jack-of-all-trades and master of none, but his passion for bikes knows no bounds. His first mountain bike was a Trek 820, which he bought in 1990. It didn't take him long to earn himself a trip to the hospital on it, and he's never looked back since. These days he's keeping it rubber side down, riding locally and overseas as much as possible.
Featured in this Post
Comments