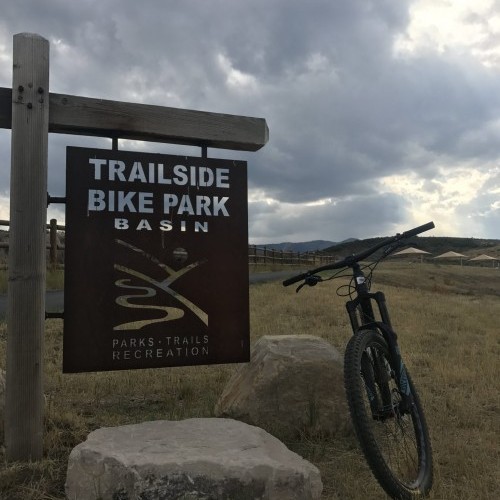 Utah – A Gold Standard MTB Resort
Features / Tue 24th Oct, 2017 @ 9:30 pm
In search of a new MTB adventure and copious amounts of amazing food Hannah Attenburrow jetted off to Utah and found a trail centre worthy of a gold star!
Park City lies east of Salt Lake City in the western state of Utah. Surrounded by the craggy Wasatch Range, Park City and neighbouring Deer Valley is a mountain sports playground. What would the World's first Gold Standard Mountain Bike destination have in store?
Clouds of dust surrounded me as I carved my way through the sun baked rocks and sage bush scrub enjoying every berm and rock garden as my Santa Cruz 5010 effortlessly gripped the ground.High Star Ranch was the start of this trail system with over 16 miles of singletrack dotted into the landscape. This was the first mountain biking playground I visited in Utah and it did not disappoint.
The hard clay packed earth showed no sign of the previous day's rain. There was no sign of other bikers tracks. In this area to protect the trails they don't ride in the rain this preserves the surface and makes for smooth riding from start to finish.
Back at The State Road Tavern our guides from White Pine Touring treated us to a delicious feast serving up gigantic American burgers, Mexican tacos and salads. All washed down with a variety of over 20 beers or a hand crafted cocktail, a post bike paradise!
Back to Park City – A silver lining and Golden future
The slow up in mining made way for skiing and with government assistance, the new ski resort Treasure Mountain Resort opened. As word of the new ski area spread, people started to move back to Park City. In 1966 Sports Illustrated included Treasure Mountain Resort's PayDay run among the finest ski runs in the country. The rest is, as they say, history as Park City put itself on the map for outdoor sports.
Park City's mining roots disappeared completely in 1982 and now all that stands are historical sites and scares upon the land. Today it's a vibrant place with many restaurants dotted between historic buildings and museums. Taking the Town chair lift from just off Main Street the cool air at 2100m refreshed my dusty face and revitalised my senses ready for the next trail.
The blue flow trail from the top snaked its way through striking Aspen forests with their silver trunks and green leaves juxtaposed against the old mining buildings, adding to the interest of the ride.
Top Tip – These trails are multi directional which is worth bearing in mind when you're riding them, up always has right of way.
On the way down we stopped to look around and learn about the history of the area it was incredible to think that so many people had lived and lost their lives right under where we were now biking, the mining tails had helped to shape the land and bring huge variety to the trail system. The massive mining structures stood in tact like ghost towns, little wooden shacks with peeling wall paper stood lonely at the side of the trail giving a glimpse into the past.
Oh what a night
That night we were in for a treat! With an invite to the James Beard Celebrity Chef Tour, where five of America's greatest chef's, including Seth Adams owner of Riverhorse, demonstrated their cooking prowess serving up stunning courses full of flavour and fun. Each course was a celebration of local produce and was accompanied by wine from Parallel Wines.
In 1995, the Riverhorse became Utah's first restaurant to receive the prestigious DiRōNA Award, dedicated to "excellence in dining," and it has received the honour every year since. We certainly left feeling we had tasted delicious, healthful food and ready for a good ride the next day.
Deer Valley – A trail at every turn
With six peaks and three lift systems Deer Valley is like a sweet shop of possibility. Lines of bikers dressed in full face helmets, colourful jerseys and knee pads blend together in one mass of colour and conversation as they wait eagerly in line for their next gravity fuelled chance to make shapes down the mountain.
Eager to get going, myself and Scott my Deer Valley mountain guide, joined the line before pushing our bikes into the gondola. On the way up we scoped out trails laid out beneath us and picked out lines. I was beginning to see the appeal in up-lift services.
On the way up we agreed to ease into the day gently by taking the green beginner trail named, Holly Roller to the bottom of the mountain. This 4 mile singletrack was wide and flat with easy lines from berm to berm and we flew down seamlessly. With small features and table tops it offered the opportunity to practise your skills on solid, grip giving red earth.
Joining another line of smiling faces, beginner and advanced bikers alike enjoy the vast trail system over 70 miles long where the variety of terrain and trail difficulty caters for everyone. Back at the top our next route was Nail Driver (all trails are named after mining activities) a blue trail with the biggest berms I have ever see. It was like dropping into a giant's washing machine as you flow from one high berm to another. Dancing down the mountain our open trail descended further into a mass of Aspen trees.
The Santa Cruz 5010 taking every rock and root in its stride as we crossed paths with another trail called Tsuanmi, a black diamond grade trail, where teenagers were launching themselves and their downhill machines 15 ft in the air. A little too much air for me! We crossed beneath them and onto a route called Twist and Shout, which was to become my favourite trail of the day.
This technical black singletrack was narrow and, as the name suggests, it twisted its way through the forest. Around each corner came a new challenge whether that was a rock garden or a rooty corner to navigate. This trail demanded my full attention and gave an exciting ride as I negotiated each obstacle sometimes, with a little whoop or shout as I successfully piloted my bike to the end of the trail. Finally, pumped with adrenaline and exciting stories to tell, we met up with the rest of the group at the luxurious Stein Erikson Lodge for a buffet lunch like no other. The American's certainly know how to do good food!
Utah, is an incredible destination to aim for if you are looking for a wide variety of riding and great hospitality. Park City & Deer Valley cater for all abilities and styles of rider.
The resorts are dedicated to the coaching and improvement of riders, which was evident from my next pit stop, The Trail Side Bike Park where, as a coach, I was impressed with the range of opportunities available. With three different graded flow trails, a dirt jump area with 3 different height jumps, a natural trail with rock garden and board rides and a pump track this mountain biking oasis catered for everyone from the little 2-year-olds being pushed along by eager parents on the pump track to the budding 15-year-old dirt jumper nailing his technique and all this with free parking!
In five days I had ridden some great singletrack, which I rate as some of the best I have ridden. The hospitality was excellent and I had, had the opportunity to meet and ride with some truly passionate mountain bikers. The Park City area has a huge amount to offer with over 450 miles of trail system, I could see why it is rated gold standard by IMBA.
Where to stay:
Camping:
Wasatch State Park: https://stateparks.utah.gov/parks/wasatch-mountain/
Uinta National Forest: https://www.fs.usda.gov/uwcnf
A little luxury:
Marriots Summit Watch: https://www.marriott.co.uk/hotels/travel/slcvi-marriotts-summit-watch/
Double Tree by Hilton: http://doubletree3.hilton.com/en/hotels/utah/doubletree-by-hilton-hotel-park-city-the-yarrow-SLCYWDT/index.html
Super Stylish:
Stein Eriksen Lodge: http://www.steinlodge.com/?gclid=Cj0KCQjwvOzOBRDGARIsAICjxofE8rp6zwGXgJJvtWRAHM4tv-_5VI5ZDYWE-C1o_3HTdVaQnK0L8Z8aAnWBEALw_wcB
Where to eat:
The No Name Saloon, for cheap eats and drinks
High West Distillery, for a little bit of history
Riverhorse On Main, for your last night blow out
Firewood, for good food, wine and atmosphere
Getting Around:
A direct flight from Heathrow on Delta to Salt Lake City puts you a 40 minute drive from Park City, there are tons of rental car agencies at Salt Lake Airport and you can get bike racks for your hire car too.
All busses in Park City are bike friendly. The bike trail system is open from May to September when it closes to start the ski season.
Hannah runs http://www.beyondthemud.co.uk a site dedicated to adventures on two wheels and achieving your dreams. Go check it out…
Tue 24th Oct, 2017 @ 9:30 pm

Featured in this Post
Comments