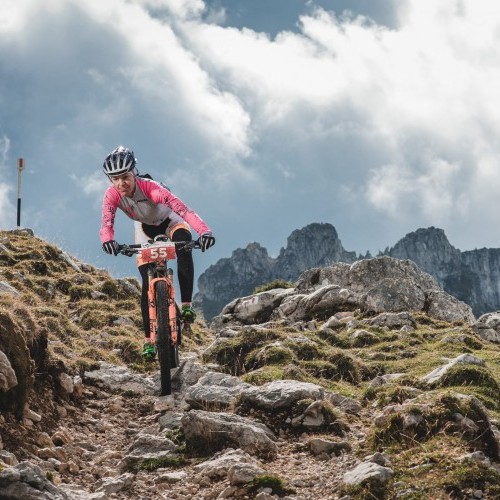 Untamed Trails in Romania: Racing The Carpathian MTB Epic
Features / Wed 11th Oct, 2017 @ 12:30 am
Never one to pass up an opportunity for wild nights out – usually on a remote and lonely mountainside somewhere in a deepest, darkest wilderness – Cat Sutherland took to the trails of Romania to feast on a grueling diet of altitude gain, river crossings and wild descents…
Lying in bed and close to sleep, I leapt out of my skin at the sounds of thunder; the entire room a bright, white light. Alone in my room, I listened to the vicious fight between animated clouds in the Romanian sky. How apt.
"I didn't think it was appropriate to let on I was in fact Scottish and accepted their kind request, matching their pace back to the finish for the final time."
I was in Dracula country. I'd been warned of unruly Romanian drivers but now my mind turned to blood-thirsty legends lurking in the dark. Hearing another rumble, I anticipated ominous laughter and the shadow of a fanged monster at my balcony. Okay, so I've watched too many episodes of Game of Thrones. I muffled the sounds out with a pillow as I was keen to bank sleep for the four days of untamed adventure, that was the first edition of the Carpathian Mountain Bike Epic. Aside from the promise of being wild, rugged and indeed epic, I had little notion of what to expect in the coming days.
Breaking Us In: The Prologue
Waking up to clear skies, we'd be riding only a short distance on the first day for the prologue. However, despite only reaching five kilometres in distance, this was a brutal affirmation of what was to come. Following a slick registration, we were gathered at the start line and set off in convoy to complete the tempestuous trail. What came next was a near assault on my lungs. Short, punchy tracks looped around the village, making every opportunity to challenge us to a series of near vertical descents and slopes so steep they were impossible to pedal.
Back at base, my eyes grew wide; I shook my head and laughed with one of the other media riders, nodding in acknowledgment.
 
"Well, you were right! That was pretty brutal and that's just the prologue." He replied, "That's nothing compared to tomorrow." I made sure to stamp the Queen Stage firmly in my mind. I gulped and looked at my gears.
Day One: The Queen Stage
Rising before dawn, we were up and out in time to get us to the ski resort town of Sinaia, an hour's drive south. Weaving down the mountain roads on the bus, racers nervously chattered and attempted to abate nerves ahead of the formidable Queen Stage. Known as the most gruelling and divisive of stages, this was going to hurt.
Covering 57km and 2800m of combined ascent, only the locals knew what was to unfold. Counting us down, we took off up the Royal Road towards the summit of the Bucegi Mountains. Moving from tarmac to open track, the front riders disappeared within seconds. As seasoned climbers, I reasoned they were hardened to the gruesome gradients ahead. I rode steadily, aware not to rip my legs off before I'd had a chance to warm up to this punishing landscape.
We continued to climb on mountain tracks, slowly gathering height and tackling slabs of rocks, soggy sand and loose rubble, tethered with crushing climbs. I couldn't decide which was suffering more; lungs or legs? Further on, I saw riders caught in the rush of the racing pack slowing, their heads dropped; legs grating against the slopes. Fog was coming in thick and fast. The winds we'd been warned off were whipping up a storm. I'd been hopeful for views from the plateau as we made our way from Babele to the highest point at Omu Peak. Instead, my mind was focused on following the breadcrumb trail of my GPS through thick, masking fog that granted only meagre metres worth of vision. At one point, we hit a thick forest of shallow bushes, a faint track carved through the centre. I tried to haul the bike overhead, but being vertically challenged, I succumbed to pushing it upright with the rear wheel weaving through the maze. I strived not to stake my legs on the impeding branches.
As I turned a corner to reach the peak, an all-terrain buggy drove past on the precarious path. Inside was a rider curled in a silver survival cape, the first victim of the untamed trails. Lycra wasn't getting a look-in against tiny temperatures and forceful winds. Muttering to myself about the brutality of the course and the conditions, my claw-like hands managed to pull my waterproof from my pack and I battle with frozen fingers to get it over my helmet. Pushing, quite literally, onwards to what seemed like the summit, I spotted a volunteer and shouted out to her, "Do you have any spare gloves?!".
Humour and hope resounding in my voice. Kindly, she offered me the inside of her jacket, and for a few we huddled together as I warmed my hands enough to grab my bike for the next carry.
Over the other side of the mountain, we were on the downward journey. Feeling weary and storm-battled, I looked on to see a sporadic sheep track at best; giant boulders scattered and ready to catch riders. I rode and walked, lugging my bike over obstacles I'd rather match with a full-face helmet. Eventually, the track turned to grass, rutted heathland, then ridable mountain trail followed by fast and flowing forest singletrack. A smile returned to my face and movement to my fingers.
Dropper down, I found some renewed energy in the warmth of the wood, coupled with a close chase for first place in my category. This was the focus I needed close to the finish. With increasing momentum, the last sectioned added much-needed speed to this rough ride. With less than eight kilometres to go, my mind was wavering and I missed the turn off, losing my place. Arghh! Hiking back up and furiously searching for the arrows, I took off like Dracula chasing dinner down the wild, grassy embankment. I rode the line straight as an arrow and as fast as I could. Meeting the road with a thud, I'd recaptured my position and took off up the last five kilometre of twisty tarmac road. Battling sanity, I eventually reached the finishing straight, an elated relief followed by an overwhelming sense of satisfaction to have survived. How I was going to do it all again, then once more, I wasn't quite sure.
Day Two: Rollercoasters and Rivers
I awoke the next day and opening my eyes, wondered if my body could even move. Slowly, I sloped from my bed. Seemingly the previous night's incarceration by compression kit had worked wonders. However, I certainly had no escape from tiredness and was only a few hours from doing it all again.
Starting from the resort, riders flew ahead, keen to keep their positions. Following the road at first, the group spread quickly before turning onto open farmland. My head was down and I wasn't concentrating, so soon found myself along with another girl, far from the path. Panic struck. Turning back once again, I played catch up to claim back my place.
Rather than one single, chunky climbing expedition, the second day delivered a rollercoaster ride over 54 kilometres, yet still close to 2400m of ascent. Rolling through forests and farmland, I found rhythm and company from familiar riders and for a time, a local farm dog, who seemed intrigued by the band of bikes whishing by. Tagging along for a while, he came to his senses at the next bike carry and retreated to safety.
Whilst we ached and moaned when it came to pushing, the descents on day two made those back breaking moments worth the burden. As we descended to Cheile Dambovicioarei, the tamed trail transitioned into a gnarly boulder field, my hardtail pin-balling down the straight. Met at the bottom by a chirpy support crew, we chatted and recovered both nerves before the final stretch of the course.
No adventure bike would be complete without a carry and similarly a river crossing. My friend and roommate Anilya had mentioned we'd get wet feet, so nonchalantly I nodded, not considering the sadistic nature of the previous day's onslaught. On the final descent, the mud was so thick and the slopes so sharp, I caught my jersey on the saddle hanging off the back. I slipped and tumbled to the side. At this point, I welcomed the riverbed; a chance to wash away the dirt from my clogged cleats. As we reached it though, I took a double take as I realised this wasn't just a crossing. We were wading. As the river neared knee depth, I balanced my bike and hoped no stones would roll out beneath my carbon soles. Weaving back and forth countless times, eventually I came to a wire bridge and prayed it wouldn't end my riding days. I carefully crept over the missing planks.
At the other side, I was relieved to find a long track road, which circulated back to the finish. Eventually I caught sight of the arena and knew rest would soon be mine. Mildly delirious, I managed to miss the track. With moments to go, I found myself back-tracking uphill. I was making this a bad habit. Over the line, the cheers of the spectators put a smile back on my face.
Day Three: Punishing Peaks
Rising for the final time, what lay ahead was to be none the less excruciating or extreme. In the days leading up, the post-race chatter had been filled with words of warning. Of the entire 47-kilometre route, we'd be dragging our bodies and bikes up more than four kilometres' worth of incline over jagged mountains tops to reach Busca Peak. Joining us with fresh legs, locals taking part in the one day Epic filled out the field of weary warriors.
Whether it was down to brain or brawn, I pushed hard up the slippery, rutted trail towards the top. At points, I was biting my bars and making manic sounds as I climbed, refusing to walk until utterly enforced.
For close to 20 kilometres, riders rode and pushed and occasionally cried out with exhaustion. Finally, the forest cleared and we turned towards a perfectly carved trail over the mountain tops. What I could see ahead was wavering lines of wobbly legs with bikes on backs or slung over shoulders, being hauled to near vertical. This time though, we could see. Far and wide, the Romanian sun shone over the mass of forest covered mountain ranges at long last. Taking a moment, I stopped to absorb the view, then marched on to join the other sorry souls for the charge.
An endless and rigorous routine of carrying continued. Bewildering descents were marked with warning signs and so with childish abandon, I dropped in and hoped for the best. Such a route defined mountain biking and moreover, the nature of the race.
Gathering momentum, each peak grew steeper and deeper on both sides. At last the trail mellowed and I met a once familiar track – the ridgeline from the first day – this time with views down to the valley and the slippery stones now familiar foes. Once at the forest, I knew the lines and charged down the steep, grassy bank to hit the road one last time. With final reserves, I winched up the resort road, joined by two familiar faces, who charged themselves with leading me back to the finish line. "You can be the Queen of England. We'll be your guardsmen." I didn't think it was appropriate to let on I was in fact Scottish and accepted their kind request, matching their pace back to the finish for the final time.
Crossing together, there was a sigh of relief and sated satisfaction amongst us all. Indeed, there had been moments I'd truly wondered if I'd be able to finish, the strict cut off times like sharks snapping at our fading legs each day. Even elite riders had succumbed to the stopwatch and failed to finish in time. Promising to take you to your limits, the Carpathian Mountain Bike Epic had certainly succeeded.
Wed 11th Oct, 2017 @ 12:30 am
Having worked in the outdoor, cycling and running industry for the last 10 years, I'm never far from my bike, a pair of running shoes or my trusty kayak! Based in Kendal, a small outdoor town in the The Lake District, I've incredible trails on the doorstep and it's the perfect playground for adventure. As a mountain biker at heart, I'm most drawn to endurance and love nothing better than hours in the saddle, preferably somewhere far-flung with good coffee at the finish. I've raced in South Africa, Spain, France, Israel and Canada and so I'm never far from my passport or my bike bag!
Featured in this Post
United States
910,394
Switzerland
611,315
Comments