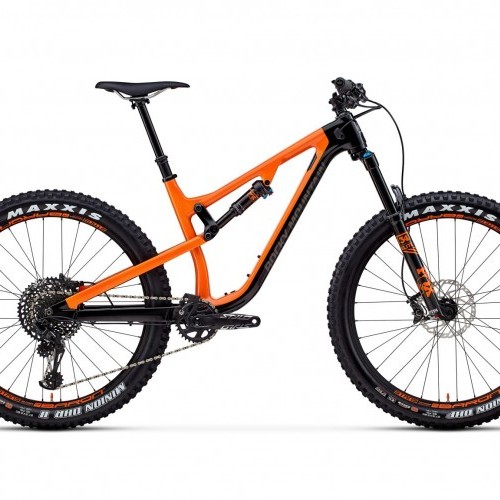 Bicycle Insurance – Is It Worth It?
Features / Sun 10th Sep, 2017 @ 12:30 am
If you've ever spent a king's ransom on a bike – and let's face it, that's every time you buy another bike, right? – then you've probably also struggled with the gut-wrenching decision as to whether to splash out yet another lump of cash and insure your new wheels, or whether to take a risk and just hope you'll be able to keep a good eye on it. It's always a tough decision to make but knowing a little more about bike thefts, and how and where they happen, may help to make the decision for you.
Stolen Bicycles
While reported UK bike theft crimes dropped by over 25% from 2011 to 2016 there were still 297,000 reported incidents of bicycle theft in 2016 alone.
They say that prevention is better than cure, so properly securing your bike is still the best deterrent for would-be opportunity thefts, whether the bike is on the street or stored away in a garage or outbuilding.
Unsurprisingly, it's often when we're not paying full attention to our bikes that they get stolen.
Data from the Office for National Statistics shows that the majority of thefts are from semi-private areas, that is 'outside areas on the premises and garages or car parks around but not connected to the home', and until 2012, from the street, which perhaps suggests that the use of bike locks has either become more prevalent, or locks have become better. Or both. Of those thefts the majority of bikes were not locked at all.
Advice from police.uk on securing your bike:
Bicycles can be some of the easiest vehicles for thieves and vandals to target. Protect yourself from becoming a victim by following some simple steps:
Get a good bike lock
Lock your bike to something secure, even if only for a few minutes and avoid isolated places – leave your bike where a potential thief can be seen
Lock up removable parts (e.g. wheels) and take light fittings with you
Have your bike's frame security-marked or engraved
Take a clear colour photograph of your bike and make a written record of its description, including any unique features
At home, keep your bike in a secure garage or shed and keep the door locked
Furthermore, it's advisable to make a record of the details of your bike, such as the make, model, frame size, serial number etc. and to take photographs of any distinguishing features or markings that will differentiate it from others.
Recovering Stolen Bikes
Whilst getting your pride and joy back from the thieving scumbags who stole it may be highly unlikely, there are measures you can take to aid the recovery process and make the stolen bike all the more difficult for thieves to sell on. The website Stolen Bikes UK is an excellent place to go to post images and details of your stolen bike or to find out whether a second hand bike you're looking to buy has a hidden past.
Reporting your stolen bike to the police may seem like a fruitless task but it does help to put thieves behind bars should they be caught and it increases the overall awareness of the police and bike recovery industry (think websites such as Stolen Bikes UK and social media pages) to the bigger picture of where bikes are most likely to be stolen and how. In turn this information leads to better management of resources and helps those people in targeted areas to combat the problem.
Insuring Your Bike, Bicycle Equipment and You!
If those rather sobering statistics have lit a fire under you to make sure that your bike and equipment is insured then the next question is what to consider when taking out bicycle insurance.
Insurers may offer a policy which covers bikes only, or one which covers multiple bicycles over multiple locations. It's also worth considering whether you should insure your cycling equipment and clothing – and even yourself – against theft, damage or injury. A great bike insurance policy will see you and your bike covered for all eventualities and could even include dental cover in case of an accident!
The best bicycle insurance companies offer customers a tailor made policy where it's possible to add in only the cover and details that suit their needs. Tailor made policies may cover a range of eventualities such as:
Leaving your bike in an unattended vehicle
Cover in other countries
Public liability insurance
Replacement hire
Family cover
Bicycle technology, mobile phone and gadget cover
Competitive use
Personal accident cover
It's always advisable to check with any bicycle insurance company what the maximum payout is for a single item and if there is an excess to pay on top of that. With high-end modern mountain bikes costing several thousand pounds this is a must, and multi-bike policies should be considered to cover your fleet of bikes.
So, Is Bicycle Insurance Worth The Cost?
Ultimately that will always be a personal decision and a question which will hinge on an individual's personal experience of theft. Factors such as where you live, your peers' experiences of bike theft and your financial standing will all play a part. Perhaps the more pertinent question is whether you can afford not to insure your bike(s), equipment and teeth should any of them go missing!
To find out how much it will cost to insure your bike in the UK, click HERE
Originally from Sheffield, James lives and works in the mountain bike mecca that is the Lake District and has been falling off bikes since he was six. In between working on bike events, riding bikes, racing bikes and writing about bikes he enjoys talking about bikes with anyone who will listen. He really likes bikes.
Featured in this Post
Comments