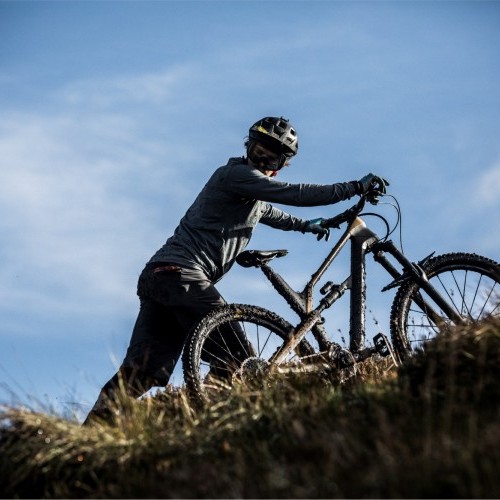 Should I Get Bicycle Insurance?
Features / Thu 21st Dec, 2017 @ 9:30 pm
You can have many magical adventures while mountain biking but getting a new bicycle can be a pricey business! Whether you're riding a hybrid bike, hard tail mountain bike, full suspension or whatever else, the thought of having your bicycle stolen or damaged is scary! Question is, should you pay for bike insurance or just take a risk? Here's a few things to think about on that subject:
Stolen Bikes
The issue of bike security is well worth considering, whether you're out mountain biking or just commuting. According to the Office for National Statistics, there were 94,000 instances of police recorded bike theft between March 2016 and 2017. Bike thefts most often occurred in semi-private locations near the owner's home, such as outside their garages.
Yet, there are things you can do to improve your cycle security and reduce your chances of being targeted. Police.uk say "Bicycles can be some of the easiest vehicles for thieves and vandals to target. Protect yourself from becoming a victim by following some simple steps:
Get a good bike lock
Lock your bike to something secure, even if only for a few minutes and avoid isolated places – leave your bike where a potential thief can be seen
Lock up removable parts (e.g. wheels) and take light fittings with you
Have your bike's frame security-marked, chipped or engraved
Take a clear colour photograph of your bike and make a written record of its description, including any unique features
At home, keep your bike in a secure garage or shed and keep the door locked"*
It's also worth recording your bicycle's make, model, frame size and serial number. Take photos of any of its distinguishable features, such as any markings, so it can be picked out from other bikes. Locking your bike with two types of cycle lock – a D lock and a chain lock – will also make it harder to steal as thieves only tend to carry tools to break one type of lock at a time.
Should you be unlucky enough to have a bike stolen, contact the police. You could also consider posting images and details of your cycle on Stolen Bikes UK, which will help spread the word about your missing bike. With a bit of luck, your bicycle might be recovered and the police could catch the bicycle thieves responsible for taking it!
Is bicycle cover worth the cost?
That's up to you and what you think the risk of theft is, considering where you live and whether anyone else you know has had a bike stolen. Plus, are you likely to damage your bike while mountain biking or commuting? On the other hand, can you afford cycling insurance?
You could try visiting The Insurance Emporium and taking a look at their tailor-made cycle insurance to see if they can suit your budget and requirements. Click here to find out more and get a quick and easy quote!
*Some insurers also have additional security requirements to that mentioned by the police. For example, The Insurance Emporium says that in a privately accessed garage, wooden or metal shed within the boundaries of the property in which you normally reside, external doors must be secured by a 5 lever mortise deadlock or a 5 lever padlock, or the bicycle must be secured through the frame by an approved lock to an immoveable object.
Originally from Sheffield, James lives and works in the mountain bike mecca that is the Lake District and has been falling off bikes since he was six. In between working on bike events, riding bikes, racing bikes and writing about bikes he enjoys talking about bikes with anyone who will listen. He really likes bikes.
Comments