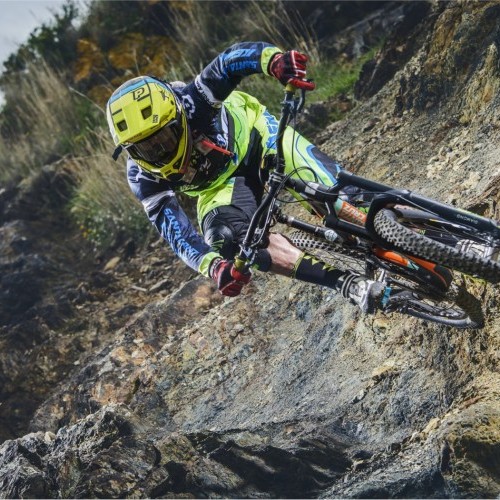 Finding Your Ride: What Kind of Mountain Biker Are You?
Features / Sun 7th Jan, 2018 @ 9:30 am
Mountain biking is just about as diverse as outdoor sports come. So settling on your discipline can take time. But in understanding your riding style and the specific skills you want to master, you can get a grip on what you need from your bike.
What kind of mountain biker are you?
Answer that question and you'll be able to make the right decisions early on, find the bike of your dreams and (let's be honest) probably save some hard earned cash along the way…
Cross Country Crusader
Cross-country (XC) mountain bikers eat up single-track rides and backcountry terrain for breakfast. They're an adventurous, versatile breed with very few limits. The type of rider who proudly describes themselves as a glutton for punishment.
Smooth on the gears, full of fuel and hungry for total control (although never scared to hit top speed should the opportunity arise!), modern XC riders often go for larger wheel sizes, usually rolling on 29ers.
It's all about raw riding. Feeling every rock, every root. Getting up close and personal with the trail, and learning how to become a better rider with every session. Hardtail or short-travel suspension are perfect for this. Less forgiving than full suspension bikes, the setup isn't always first choice for beginners, but it does have plenty of pros.
Made for somewhat smoother terrains, hardtail bikes are at home across a huge range of XC settings. They bring a lightweight feel, expedite aerobic progression and give the rider that extra oomph on those all important climbs.
And while we're on the subject…if you're all about the climbs you're better off opting for shorter-travel forks (100mm) to keep the bike nimble and stable, and 1×12 gears to give you the best chance of conquering lactic-friendly ascents.
The XC rider's bucket list destination: Val di Sole, Italy
Downhill Daredevil
Say hello to the lock and load riders of the mountain biking world.
Reaching electrifying speeds is the name of the game. The kick comes from seeking out steep hills and dusty mountainsides, putting mind and body on the line, and nailing ferocious descents.
Either way, if this sounds like you, you're definitely an adrenaline junkie. Acceleration is everything, and for downhill riders, mid to small wheels will get you there. We recommend 27.5 inches as a good place to start — somewhere in between smoother-rolling 29ers and the sturdier 26" wheels of yesteryear. But it does depend on the type of the tracks you're riding.
High-speed downhill riding comes with its risks. But getting a bike that's kitted out with long-travel suspension and large forks (around 200mm) can seriously reduce shocks and the chance of nasty falls as they absorb rough and gnarly impacts.
Every little counts in downhill riding, especially in a competitive setting. Losing ground early on can pretty much seal your fate before you've even got up to speed.
So precise shifts and a smooth ride are super important. Choosing a 6 or 7 speed drivetrain will give you this effect, while ditching the defunct larger sprockets, used for climbs, helps ramp up the mph and allows you to ride with focus.
The downhill rider's bucket list destination: Whistler, Canada
Enduro Enthusiast
The all-round rider – the real McCoy.
Skilled in multiple MTB disciplines, enduro riders put in the hours and have the experience to take on most terrains. From the buzz of heart-in-mouth riding speeds, to that serious soft spot for punishing climbs, there's true grit and real pedal power in the locker.
It's easy for enduro newcomers to slip into becoming a jack of all trades and a master of none. Especially when the bike isn't doing what you want it to. It's fair to say that all-day adventurers with big ambitions need a trusty steed that can conform to new challenges.
Full suspension with remote lockout is where that starts.
Suspension really matters for enduro riders as they can face some really hairy situations. It's the nature of the discipline, so getting it right the first time round is a big win.
If you're after an enduro bike that'll go the distance, or you want to upgrade your current one, every element needs to be versatile and readily adaptable to different terrains. Sort yourself out with mid-travel suspension and high volume tyres to soak up the shocks and stay on track.
160mm forks are ideal. In short, you want a bike that can take big hits well and perform on climbs, all without compromising on speed.
The enduro rider's bucket list destination: Rotorua, New Zealand
Trials Trickster
Enter the most unconventional of mountain bikers.
For trials riders, MTB means making the most of your environment, wherever you are.
From urban concrete to remote and rocky regions, trials riding can take you pretty much anywhere. It's a technical discipline that takes guts, finesse and a hell of a lot of practice to master. Risky stunts and heavy falls are simply part of the routine.
But what's a few bails or bruises when you're doing things other riders can only dream about?
Despite the complexities involved, trials riders prefer to keep their bikes simple. Pros like Danny Macaskill ride on 24-inch wheels. Strong, stiff, stable and compact, they get the job done on unforgiving surfaces and reduce weight at the same time.
If you've ever tried your hand at trials riding, you'll know small mistakes can have a gigantic impact. Which is why these riders opt for rigid frames, forks and single geared bikes, leaving no room for error when battling with obstacles and ensuring a powerful and reliable ride every time.
The trials rider's bucket list destination: Isle of Skye, Scotland
What's Your Style
No two riders are created equal.
Everyone has their own abilities, style and preferences. Many will go on to become cross-discipline riders too. But we all have our favourite, and we all have to start somewhere.
So before investing in pricey bike upgrades or a brand new ride entirely, be sure you're clued up on the basics of bike anatomy and your own needs as a rider.
Tailor the bike to you, and make the right purchases the first time round.
What type of mountain biker are you? Take the quiz over on the Michelin Sole Power blog, and discover more mountain biking content while you're at it!
Originally from Sheffield, James lives and works in the mountain bike mecca that is the Lake District and has been falling off bikes since he was six. In between working on bike events, riding bikes, racing bikes and writing about bikes he enjoys talking about bikes with anyone who will listen. He really likes bikes.
Featured in this Post
Comments