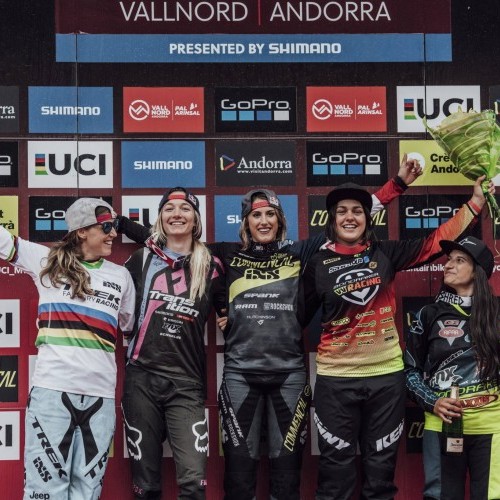 The Unstoppable Women of MTB: Downhill
Features / Tue 22nd Aug, 2017 @ 12:30 am
With Bro culture at an all time high it's easy to filter out, or forget, the unstoppable rise of women in mountain biking. In a new series James Swann points the spotlight at the awesome DH riders, enduro racers, and all round shredders who are paving the way for women in MTB.
"You ride like a girl". "Man up". Think about it. It's not good is it?
Despite the recent positive coverage and reaction towards females in sport, mountain biking is sadly still seen predominantly as a male dominated past time, perhaps due to its physically challenging and rugged nature, but almost certainly due to the lack of – albeit growing – coverage by the mainstream media on women's mountain biking events and the gender stereotypes that predetermine which sports boys and girls should be doing from a young age.
Seated in cultural history, social systems and language, the portrayal of females has always been one of having to play second fiddle to men. Until very recently all-female events continued to be treated as an afterthought, often missing out on the exposure and build up afforded to the men's equivalents. However pleasing it is to see more and more initiatives developing that help to promote women in sport there's a long way to go before we'll start to see complete equality.
Step forward the unstoppable women of mountain biking to challenge the stereotype and burst through the glass ceiling of sport. Forging ahead and paving the way for more women to get into mountain biking – and sport in general – are a group of mountain bikers known the world over for their grit, skill and fearless approach to spearheading the women's branch of our great sport.
"The next thing I remember I was in the helicopter. Then I woke up in the hospital with a broken femur, bruised lung, broken collarbone and hematoma in my stomach."

– Tracey Hannah
Early pioneers of women in MTB were Missy Giove, a force of nature with a personality as wild as her riding, the highly decorated and multi-talented Anne-Caroline Chausson, and Leigh Donovan, who continues to host women only events each year. Each of these ladies pushed their way to the forefront of the sport to show the world just what 'the girls' could do.
If ever an aspiring athlete needed a strong, positive female role model then these women are the blueprint, the benchmark to aspire to; a generation of women pinned up on bedroom walls for all the right reasons.
And now, continuing their legacy, are the new breed of downhill destroyers, enduro elites and freeride females. Starting with the DH crew and a lady who needs no introduction:
Rachel Atherton
British mountain biking's most decorated athlete, full stop. Rachel Atherton needs little introduction as an all-conquering downhill race winning idol, but it is as an ambassador of women in sport where Rachel's passion and qualities shine through.
The winner of several national awards recognising her achievements in promoting females in sport, including the Sunday Times Young Sportswoman of the Year, BTSport Action Woman of the Year and BBC Midlands Sportswoman of the Year, Rachel's winning attitude goes hand in hand with her positivity towards female body image and the levelling of the playing field when it comes to the perception of women in sport as second rate.
Tahnée Seagrave
Fresh off the back of her second Downhill Mountain Bike World Cup race win at Mont-Sainte-Anne, in Canada, British born Tahnée Seagrave is the young gun to watch on the DH circuit at the moment. Raised on a diet of French Alpine mountain trails Tahnée is already making the world of sport sit up and take notice as the 22 year old's young years belie her awesome skill, speed and technique.
Expect the self-confessed little girl with a big dream to continue to make her mark on the world of downhill mountain biking long in to the future.
Manon Carpenter
Announcing her shock retirement this week Welsh born Manon Carpenter is already a veteran of the sport at just 24. Winning the UCI Mountain Bike World Championship and the UCI World Cup Mountain Bike Downhill Series in 2014 the lady from Caerphilly lists hard work, positivity and enthusiasm amongst her strengths. Carpenter began riding BMX with her father, Jason, at a very young age, proving that childhood dreams, a proactive approach and bags of determination can get you right to the very top of your sport.
It's a huge loss to the DH world that Manon has hung up her gloves this early on but it's a brave and honest move from a rider who commands the greatest respect. Whatever Manon does next, based on the Radon Factory DH Team's glowing appraisal, you can be sure she'll throw herself into it full gas and be outstanding at it.
Tracey Hannah
Aussie legend Tracey Hannah took one look at all the fun her older brother (Mick Hannah) was having and instantly shot to the top of the Australian National Championship race charts at a very young age.
Hannah is a living example of just how physically tough you need to be in order to race downhill bikes. In 2012, while on a practice run for the UCI Mountain Bike Downhill World Cup in Val d'Isere, France, she crashed resulting in a broken femur, smashed collarbone, bruised lung and a hematoma in her stomach.
Myriam Nicole
The youngest of four, Nicole joined the French elite at just 19 and has a host of solid World Cup placements to her name ranging from the past seven years, as well as an impressive second placed finish at Crankworx in 2013.
Myriam 'Pompon' Nicole is another tough downhill rider who's no stranger to taking a beating on the track, having suffered from two broken collarbones and always come back stronger.
—
What are your thoughts on women in MTB and have you ever had a positive or negative experience? Drop a comment below, and don't forget to look out for the next installment where we'll be looking at the female role models of enduro riding.
Originally from Sheffield, James lives and works in the mountain bike mecca that is the Lake District and has been falling off bikes since he was six. In between working on bike events, riding bikes, racing bikes and writing about bikes he enjoys talking about bikes with anyone who will listen. He really likes bikes.
Featured in this Post
Comments