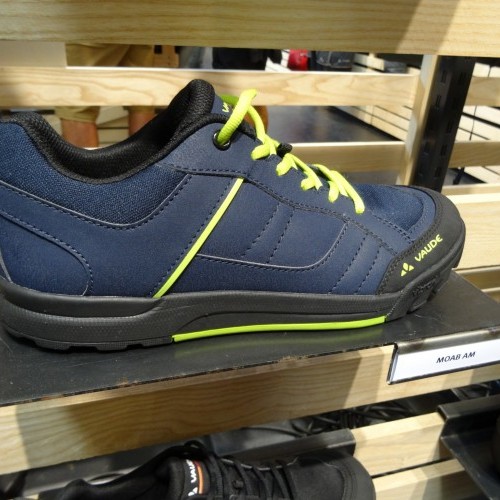 Vaude 2017 Eurobike
Features / Fri 2nd Sep, 2016 @ 6:30 pm
Check out the latest in fresh goods from Vaude, premiering right now at Eurobike. In a world of vast consumerism and environmental challenges it's great to see Vaude holding themselves to some very high environmental standards. Making sure they adhere to various accreditations including Green Shape and Blue Sign, you can be sure that products will not only be limited in their environmental impact, but also ethically sourced.
Vaude's low impact stand at Eurobike was packed full for product for all aspects of cycling, but for the dirty bikes, there was plenty on offer including bags, clothes and shoes. With a background in outdoor kit and tents, Vaude know their fabrics and how to build quality kit.
The Moab Pro is the new flagship pack, introducing back protectors to the Vaude range. With a three layer Ortema back protector extending all the way down to the coccyx, it also features a velcro strap closure on the waistband to hold it all in place. Coming in two sizes and both men's and women's versions it has a fit for everyone, which is always important for back protection. Further features include helmet straps for the Enduroists and body armour straps so you don't have to climb fire roads in full storm trooper mode. The lower fold out pouch can also be removed if needed to take tools for a mechanical, or detached and put in hold luggage on a flight. Some serious thought has gone into the myriad of features on the Pro pack and it's all made of silicon fabric stolen from the tent world, so dry kit is pretty much a given.
On the footwear side, the well received Moab gets a few more colours added to the range to give a good spread of styles. Still available in a low or high top version, these are some of the most durable flat pedal shoes around, featuring a smooth Vibram mid sole for maximum pedal traction.
The clothing range is pretty vast, but the mtb specific kit comes under the, you guessed it, Moab name just to keep things simple. With men's and women's options and new colourways for 2017, the range is looking fresh and functional. The Moab jacket 2 is a great feeling thin softshell, offering maximum breathability and comfort. The shorts feature a generous length on the in seam to avoid the dreaded **** gap between shorts and pads, and also feature a long side zip for venting or for fitting pads.
Ewen Turner is a self-confessed bike geek from Kendal in the Lake District of England. He runs a coaching and guiding business up there and has a plethora of knowledge about bikes with an analytical approach to testing. His passion for bicycles is infectious, and he's a ripper on the trails who prefers to fit his working life around his time on the bike.
Featured in this Post
Comments