Trek World Racing Announce 2012 DH Team
Trek World Racing announces its roster for 2012, returning once again with an impressive line-up of Downhill riders ready to take on the UCI Mountain Bike World Cup, World Championships and a selected set of major events including Crankworx in Whistler, the Sea Otter Classic and the Sunshine Cup in Cyprus.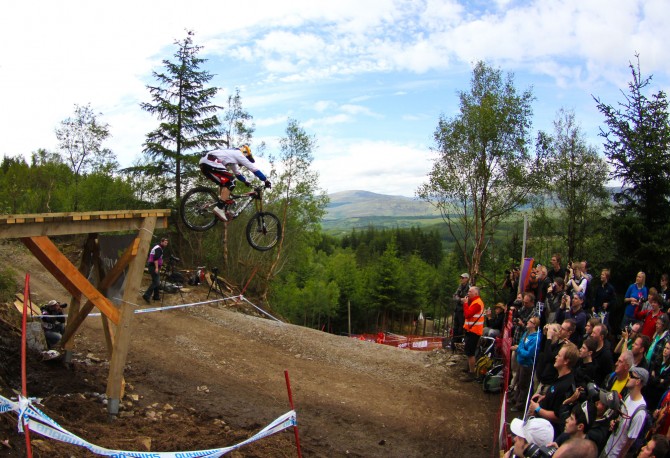 As the number one Downhill team in the world this year, Trek World Racing will return with three elite men, namely Aaron Gwin, Justin Leov and Neko Mulally. The three Downhill men will be aboard their Trek Session 9.9 carbon bikes and racing the full World Cup along with a number of MTB Grand Prix events in the US, Sea Otter Classic, Crankworx in Whistler, and other selected events.
Also new for the team in 2012 is the hiring of 2000 World Downhill Champion, Myles Rockwell, as a rider liaison assisting the riders with their training, strategy and racing at the World Cups and World Champs.
Tracy Moseley successfully raced for the program for last three years, taking 18 World Cup podiums (including 6 wins), the World Championship Title in 2010, and the World Cup title in 2011, however she has decided to take her career in a different direction in 2012.
Winner of this years UCI World Cup series Aaron Gwin said: "I'm looking forward to the upcoming year. We had an awesome season in 2011 and I'm excited to get back to the races with my team!"
Teammate Justin Leov added: "2012 is going to be an exciting year; with a new coach on board I feel a new motivation towards my racing. My hopes and goals are to have fun at the events like I did this year and aim for those top steps of the podium, which so many times have just alluded me."
Team Owner Martin Whiteley said: "After the successes of the past three years, the team returns once again with a strong line-up of athletes, and the same talented staff and sponsors we've been lucky to have with us in 2011, building on all that we've achieved to date. Our major sponsors Trek, JBL, Shimano and Fox have been extremely supportive and I'm really excited to take the 2012 version of the team on the road next year"
Mon 12th Dec, 2011 @ 10:53 pm
Featured in this Post
288,700
1,642,047
Comments