Steve Peat Syndicate Team De-Brief
Check out Peaty's end of year get together for the Steve Peat Syndicate. After a hugely successful inaugural year, Steve and his SPS family kick back with riding, fire, beer and mayhem!
The Steve Peat Syndicate was launched by the main man himself at Fort William last year and provides pro levels of support, equipment, guidance and training to riders of all abilities. Everyone was welcome to apply, but only thirteen riders hand picked by Peaty and team manager Tristan Tunstall made it into the squad.
Jenny Beesley upped sticks and moved from New Zealand back to the Uk so she could be a part of the SPS. Her drive and determination made her stand out from the crowd and earnt her a spot in the team. We caught up with Jenny during the race season to find out a bit more about her and the help she's had from the SPS.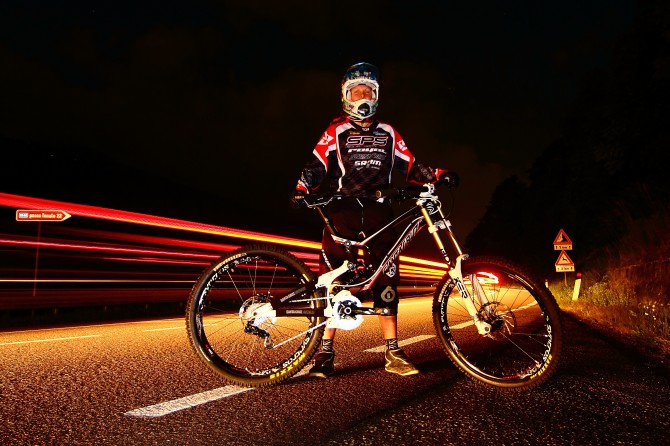 Photo: Chris Ratford
Hi Jenny, so how did you hear about the team?
I saw an article about Steve launching the SPS online and thought it sounded like fun, so I sent in an application never expecting to be chosen. It's amazing to be a part of the team. It's the best possible introduction to racing anyone could have. Not only is it a very professional set up, but we all get on well and have fun, too.
Steve Peat is an idol for so many riders across the world. It must be great to get help and advice from the top man himself?
Yeah, it's still a bit surreal at times to be honest. He's always happy to help us out at races. If I'm struggling with a section he'll advise on line choice etc. He never pressures us and is always really supportive. As long as we're having fun on our bikes, it's all good.
Have you seen an improvement in your riding since being a part of the team?
Yeah definitely. I think racing improves your riding a lot because you're forced to hit sections and lines that you might just ride around if you were out riding with your mates. Being in a big team like SPS with so many talented guys to ride with has helped my progression this year for sure. Also the professional attitude of the team has taught me that there are so many aspects of your riding/racing that you can influence to get you nearer to that top step of the podium. It's definitely opened my eyes to how complex a sport DH really is. There are a lot of things you have to get right if you want to win races and SPS has helped me identify these.
How have you been getting on with the V10?
It's an amazing bike – so plush and really easy to set up. You can ride it through the roughest sections and it holds a line, no worries. It's good to know that I'm on the very best bike available. The rest is up to me.
What about the other members of the SPS, how have you been getting on with them?
Everyone on the team is really cool to hang out with and we have a right laugh at races. There's always a good atmosphere in the pits. It's great having so many people to ride with; doing runs with the other guys really pushes me because they're all so fast. There's never a shortage of people to ride with outside of race weekends either. I've stayed with a few of the team and ridden their local spots. Quite a few of the guys' families hang out at the races too and it's been cool to meet them and then go stay with them for a few days. Everyone I've met has been so friendly.
Where are your favourite spots to ride? Both here and in NZ.
Here it's Fort William DH, hands down. As long as you're feeling up for it, it's not the place to try and cruise a run; it's an amazing track! I've found good riding everywhere I've been in the UK though, there's so many quality spots.  South Wales has heaps of good tracks, and the Forest of Dean is always fun. Plus with the FlyUP DH uplift you can get 15 runs in a day. In NZ there are so many places I haven't ridden yet, but for now my favourite's Rotorua. There are such a variety of trails, both DH and XC, and the uplift is mint.
What are your riding plans for the future?
I want to keep racing for sure. The season is so short back home and there are nowhere near as many races as in the UK. Plus it's hard for me to study and take a whole weekend off to drive to a race, as my degree (medicine) takes up so much time. Ideally, I'd like to have one more season over here with SPS, as I've learnt so much from my first year racing with them. I'd really like to put into practice everything the SPS programme has taught me in the off-season (summer back home), train hard and come back in 2012 and see how competitive I can be in the Nationals and bigger regional races. Unfortunately, the cost of staying away from home for another year may be prohibitive. Of course if someone would like to sponsor me to stay, I'd be more than happy to listen to offers! Although I'd love to return for another season in the UK, I'm very grateful for the year I've had in 2011. It's been a fantastic opportunity and the DH scene here is so friendly, I've met some great people and had such an awesome time.
Thanks so much for your time, and all the best from everyone here at IMB.
If Jenny's story has inspired you then now's the time to apply to be a part of next years SPS team. Visit http://www.stevepeatsyndicate.com to find out more.

Wed 14th Dec, 2011 @ 1:56 pm
Featured in this Post
Comments