2012 NZ MTB Cup launches this weekend in Queenstown
The 2012 edition of the long running New Zealand national mountainbike series launches this weekend in Queenstown. This first round of the 2012 NZ MTB Cup brings NZ's best Downhill competitors and a host of international visitors together for the first time since the end of February last year. And the 200 plus competitors will be breaking in a new venue on the face of the Remarkables in the bustling holiday destination of Queenstown to celebrate.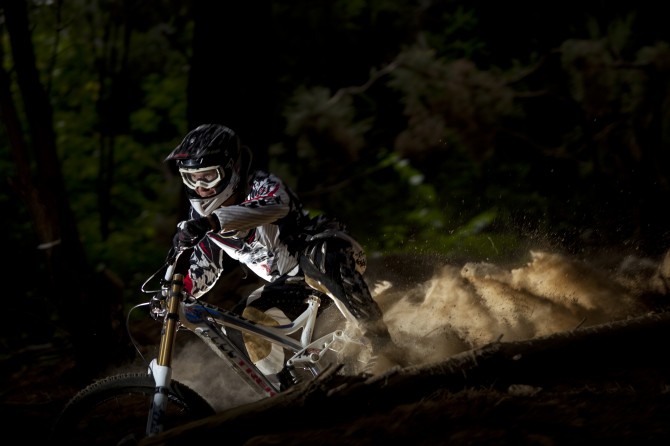 Photo by Derek Morrison @ Adventure Media Group
The 2012 NZ MTB Cup presented by Nature Valley runs across both South and North Islands during January and February, delivering six Downhill and four Cross Country events. The Downhill events are exceptional in that they showcase a number of truly world class professional athletes who are proud to represent NZ at the highest level of the sport.
From recent World Champ Junior medalists Cameron Cole, Brook MacDonald and Matt Scoles and the current World Champs Elite Bronze medalist Sam Blenkinsop, to consistent World Cup top ten finishers of the calibre of Justin Leov the quality of competition is a treat for every venue the series visits.
The Cross Country events bring another dimension to the series, all being UCI categorised, and attracting a number of big name international athletes to join the cream of NZ's fastest racers, all chasing valuable ranking points in Olympic qualification year. This weekend's competiton in Queenstown begins with a full practice day on Sunday, with race day taking place on Monday. Competitors will be faced with a new course on the Remarkables which pays homage to downhill courses of a prior era, but with a very modern twist.
Fast, wide open and likely to change drastically during practice day due to the very dry conditions in the Southern Lakes area, this course will test the nerve of all, while providing an amazing spectator experience with long lines of sight. A fitting start to the NZ MTB Cup, and a summer of racing action on the dirt!
The full events schedule for the 2012 NZ MTB Cup is as follows:
NZ MTB Cup Downhill
Round 1 Queenstown 8/9 Jan
Round 2 Dunedin 13/14 Jan
Round 3 Mt Hutt 20/21 Jan
Round 4 Rotorua 11/12 Feb
Round 5 Wellington 17/18 Feb
Round 6 Napier 24/25 Feb
NZ MTB Cup Cross Country
Round 1 Dunedin 15 Jan
Round 2 Christchurch 22 Jan
Round 3 Wellington 19 Feb
Round 6 Napier 26 Feb
Sat 7th Jan, 2012 @ 2:38 pm
Comments