Aaron Gwin Wins Pietermaritzburg National!
Aaron Gwin lead the way today for all three Trek World Racing riders who ended up on the podium at the South African national race held on the improved Pietermaritzburg course that will host next week's World Cup opener. With a scorching time of 4m 14secs, Aaron was 3 seconds ahead of last year's fastest World Cup qualifier Mick Hannah.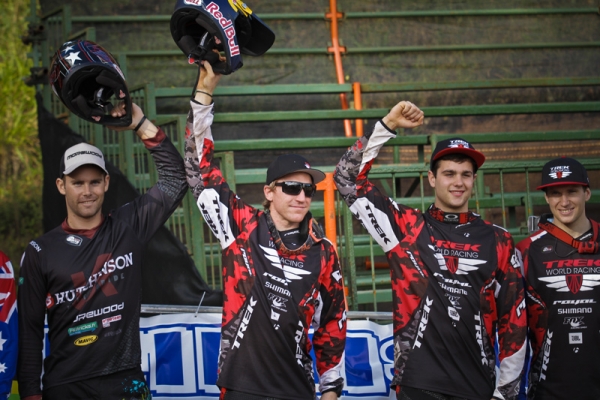 Youngest team mate Neko Mulally showed that his specific preparation for this event was paying off. After qualifying 7th due to a puncture late in the run, Neko stormed the course in the final and had a super solid run finishing 3rd with 4m 25secs just ahead of Troy Brosnan and one second ahead of team mate Justin Leov who rounded out the podium.
The course in Pietermaritzburg has been modified to deal with wet weather, yet despite this, overnight rain made some of the sections almost unrideable in the first training runs of the day. Fortunately the thunder storms that had threatened all day held off and the racing got under way in sunny, yet blustery conditions. Neko set off 7th last and immediately went into the hotseat after a perfect run. He would stay in the lead until Mick Hannah knocked him out with his impressive 4m 17secs run. Aaron appeared just under a minute later and recorded a stunning 4m 14secs, with clear signs of a fall on his right leg.
Aaron said: "Yeah, I fell on the second corner, but otherwise I was really happy with the run today. The course dried out and the wind made for some extra pedalling, but all in all a good fun day. Great to see Neko and Jusso up there in 3rd and 5th."
Neko said: "The improvements made to the track were awesome! I really enjoyed riding it this weekend. It felt good to score a podium today and that gives me confidence going into next week."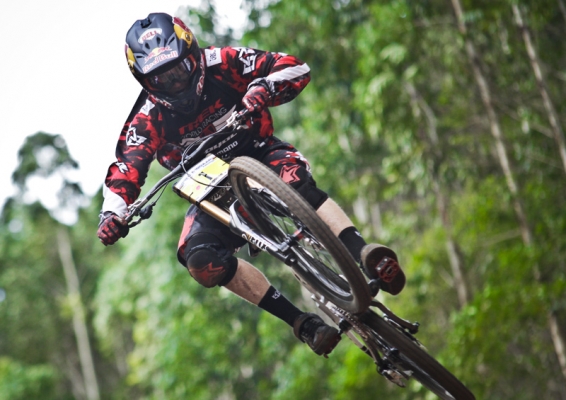 Justin said: "I had a productive weekend with no setbacks so that was positive. I learnt a lot about the course/setup and what needs to be focused on leading into next week. Great to see Neko so strong and Aaron sending a clear message to everyone!"
Live coverage of next weekend's all important opening round of the UCI Mountain Bike World Cup can be seen at http://www.redbull.com/bike with the Men's Downhill starting at 1.00pm Central European Time.
Following the team on Twitter @trekworldracing
Mon 12th Mar, 2012 @ 8:57 am
Featured in this Post
Comments