Scott Swisspower MTB Race Team rider Nino Schruder has won again at Pietermaritzburg, with a sweet victory over South African rider Burry Stander.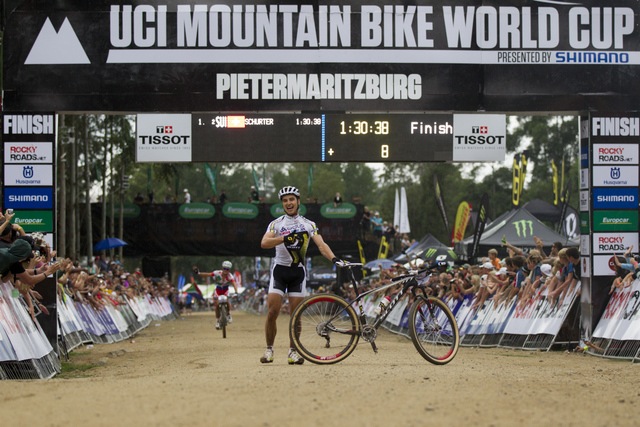 Right from the start Schurter showed his ambitions by setting a pace that only few could follow. Even last years dominating Kulhavy was struggeling. Absalon never made it to the top lead group and also Hermida dropped back after some time. Only local star Burry Stander and Manuel Fumic were strong enough to stay at the front with Nino. They worked well together until Fumic had to let go too.
It soon turned into the same battle we saw on this track last weekend, and Nino opted for the same strategy, forcing Burry to take more defensive lines on the descents. In the rockgarden, the most challenging section of the track, Nino was able to lose Burry with more than a lap to go, and had a clean ride to the finish.
Nino said: "It's awesome to start the season like this. It builds confidence towards my main goal of the season and this are the Olympic Games."
Nino's team mate Florian Vogel had a much less successful race, ripping his tyre and tube off his rim three quarters of his way round his first lap. Vogel will now have to dig deep at the next round of the World Cup in Houffalize, starting out in 61st position. Vogels said: "This is hard to accept. Mechanicals happen once in a while, but this one happened in the worst moment. I hope I can deliver the answer to this dilemma in Belgium a month from now.
1 Nino Schruter 1:30:38
2 Burry Stander 1:30:49
3 Manuel Fumic 1:31:37
4 Julien Absalon 1:32:19
5 Jaroslav Kulhavy 1:32:59
Sat 17th Mar, 2012 @ 7:08 pm
Comments